Five Acre Wood School in Maidstone has achieved Flagship School status for the second time.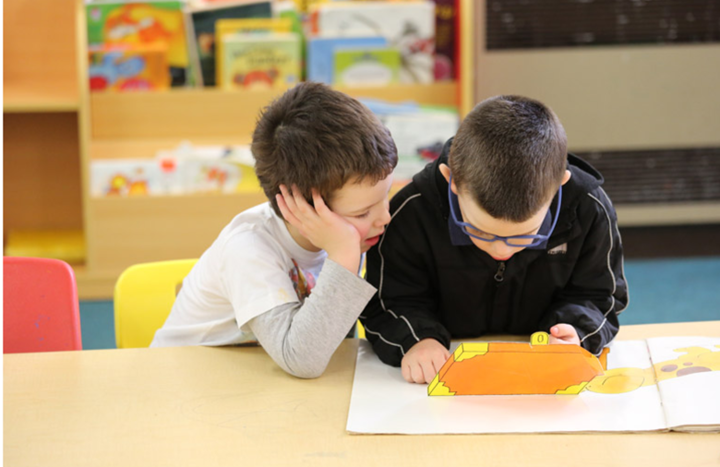 Context
Five Acre Wood is a special school in Maidstone, Kent. It has 618 children and young people with profound, severe and complex learning difficulties, including autistic spectrum disorder aged between the ages of 2 and 19 all with an EHCP. There are 350 staff. There are two satellite sites; one at Palace Wood Primary School where there are two classes; the other at Snodland where there are six classes for secondary aged children. Grow 19 is a college for young adults aged between 19 and 25 based at the East Malling Community Centre. Ofsted rated Five Acre Wood as 'Outstanding' in March 2019. It is a very well-resourced school that is able to serve the needs of all of its pupils.
The Principal said,
"We ensure every child receives what they need. It's not about equality but equity."
Ofsted said that the "Inspirational leadership has created a strong community of continuing excellence." The Principal is passionate about the school, she said that her most important role is, "Being there". She has time to listen to everybody and trusts her staff who feel empowered. She is a humble person who is a fierce advocate for all of her pupils.
High Aspirations for Pupils
There are high aspirations for the pupils who thrive and are well prepared for the next stage of their education. Once the students have been assessed they are taught using the school's learning approaches' system; structured, sensory, practical, formal, functional and early years. The curriculum is grounded on their needs.
Strong Relationships with Parents
This school invests a lot in its staff, as they do not offer 24-hour care. They work very hard to form strong relationships with the parents. The impact of the COVID-19 pandemic has meant that meetings are now virtual and the parent partnership has become easier and stronger. Many parents use Microsoft Teams to communicate with the school. They have established a 'TEAM' initiative which focuses on building upon the learning achievements made at school and extending them into the home environment. TEAM consists of four members of staff whose aim is to foster and maintain good relationships between home and school. It enables and empowers parents and carers to support their child's learning. It also ensures consistency of approach between home and school where both parties can speak freely within a non-judgemental, secure environment.
Resilient and Robust
Recruitment is taken very seriously at Five Acre Wood School, some of the staff have come through the LEAF Teaching School (Leading Education and Achievement for All). NQTs are carefully selected at Five Acre Wood School. The school looks for people who are resilient, robust, and embrace the school's values. They want to know how the candidate deals with stress as working here can be challenging. All staff are offered 7 free sessions of counselling and have access to the mental wellbeing 'Unmind' app. The Principal of Five Acre Wood is a National Leader of Education and works closely with mainstream schools to develop SEN provision for local pupils. LEAF offers bespoke training to schools and staff in how to engage children with their learning. It is having an impact as teachers want more and usually return. It is recognised throughout Kent as offering first class training. It will run a national conference in the summer of 2021 with speakers from across the UK.
Addressing Core Challenges
The school uses the SCERTS model (Social-Communication, Emotional Regulation, and Transactional Support) to address the core challenges faced by children with ASD and related disabilities and their families. Five Acre Wood School will be organising a conference in March 2021 with delegates from across the UK.
Opportunities for Work
Grow 19 gives young adults the opportunity to work in various fields from construction to horticulture; they learn life skills which will help them navigate their way in society. Although it is separately funded, parents see that there is a route through the education system and their children may have an opportunity to lead an independent life. When some children leave Five Acre Wood School at the age of 19, they may go into assisted or supported places, whilst some may live alone. Many parents feel very reassured seeing this as when their children entered Five Acre Wood School, they may have seen no future.
Parents Feel Well Supported
Parents are often overwhelmed when they first see Five Acre Wood School as their search for a school to provide for their child's needs has ended. As the school looks at the whole child and family, the parents quickly learn that this school will meet the needs of their child. Parents were so pleased to receive the calls, texts and emails through the lockdown, stating that "TEAMS was always there for us." Parents know that the staff are non-judgemental, offer support and listen to them, stating,
"The school gets it."
Through parent workshops and courses, they know that they are not alone which is something that is so important for parents of children with complex needs. One parent said that their child cried at the beginning of the lockdown as they could not go to school. Five Acre Wood School sent out 'Social Stories' during this time to explain what was happening. The parents miss not having the opportunity to come into school. They miss the sports days, Woodstock, music and dancing, X Factor, pamper days, cake sales, the Easter and Christmas fayres. They are so proud of the fact that their child attends this school. Those parents who deliver their child in the morning see how happy the children are being welcomed by the smiling staff.
Governors Support the Inclusive Ethos
There is a breadth of experience on the Governing Body, most either have an education or other professional background. They are well trained and value their staff. Everybody has a responsibility for one or more areas of school life. Besides being supportive of the inclusive ethos they take their responsibilities seriously; their decisions are based on what is best for the child. They hold the school to account and ensure there are sensible checks and balances.
Links with Many Local Agencies
The school has close links with many local agencies; visual impaired specialist teachers; multi-sensory impaired teachers; hearing impaired teachers; the educational psychology service; NHS occupational health practitioners; speech and language staff; counsellors; art and music therapists; CAMHS; Early Help and several others. The Specialist Teaching and Language Service refer young children to the Nursery. Multi-agency meetings work with parents to support transition from PVIs and home into Five Acre Wood School. The liaison with parents is bespoke and thoughtfully planned. The SENCO at Palace Wood, together with the Local Authority are consulted when children attend this satellite provision. Children who attend here wear the Palace Wood uniform but are still Five Acre Wood pupils. Despite the fact that they mostly have an ASD diagnosis they are able to handle their dual identity well. 'If Palace Wood was not so inclusive, it would not work.' The two schools work closely together to ensure all children get the best of both worlds.
Working with the Local Community
Five Acre Wood School works closely with its local community and is highly respected. Young adults from Grow 19 work, undertaking various projects. Construction and Horticulture learners have started working to develop a training garden on the site of four former community allotments. The Catering and Hospitality learners' practical work takes place in a community café, offering a lunch service, twice a week, for their peers, staff and visitors. They do work experience across the area; in the cleansing and parks departments of the local council; the Royal British Legion Village, working with their maintenance team, their factory and their café and the YMCA café.
A Very Special Place
The principal of Five Acre Wood School has created a team of leaders who all share her vision 'to nurture and maximise the potential of each and every individual and celebrate their achievements.' Everybody who contributed to this review agree that Five Acre Wood School is a very special place. All of them are proud to be part of this community.
Find out more about the IQM Inclusive School Award
If your school is interested in obtaining the IQM Inclusive School Award or you wish to talk to a member of the IQM team please telephone:
028 7127 7857 (9.00 am to 5.00 pm)
or email: