Chartham Primary School has achieved this award for the second time.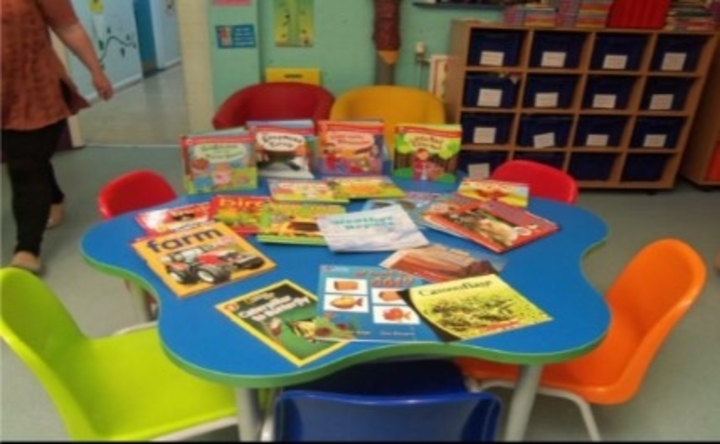 Excellent Leadership
A lot of developmental work has taken place in the last year since the IQM COE review. The Head teacher has very recently taken over the running of a local infants' school and has become Executive Head of both schools, enabling the Deputy Head to become Head of School. This is a mark of the excellent leadership of the Head teacher and his team over the past few years in developing inclusive practice at Chartham that can now be disseminated to another school. The Inclusion Manager has continued to lead a number of initiatives to support the inclusion of pupils with SEND in the school. In addition to Lego therapy, play therapy, fuzzy fingers and Clicker 7, she has also incorporated forest school classes into the interventions available as well as sensory circuits. In addition, the 'Transformers' programme will shortly be introduced for children with social communication difficulties.
Superb Learning Environment
The work of the Family Liaison Officer has been extremely successful again this year in ensuring that a wide network of support is available for needy families. She has helped a total of 68 families this year in various ways according to need. The school's open-door policy with senior staff and other key staff available in the playground at the start and end of the day, continues to ensure that the school is trusted by families and that they seek support where needed. The work of the school to develop resilience has also continued with a whole school focus supported through the work of the school counsellor and the play therapist. In addition, the work with the local special school on site has continued to develop very positively with some children from Chartham being able to access its facilities and even transferring there without having to change buildings, lose friends etc.
Relationships between pupils from the two schools are very positive and the children from the special school are very happy here. Excellent improvements to the school's facilities have also taken place this year, including a new ICT suite with potential for use by parents and the community, a specialist music room, a radio station, a forest school developed in the wonderful school grounds, a large room currently being used for sensory circuits and a meeting/training room for staff. These improvements have enhanced the learning environment, which is exceptional, both inside and outside.
Partnership with Parents
The school's partnership with parents continues to flourish. The fortnightly 'Newsday Tuesdays', when the school is open from 3.00 pm for parents to pop into lessons, have proved very popular with many parents attending. There are also termly learning conferences that enable parents to come into school to discuss their children's learning. 'Tea and Topic' events have been introduced at the start of topics to help parents to become involved in their children's learning, especially in-home learning. In addition, at the end of each term the 'Fabulous Finale' enables parents to come in to see what has been achieved and participate in learning opportunities with their children. The celebration mornings continue to be held to celebrate the achievements of pupils with their parents attending. The PTFA is a thriving organisation that supports the school's work in various ways, including the organisation of fundraising events.
Working with the Family Liaison Officer
The work of the FLO has been exceptional in providing support for a range of needy parents and their children. She has a very proactive and positive approach in ensuring that her input is sensitive in getting parents to talk about any problems they have so that she can provide the support they need. Rather than offering parenting courses, which some families do not want to access, she works with individual families and provides bespoke sessions that meet their needs. She also works very hard on attendance and has worked with the Kent LA 'Project 95' initiative to improve attendance, which has proved to be very useful in raising individual pupils' attendance rates. She has also organised a network of FLOs from schools in the area and has regular meetings with them. They share ideas and good practice as well as information re services that are available locally to support parents. This is an excellent idea, which also enables FLOs to support each other and learn from each other. The meetings include invited speakers from social services and other key local organisations. The FLO has also recently opened a Facebook page for parents with very positive feedback. This facilitates communication with parents on issues such as reminders re events, dates and meetings but, will also develop further to provide opportunities for parents to find out more about what their children are learning in class and about their achievements. In addition, she also attends all pupil progress meetings to pick up issues relating to families who may need support and she runs a lunchtime club for children who find it difficult to have lunch in the dining hall.
Importance of Self Confidence
The school works very hard to develop the positive attitudes and self-confidence of its pupils. Year 6 pupils continue to buddy children in reception with whom they read, play and support during 'buddy time', as well as at break/lunch times and for example, during sports' day. This helps pupils to develop their self-confidence and it also adds to the family feel of the school where all children work and play together happily.
Pupil Attitude
Pupils spoken to during the visit were positive, motivated, self-confident, articulate and able to enter into discussion with ease. At this school, it is always clear that children are at the centre of everything it does and are genuinely listened to. A tour of all classes in the school highlighted the excellent relationships between staff and pupils, in all classes children were fully engaged in learning with a very positive atmosphere throughout.
Learning Environment
The environment is beautiful with wonderful displays throughout the corridors, classrooms and other spaces, highlighting the work and efforts of all children. Outside space is superb and extensive and the school makes best use of its wonderful grounds and huge field to develop outdoor learning opportunities.
A Forest School
Forest school has been a major innovation this year with a TA who has been trained to Level 3, leading on this work with pupils. She takes all classes to the forest school in PPA time and also targets groups of vulnerable children, for example, those on pupil premium. The governors and PTFA have also given a lot of support to this development. It is hoped in the future that other schools will be able to access this facility.
Excellent Behaviour
In lessons, pupils behave excellently and enjoy their work, responding well to their teachers' questions and engaging in discussion and group work with enthusiasm. Pupils spoken to, from years 4, 5 and 6, gave very positive views of their school. Comments from pupils included:
"Teachers really listen to you and are very supportive. Everyone is your friend and it's a real community", " The teachers make sure you are enjoying your work: you can ask your friends or your teachers for help", " We felt confident for the SATs because the teachers make sure we have covered everything and they help us to feel comfortable", " There are lots of activities here and when you wake up in the morning you are excited about what we might be learning today – it's always interesting and we do lots of different things", " Anyone will listen to you here if you have a problem – both adults and friends. No one will ignore you".
The Importance of Staff Expertise
Teaching and support staff are valued for their skills and expertise with support staff playing a vital role in the school, leading interventions, supporting in class and providing crucial support, for pupils with a range of SEND. Staff are valued here and team work is excellent. It is also a reflective community where very interesting developmental work takes place to ensure strategies meet the needs of pupils. A new 'cornerstones' curriculum has been introduced this year supported by staff training. This curriculum offers a planning aid to help teachers to motivate and inspire pupils through exciting topics with real life experiences. It is currently being trialled and will be rolled out fully in September. There continues to be staff training to meet the needs of children with a variety of SEND, for example, on sensory circuits. In classrooms visited, children with SEND were being very well supported on a one-to-one basis with excellent examples of the use of work stations and of children joining in with their classmates. On a wider level, the school works closely with the other schools within the local area, on various aspects of CPD and sharing good practice. The SENCO is part of the Kent local inclusion forum where she is able to seek advice on meeting individual pupils' needs from outside agencies and the school is part of a local cluster where good practice is shared.
Working with the Local Community
The school also works closely with its local community and governors play a very supportive role in this aspect of the school's work. A governor spoken to during the visit, who is also a parent of two children at the school, explained the excellent opportunities the school has put in place for children to develop their skills and self-confidence, including school journeys and the forest school initiative. He also highlighted a recent community event, which involved local businesses and parents visiting the school to find out more about its work and how the community can support the school, with pupils taking the lead in showing visitors around and displaying their love of the school. The school's work with the local community has further developed this year with the children contributing regular articles to village magazines.
The Chartham talent show is becoming a very positive event in the school's calendar with many families attending and increasing numbers of parents are supporting the school as volunteers.
Exception Features of Chartham Primary School
Exceptional features of this school continue to include the ethos of including, listening to, challenging and supporting all children; the excellent behaviour, self-confidence and positive attitudes of pupils; the excellent teamwork and inclusive practice of teaching and support staff; the excellent work with parents and the overall positive, happy, supportive atmosphere of the school.
The school is continually developing its excellent practice on inclusion and is sharing its practice with a range of other schools.
Find out more about the IQM Inclusive School Award
If your school is interested in obtaining the IQM Inclusive School Award or you wish to talk to a member of the IQM team please telephone:
028 7127 7857 (9.00am to 5.00pm) or email: info@inclusionmark.co.uk for further details.
Want more information on the IQM Award? Click here to request your free IQM information pack.