Berrymede Junior, Ealing has been assessed recently and has achieved Flagship School status.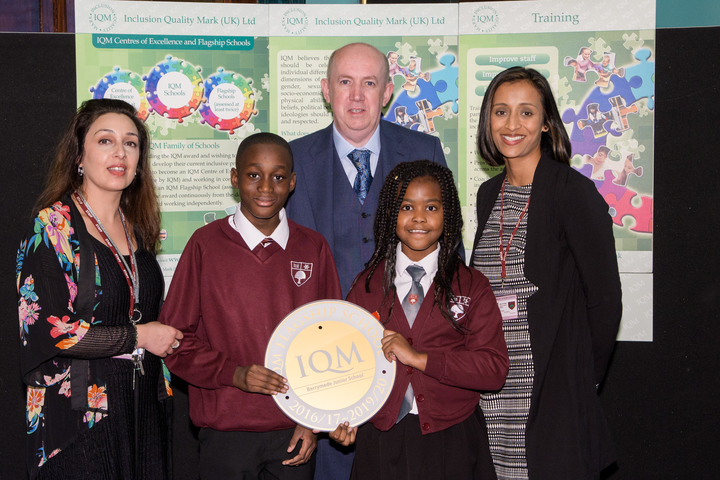 Staff Know the Children Well
You rightly said that your senior team are the backbone of the school and Nalisha and Stephen obviously know the school very well and are very busy making sure that everything works on a day by day basis but are also working very closely with you planning for the future. I was able to meet many members of staff and several children. All were very positive about their experience of working and learning in the school and they were also very proud of the work that they do and were very proud of their school.
Inclusion in Its Widest Sense
There was a clear understanding (amongst the senior team) of inclusion in its widest sense and clarity about the importance of Quality First Teaching. Ensuring that pupils of all abilities and disabilities receive high-quality teaching is the priority. The care and welfare of pupils is another priority and everything is done to make sure they are safe and happy and that they enjoy learning. In addition, the school does everything they can to support vulnerable families. Parents/carers are valued members of the school community and they are fully included. Similarly, staff are valued and appreciated. They are well trained and well supported.
Meeting the Targets Set
The school has been very successful in meeting the targets it set itself last year and the new Action Plan that has been carefully thought out is entirely appropriate for the school at this time. I suggested the addition of a target around meeting the needs of pupils who arrive as 'casual entrants" as I am aware that large numbers arrive and leave during the school year. The school already has good practice in this area but it would be good to work with other schools in a similar position to seek new innovative ways of inducting and including these children. We discussed this during my visit.
An Inclusive Community
Berrymede Junior School remains an inclusive community that values every child. The funding for including children and adults has been maintained and even increased in a time when budgets are shrinking. This is a clear sign of your commitment and that of Governors. The school remains very reflective and is always looking carefully at its own practice. The involvement of Achievement for All and your work with the Borough shows that you are not resting on your laurels but are pushing forward to the next stage of development.
Very Good Relationships with Parents/Carers
Although the school already has very good relationships with parents/carers they set a target to further develop and improve parental engagement in supporting their children and their school. They signed up to take part in the Ealing Family-School Partnership Award. This was a pilot scheme run by the local authority. The project involved the school auditing and evaluating the services and support it provides to parents/carers to engage them in their children's learning and to develop their own skills.
Improving Parental Engagement
Over the duration of the project Berrymede has made great strides and made improvements in terms of parental engagement. The number of parents attending events has risen and they now approach the school to ask questions about things that have been put in place. 88 (24%) parents came to the Open morning to observe their child's Literacy lesson; this is up from 48 parents (13%) at last year's open morning.
Communication has Improved
Communication between class teachers and parents is far better and parents are more up to date on what is happening with their child and they have shown more interest in their schooling.
Class Dojo
Class Dojo has also opened another line of communication for parents; class story element has proved to be very successful. This can be seen through the number of interactions/ views to the information the school posts on the class story.
Developing Child Leadership Skills
The emphasis on developing child leadership skills and on enabling children to support each other is an important feature of the inclusive nature of the school. Although there is a great emphasis on academic achievement there is also a very caring and sharing approach where everybody can feel valued. One of the children showed me the 'buddy stops" in the playground where children can go if they don't have a friend to play with. If they stand there someone will come over and talk to them and invite them to play. However, I was told these are not used much anymore because everybody plays together and nobody is left out.
Assessor's Thanks
Thank you so much for allowing me to visit your school last week to carry out your IQM Centre of Excellence Review. Thank you also to Mrs Nalisha Patel who prepared all the documentation and arrangements for my visit. As usual, Nalisha organised a very full day for me and she made sure that I met with the relevant people – both children and adults.
It was a pleasure to visit the school and to see you all at work. You have much to be proud of.
Find out more about the IQM Inclusive School Award
If your school is interested in obtaining the IQM Inclusive School Award or you wish to talk to a member of the IQM team please telephone:
028 7127 7857 (9.00 am to 5.00 pm)

or email: info@inclusionmark.co.uk for further details.
Want more information on the IQM Award? Click here to request your free IQM information pack.