Ynysowen Primary School in Merthyr Tydfil achieves the Inclusive School Award.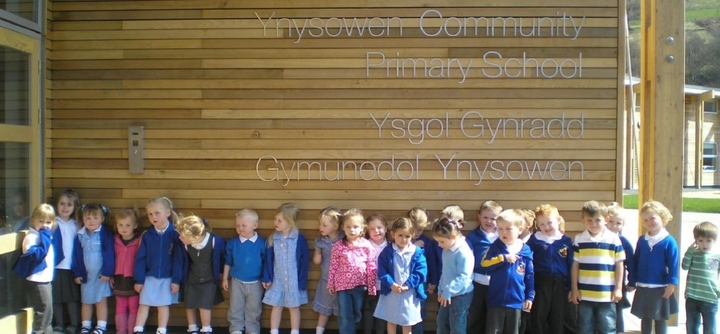 Exceptionally Vibrant Classrooms
On arrival at the school, it is difficult not be impressed by the absolutely stunning building. This first, extremely positive impression is further reinforced having toured the whole school with its exceptionally vibrant classrooms. However, these two factors are in many ways unrelated. Whilst it cannot be disputed that the community of Aberfan deserves a school building that makes such a strong public statement in the value of education, the community also has a school that is so very much more than an impressive building. The high-quality displays are a reflection of the professional pride found within Ynysowen and their consistency is a tangible reflection of the strong and effective leadership also found within. This is a very impressive school.
Enthusiastic Children
I arrived at the school at the same time as many pupils and their parents/carers. The driving wind and rain seemed to be doing little to dampen the enthusiasm of the children. Welcoming staff were in evidence as were multiple examples of meaningful conversations between staff and parents. As the assessment day unfolded, the reasons for the enthusiasm became clearer.
Context
The school serves the community of Aberfan, south of Merthr Tydfil- an area with significant levels of social deprivation. Around a third of the 272 pupils are eligible for Free School Meals, a figure that is well above both local and national levels. The school also houses two Local Authority "learning resource bases" for children with complex needs and children with hearing impairment. Around 40% of the pupils have other defined additional learning needs – again, a figure that is above both local and national averages.
Estyn Report
When last inspected, Estyn found a "good school" where pupils had positive attitudes within a strong and caring ethos. They described leadership as strong and effective and that the staff worked closely together as a strong and dedicated professional learning community. Schools in Wales are part of a categorization system which is designed to "give a clear and fair picture of how well a school is performing compared with other schools across Wales." Ynysowen is one of a very small group of schools that has been categorized as "green" since the system began in 2014. Green schools are characterised as having leaders and staff with strong, shared vision that brings about and sustains improvement in nearly all respects.
Raising Standards
They have a relentless focus on raising standards for nearly all learners – including the school's most vulnerable groups. The assessment process provided many clues why the school is so highly regarded.
Very Happy Parents
The wide cross-section of parents met on the day, without exception, were full of praise for the school. Strong features included excellent communication, a genuine open-door approach, staff that "went the extra mile", approachable and supportive Headteacher, the fact that "everyone bends over backwards" to make sure that children are supported. One parent was very positive about the excellent mix of support but within clear boundaries. Examples of practical help and guidance were given and, again, it is clear that the school goes to great lengths to ensure that pupils have a positive experience with potential barriers to learning quickly addressed. A highlight of the discussion was the description of the difference made to individuals by the school's approach to "whole-school signing" (as seen in the singing practice). This was hugely significant in making all pupils feel included.
An Approachable School
A number of external partners were contacted during the assessment process and some common themes emerged. Firstly, as referred to above, the school is always approachable. Advice is sought and, importantly, reflected upon before implementation. This was felt, by those agencies, to be a significant strength. All commented on the school's exemplary attention to detail and that deadlines were always met, and issues were rigorously followed-up. Ynysowen is the lead school for the cluster in developing the implementation of the new ALN Bill – evidence of expertise and strong leadership. It was also noted that the school follows-up on concerns or information about individuals even when they have moved on to other schools or settings. It is clearly a school that cares.
High Quality Classroom Environment
It is difficult to do justice to the quality of classroom environment without using pictures. The tour, which included a visit to every classroom, brought the pre-visit documentation to life. As referred to elsewhere, in addition to the fantastic building, each classroom was a hive of activity within a well-cared for, vibrant, colourful classroom. There were also more subtle features – adapted workspaces for individuals, procedures and a space for taking time-out, access to adapted resources. The whole is much greater than the sum of the parts in that it also demonstrates whole-school attention to detail, consistency and rigorous quality assurance processes. The singing practice, as well as providing entertainment, demonstrated a key aspect of inclusion – making adjustments for individuals without making them feel overly self-conscious. A difficult balancing act that the school has clearly got right. The school lunch provided evidence of warm relationships, good behaviour and subtle but vital clues about how the school manages "boundaries".
Deep Level of Care
The meeting with the Inclusion team and support staff further evidenced the deep level of care at the school. Individuals are known, understood, empathised with and supported. Although the school believes and acts in accordance with the statement "every teacher is a teacher of special needs", his team could rightly be regarded as the glue that holds the many aspects of support together on a day-to-day basis.
A Truly Inclusive School
Of course, none of this happens by accident. It is clear from conversations with them and comments about them, that the Headteacher and Inclusion Manager set the tone and lead by example in order to make Ynysowen a truly inclusive school. Importantly, there are associated and exceptionally rigorous processes and structures that underpin their vision and their daily acts of leadership.
Find out more about the IQM Inclusive School Award
If your school is interested in obtaining the IQM Inclusive School Award or you wish to talk to a member of the IQM team please telephone:
028 7127 7857 (9.00 am to 5.00 pm)
or email: info@iqmaward.com for further details.
Want more information on the IQM Award? Click here to request your free IQM information pack.