Woolenwick Infant and Nursery School in Hertfordshire achieves Centre of Excellence status again.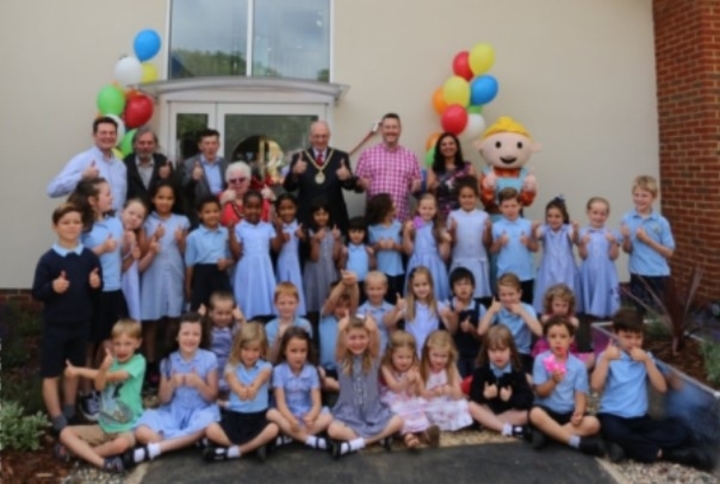 School Context
Woolenwick Infant and Nursery School is a single form entry school with larger than average Nursery provision. It is situated in Stevenage (the UK's first 'new town') built to provide homes for the London 'overspill' in the 1950s. It draws its pupils from a wide catchment area and its intake reflects the diversity and social needs of this ever-expanding town. Stevenage has been identified as an area for regeneration and it is important to note that poverty levels of families living in the town equate with the bottom 30% of the country.
Totally Committed Professionals
The inspirational vision to create a learning environment that is truly inclusive, responding to the needs of every child is being achieved because of the insightful leadership of a highly skilled, caring and modest Headteacher. She has developed the school over the past 11 years to achieve Ofsted 'outstanding' status and has created a learning environment that places the child at the centre of everything that happens. She has grown a team of professionals around her who are totally committed to her vision of inquiry-based learning, guiding children through open ended questioning and the development of deeper thinking skills. This approach is closely aligned to the Regio Emelia educational pedagogy 'focused on student centred, experiential learning in relationship driven environments'. The Headteacher offers exceptionally strong leadership without depending on a hierarchical structure. She values and trusts her staff and shares responsibilities to achieve the best she can for her pupils. 83% of the school budget is spent on staff costs which is reflected in the high quality of provision observed.
Creative, Reflective Practice
The Assistant Headteacher led the preparation for the IQM assessment and ably demonstrated his total commitment to the creative, reflective practice that is so evident in the school. He frequently made reference to 'learning at the forefront' and his clarity of thinking and strong moral purpose captured the overriding aims of the school and its mission statement, "Learning, Growing, Achieving, Together". He explained that in line with the Regio Emelia pedagogy, children are presented with 'provocations' which stimulate inquiry and help them identify what they would like to learn. One such 'provocation' was a sheep's skull discovered whilst the school grounds were being excavated. This stimulated a school wide project of research and led pupils to discover that the school site had once been a sheep farm. A shepherd visited the school with his sheep and demonstrated sheep shearing and then an artist taught the children how the fleece was prepared, cleaned and dyed ready to be made into woollen garments. During such a project children identify what they already know and what they would like to discover. Teachers then track the progression of skills and knowledge in line with the Early Years Foundation Stage Curriculum (EYFS) and the National Curriculum as appropriate.
Children are Active Participants
In collaboration with the staff the Assistant Headteacher has developed a detailed curriculum document which captures the 'Intent, Implementation and Impact' of the school's approach to learning. Whilst still in its draft form it will provide a unique understanding of the school's commitment to children as active participants in their own learning and will help all stakeholders to further appreciate the school's mission. The importance of developing conscientious, confident and thoughtful human beings is very strong as is the awareness of being part of a bigger picture and development of global citizens with a voice that can drive change.
IQM Cluster Meetings
Since the last review staff have attended three IQM Cluster Meetings, one of which was hosted by the school. It focused on the Regio Emelia philosophy and how its delivery can be enhanced through the Forest School and outdoor learning approach. Feedback was positive and has helped to inform future 'in-house' training at Woolenwick. The Inclusion Leader contributed significantly to the assessment day and explained that every child is screened for language development when they join the school so that language deprivation can be targeted immediately. Pupil progress is greatest for those experiencing additional needs and whilst many children join the school having achieved lower than Age Related Expectations (ARE), most leave having achieved or exceeded ARE. Four pupils are supported through an Education Health Care Plan (EHCP) and one child on the autistic spectrum has made exceptional progress far exceeding expectations. The school uses an efficient computer program (CPOMS) to record communication between home, school and outside agencies and all, safeguarding concerns. Information can be shared as appropriate, ensuring that there is accurate record keeping of conversations recommendations and actions. The Inclusion Leader has devised an efficient colour coded assessment/recording system so that teachers across the school can see the identified additional needs of every child and the support that is in place.
Outstanding Outreach Work
The Inclusion Leader is to be commended for her outstanding outreach work in the local community. She is a driving force for change and improvement and supports many social initiatives. She bridges the gap between the school, home and community and ensures that pupils and their families have every opportunity to become involved in the life of their school and their home town. Parents are welcomed into school and are greatly encouraged to share in their child's learning journey. Recently there was 100% involvement in a 'provocation' entitled Science through Stories. All contributions are valued and included which enhances the reciprocal relationship between children and adults in the school.
Special Adaptations Have Been Made
Special environmental adaptations have been made to ease both physical access to the building by pupils and adults with additional needs as well as access to learning for pupils with specific needs such as visual impairment. School staff actively support the work of the DSPL team (Delivering Special Provision Locally) which works to achieve inclusion for pupils in every school across the town.
Find out more about the IQM Inclusive School Award
If your school is interested in obtaining the IQM Inclusive School Award or you wish to talk to a member of the IQM team please telephone:
028 7127 7857 (9.00 am to 5.00 pm)
or email: info@iqmaward.com for further details.
Want more information on the IQM Award? Click here to request your free IQM information pack.