Wilshere-Dacre Junior Academy in Hitchin has achieved the national award for Inclusion.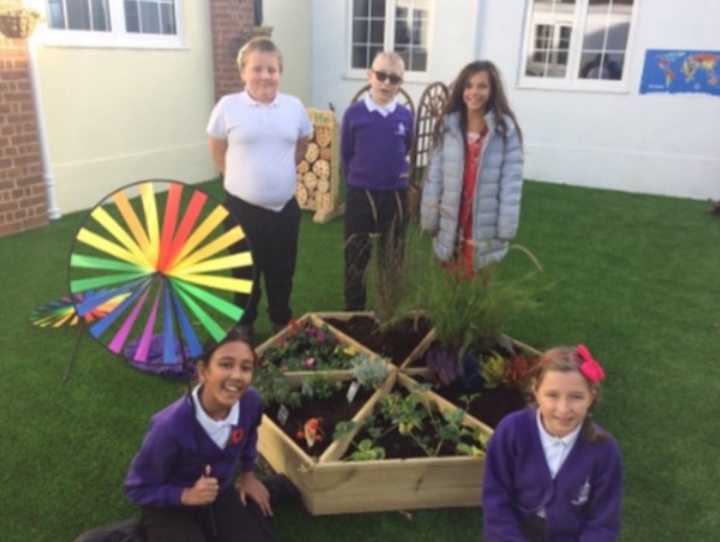 An Inclusive School
Wilshere-Dacre Junior Academy is an inclusive school. All adults know the pupils and families well and care about providing the best educational opportunities for each pupil. The Headteacher and leadership team recognise the importance of good relationships in all areas of school life. They have built a staff team who work hard to make a most welcoming, inclusive and successful school for all pupils. Their aim is for every child to 'be extraordinary' in all aspects of life and the school is striving for continual improvements on its journey.
A Warm Welcome
Visitors to the school are warmly welcomed by the children and adults alike. The entrance hall showcases pupils' work and information about the school which is attractive and informative. There is a 'buzz' around the school with many activities making the learning fun and engaging. The school building has been updated to make bright classrooms and develop new areas, such as the courtyard which is a sensory space for pupils to relax, learn and feel safe.
Learning Dispositions
Pupils are developing different 'Learning Dispositions.' One of the Assistant Headteachers who is leading this initiative, has a long-term plan to further develop this research-based approach. Pupils say that this has already helped them to think more about their learning, making them more focussed in their lessons. Pupils are keen to take on the new learning dispositions introduced each term and can remember the ones that they have already learnt this year and give examples of their achievements. Pupils and parents have been involved with designing a dinosaur logo to represent each learning disposition. Staff have observed that pupils are now more self-aware and more able to reflect on their learning.
Pupils Take Care of Each Other
Pupils are well behaved and take care of each other. The children are given opportunities to take responsibility at Wilshere-Dacre. For example, some pupils are part of a Headship committee, School Council or an Eco-Council. These pupils are elected democratically by their classmates. The pupils are keen to explain their roles and also to talk about their learning and the opportunities that they enjoy at Wilshere-Dacre.
Lessons Provide Stretch and Challenge
Teachers plan lessons which provide stretch and challenge but also support. Classrooms have many resources to help all pupils and include a wide range of specific aids such as ear defenders, writing slopes and individual word banks. All classrooms have 'working walls' and pupils report that they find these very beneficial. Tracking systems are used to analyse pupil progress and result in appropriate actions and interventions. Staff organise and run extra clubs that inspire the pupils. Music, singing and sports are some of the strengths of the school and there are opportunities to develop these skills in performances and tournaments.
Highly Skilled Support Staff
Support staff are highly skilled and meet weekly with the Inclusion Leader and class teachers so that communication is excellent. Their time is valuable and is carefully timetabled to ensure that they are always focused on the needs of the pupils.
Extremely Positive Parents
Children who have Special Educational Needs are very well supported by the school and parents highly praise the school's practice by saying that the school 'go above and beyond' to help each child. Parents are extremely positive and value the Assistant Headteacher for Inclusion who they say has a wealth of knowledge and experience and always has time for them. They recognise how much the school does to help each child and one commented 'I think this school should be an example to other schools.'
Find out more about the IQM Inclusive School Award
If your school is interested in obtaining the IQM Inclusive School Award or you wish to talk to a member of the IQM team please telephone:
028 7127 7857 (9.00 am to 5.00 pm)
or email: info@inclusionmark.co.uk for further details.
Want more information on the IQM Award? Click here to request your free IQM information pack.