Whitehill Community Academy, Halifax in West Yorkshire, achieves the Inclusive School Award with Flagship School status again.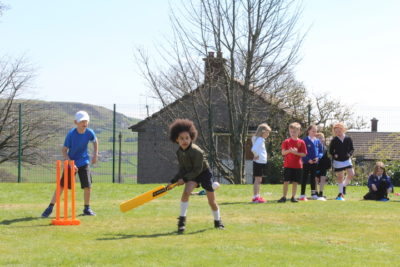 Whitehill's Response to COVID-19
A very clear action plan for Whitehill's recovery curriculum is in place, it seeks to provide opportunities for children to build positive relationships and to foster a sense of community and enable children to acquire and redevelop the skills that they need for learning.
By focusing on mental health, staff and children have been able to 'return to learn.' It was pleasing to hear that the work on mindfulness has been established in the school, excellent too to hear that the Pastoral Inclusion Team all had performance management targets to support the implementation of the recovery curriculum.
The Inclusion Lead is now Head of Inclusion, which is reflective of her Senior role, and she is the line manager to the SENDCos. There is an intervention team in place including learning mentors and support workers. New SEN Support Assistants have been recruited to the team.
The Pastoral Team are extremely positive about their role and how it impacts the development and lives of children. During the lockdown and on return to school they have maintained positive relationships with children and families. This year, the staff have had to work in bubbles but next year they are looking to work with a cohort of children, and they are looking forward to working with children back in class. They speak positively about the early intervention work that started within 'little leaps.'
On return from lockdown, staff have worked within bubbles and shown flexibility in the way in which they have worked. They have happily met with parents online and held telephone calls to keep track of the children's needs. It was lovely to hear that staff visited parents who really struggled and even sat in the garden with them to engage with them, provide that friendly face, and contact that had been needed.
During periods of closure the school team have worked hard to ensure children could access personal support and schoolwork, either virtually or in paper format. At times, staff have taken work to the child's home to ensure equal access.
Forest School and School Grounds
It was pleasing to hear about the work undertaken in the Forest School, situated on the school grounds. This is a real asset to the school and enables children to explore and engage in outdoor learning. This has a range of benefits in terms of mental health and wellbeing. It offers the opportunity to develop self-regulation skills, cope with and learn from failure, build resilience (the skill of coping with risk and failure), gain a sense of achievement, increase motivation and concentration, and improve problem-solving.
The development of the grounds at Whitehill continues. Thought has been given to entrance and exit routes to ensure the safe return of children to school. Grounds are well maintained and offer opportunities for climbing, growing plants and have seating areas for use by children extending the classroom to outdoors.
Resourceful and Effective Use of Technology
Staff have upskilled in the use of IT to deliver lessons, and this has enhanced children's ability to access subject teaching.
The ability to use Teams and Zoom has also facilitated multi-agency working as acknowledged by the ASD Team Worker. It allows greater flexibility of working, and the ability to cover more visits in one day. The use of IT had enabled meetings after school when staff had been less pressured. She recognised that, for some children, it reduced pressure, enabling them to engage more.
A virtual open day accessed on the school website gives a clear insight into the organisation and expectations of Nursery and Reception.
Adult initiated and child-initiated opportunities are in place for small group teaching and learning. The flexibility of approach is evident whereby it is possible to adapt to the needs of the child. There is clear evidence of opportunities for learning through play and the direct teaching of groups.
Focus on Mental Health and Well-Being
The focus on mental health will remain over the forthcoming year to ensure that children are well established into routines and are secure in their learning. The school recognises that mental health support is multifaceted and that the team need to focus on promoting healthier lifestyles choices through food, exercise and reviewing and supporting mental health needs.
Staff have already attended kaleidoscope training and are excited about attending the second part of this training in September. Kaleidoscope is a mental health intervention to enable school children to explore emotions through colour and art using therapy.
The Head of Inclusion is researching and embedding a greater understanding of the effect of early childhood experiences on children's ability to learn. This is multifaceted and once again well structured.
The Whitehill's recovery curriculum, with its levels of support for recognised needs, enables clear focus and provision for children who have PSE needs including anxiety.
The recovery curriculum enables a personalised provision, adapting approaches as children's mental health presents itself.
Recovery Curriculum
The COVID pandemic, isolation from friends, family members and disruption in routines has impacted learning. New anxieties exist for some children. Whilst access to taught sessions via Zoom/Teams were on offer during lockdowns, for some children home learning has not been easy.
This is where the Recovery Curriculum and the focus on mental health and wellbeing enables personalised support and focussed strategies to support learning
Maximising Benefits of Catch-Up Funding
The school has been allocated 'catch up' funding and the Headteacher, alongside the SLT and governors, has wanted to maximise benefits and has considered how best to focus these monies.
The Headteacher makes this clear on the school website:
'The government is providing us with a £50,000 catch-up premium funding for the 2020/2021 academic year. The aim of the funding is to help pupils catch up on education they have missed due to the coronavirus (COVID-19) pandemic. We will use this funding for specific activities to support pupils, making up for lost teaching over the previous months.'
Parental Praise for Whitehills
Parents speak highly of the school. They highlight children have engaged in homeschooling, which has been readily available. The school has sent out paperwork for children to use for homeschooling and made materials available online. This flexibility of approach has supported the needs of families.
Parents and staff have been impressed by the resilience of some of the children and the industry they have shown in completing the home learning packs and online packs. Support team members have ensured support for vulnerable children and made regular contact, making deliveries to the home to ensure children are safe and have focused work to do. One parent commented that:
'A member of staff called at the house and delivered home-study materials for their child which they very much appreciated.'
The efforts of the Pastoral Team have not gone unnoticed, the way in which the learning mentors phoned regularly supported the clinically vulnerable and showed concern for well-being, hard work that has been much appreciated. It was clear to parents that the maintained contact of Pastoral Staff throughout the period of lockdown has helped reduce anxieties of children and those of parents.
Parents recognised that there had been some benefits from children being at home, they really appreciated the time they had had with the children using time together in the garden and they began to realise what was important and what they had together as a family. Another parent indicated that carrying out the homeschooling brought back a lot of memories, she felt like she was back at school and enjoyed doing the simple things with the children doing craft activities and going on local walks. In some ways, she indicated that pressures were removed and enabled her to focus on positive relationships and ensure there was extra time to maintain bonds and strengthen bonds as a family unit even though of course there are times when it can present challenges.
Parents are impressed by the fact that the school team also know that the well-being of parents impacts the children's development. They indicate that the Headteacher fully understands the importance of mental health and well-being and actively promotes this within the school. One parent stated that:
'The Headteacher really 'gets it' he understands the damage that issues with mental health can cause and is keen to ensure the anxieties are reduced.'
Both he and the Leadership Team, including the Inclusion Lead, adopt an open-door policy as well as being available for a phone call, which often resolves issues promptly, before escalation.
Particularly impressive was the discussion with the parents about transition arrangements from class to class and from school to new school, they indicated that:
'Staff have the patience to deal with a whole range of issues, no matter what.'
Find out more about the IQM Inclusive School Award
If your school is interested in obtaining the IQM Inclusive School Award or you wish to talk to a member of the IQM team please telephone:
028 7127 7857 (9.00 am to 5.00 pm)

or email: info@iqmaward.com for further details.
Want more information on the IQM Award? Click here to request your free IQM information pack