West View Primary School, in Hartlepool, County Durham, part of the Ad Astra Academy Trust has achieved the Inclusive School Award with Centre of Excellence status.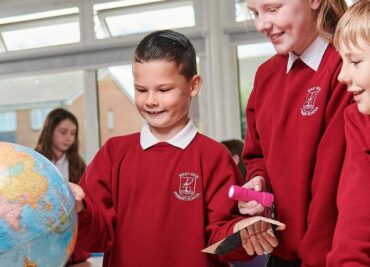 Introducing West View
West View Primary School is a school that is at the heart of the community. The vision of an inclusive school is clear and permeates all conversations and practice. Parents talked, during the assessment days, about how this school is 'a home away from home.' One parent talked with passion about how the school
'feels like a family.'
She described how all staff are approachable and how she
'loves the school.'
This sentiment was echoed in conversations throughout the assessment days.
Dream Big…
The school values of 'Honesty, Respect, Determination, Team-Work, Self-Belief and Passion' are embedded in all areas in school life. The ultimate aim of the school is for the children of West View to: 'Dream Big, Aim High, Shine Bright.' Staff work tirelessly to support this aspirational vision. Staff at West View care deeply about their learners and their families.
To the Stars
West View Primary School is part of the Ad Astra Academy Trust, converting to academy status in 2015. The Multi-Academy Trust has supported this school in being a success – they have School Improvement Leads who work with leaders to develop the school and there is lots of peer support between the different primary schools within the Trust.
Dynamic Leadership
The Headteacher has officially been in post since January 2021, after starting as Deputy Headteacher in April 2020. It is clear to see that she has had a positive impact in the school. She is a very visible leader who is approachable. Staff talk about how she
'inspires and motivates'
them and during the assessment day, parents discussed how
'Mrs Furness has changed things at West View and supports families from the top.'
Breaking Down Barriers
Senior Leaders describe how all children at West View are valued and are supported in lessons so that they can all achieve their best. They have an ethos of 'Keep up, not catch up.' The Headteacher described how inclusion is 'integral to everything.' She believes inclusion underpins all they do. The Leadership Team at West View Primary are ambitious, driven and committed to breaking down barriers.
In Partnership with Pupils and Parents
This a reflective team with school improvement at the forefront of their meetings. They strive to give their children the best education possible and model the standard they want from all. It is evident that the Leadership Team of West View always place a high value on pupil, parent, and staff voice. All staff are clear of their responsibilities and understand the vital part they play in promoting the high standards of inclusion in school.
Dedicated Inclusion Team
The school take mental health and wellbeing needs seriously and have a dedicated Inclusion Team who ensure there is a strong therapeutic and targeted support package for those children who need it. Staff wellbeing is also a high priority and there is a strong offer of support for all staff. Staff wellbeing is discussed as part of the Leadership Agenda on a weekly basis. Leaders have an overview of where support may be needed, and consideration is given to workload. Support for staff and pupil well-being are an integral part of the school ethos.
Developing Resilience
At the heart of West View Primary School is PSHE (personal, social, health and economic) education. Their aim is to provide a curriculum which extends learning beyond the academic, technical, or vocational, supporting pupils to develop resilience, confidence and independence and teach them to know how to keep physically and mentally healthy and safe. The school recognise that children learn best when they feel safe, secure and all their basic needs are being met – they ensure a holistic offer is provided to match this. Staff have created a school environment where pupils can contribute to their own learning. This means encouraging relationships with adults in school where pupils feel safe to voice their opinions of their own needs, and carefully monitoring the progress of all pupils at regular intervals. Pupil participation is encouraged through school by wider opportunities such as the School Council, trips and residentials, school plays and sports teams.
All Staff Valued
Staff are very knowledgeable about their school and most importantly their students, and their differing needs that must guide their practice and curriculum plans. Staff are tireless when it comes to achieving the best for their students and giving them opportunities for life beyond West View. An inclusive ethos permeates all staff, regardless of role and all staff are valued and respected.This is a school with a team that knows their journey will be constantly evolving and never ending and they are passionate about the future of their school.
Informed Reflection
The Inclusion Quality Mark Coordinator, (and acting Deputy Headteacher), produced an accurate and detailed evaluation of the school's position. This was further supported by highly detailed documentation and effective data that was presented and discussed throughout the course of the day. A comprehensive electronic file of evidence demonstrated the school's commitment to inclusion. Conversations with various people from the whole school community illustrated that the written evidence was an accurate reflection of West View.
Find out more about the IQM Inclusive School Award
If your school is interested in obtaining the IQM Inclusive School Award or you wish to talk to a member of the IQM team please telephone:
028 7127 7857 (9.00 am to 5.00 pm)

or email: info@iqmaward.com for further details.
Want more information on the IQM Award? Click here to request your free IQM information pack