West Hill Primary, Dartford in Kent, part of The Galaxy Trust, has achieved the Inclusive School Award.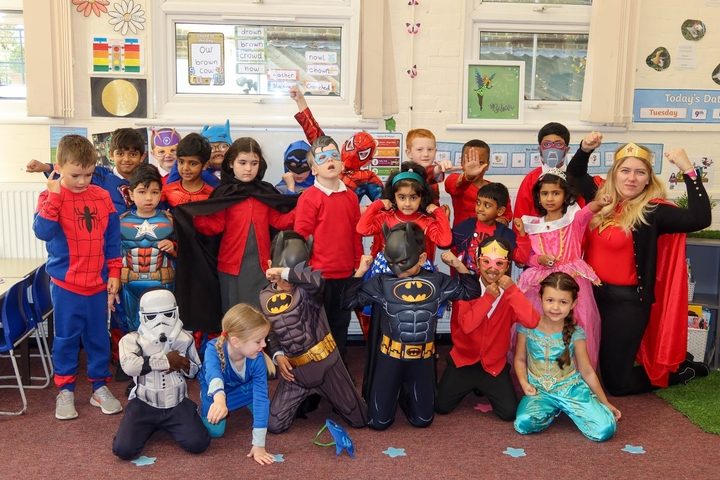 Warm Welcome
Visitors are shown around by a small group of passionate 'World Ambassadors,' who are very enthusiastic about their school. The whole group is made up from one child from each class who meet every Thursday to discuss how they can make improvements to their school, their local community, and their world. They were able to describe what the school's motto of 'No Limits, Only Possibilities' means to them. The welcome video on the website clearly explains this and the Galaxy Trust's core values of Equality, Respect and Responsibility. One child said,
'West Hill encourages us to strive to achieve our dreams.'

Another said,

'No-one is more important than anybody else.'
One child explained how they need yellow paper to write on as they are dyslexic. They know who they would speak to in confidence if they had a particular issue. They feel that children are kind to each other and that playground buddies are here to sort out any issues. They said that there is little evidence of bullying. They like the traffic lights behaviour policy believing it to be fair and just.
Visible Leadership
The school prides itself that it has good relationships with its parents and the local community. The SEN Team, the Family Liaison Officer, the Headteacher and members of the SLT welcome parents and children in the playground. Their transparency and availability are appreciated. Some parents have moved their children to West Hill because it has such a high reputation in the local area for inclusion. They know the staff are very supportive. They like the Class Dojo system that kept them fully informed during the pandemic and so they can see what's going on. One parent, who took her daughter out from a private school, is so grateful that she is here. She likes the open-door policy, that she is having fun and is being mentally stimulated.
Governing Body
There are plenty of part time members of staff and it has been recognised by Governors that this represents good value for money, for example the two SENCOs work 0.6 each and meet every Wednesday. However, they often email and speak to each other beyond their scheduled working days. The Chair of Governors fully supports the inclusive ethos here. She said with confidence that every child's needs are addressed at West Hill. The Governing Body fully understands that all children have equal rights but as they are individuals their needs must be addressed individually. West Hill has a strong Governing Body which is supported by the Trust. Members monitor the work done by SLT and feedback to the Board. The Headteacher's reports are read by members before the meeting and their questions are then addressed. This demonstrates the evidence that they challenge and support. They were very conscious of supporting the staff's wellbeing during the pandemic, recognising how hard they had worked and acknowledging that some had suffered from Covid. They receive regular training and link with other Trust members.
Bespoke Support
The Speech and Language Therapist works across the Trust approximately one day a week in each school. She is supported by two assistants. She knows that the children at West Hill receive the appropriate support usually in class.
'This school is good at assessing and identifying what the issues are.'
The SENCOs involve the parents all through the process ensuring communications are clear and understood. She said that West Hill provides a range of support with the appropriate resources in the right setting.
Curricular Access
All staff work hard to ensure all children can access the whole curriculum. The Galaxy 100 is a pledge to ensure every child has access to 100 books by the time they leave their school. The teaching is differentiated, and certain children may receive personalised learning outside of the class for short periods of time. These children are happy and feel safe. There is a child centred focus here and the staff know that they make a difference. A range of teaching styles is encouraged, and children often can choose how they might want to present their work. Taken from Blooms Taxonomy, Dive Into Learning encourages the children to choose which level they work at e.g., paddling (knowing), snorkelling (explaining), scuba (applying) and free diving (creating). In KS1 children have enquiry time where they have opportunities to investigate and ask questions. The curriculum is monitored systematically by SLT and Subject Leaders through book looks and learning walks.
Reaching Out to Families
The Family Liaison Officer supports vulnerable families, does home visits, conducts early help referrals, did door-step visits during the lockdowns, liaises with Social Services, the YMCA and other local groups and is there to support staff well-being. She is a trained Play Therapist and does Draw and Talk and 'What's in my Bucket? sessions. She has a regular group of six children struggling with anxiety.
Community Partnership
During the lockdown children wrote letters and postcards to local residents who gratefully replied. They do litter picks and invite elderly people in. Children at West Hill have a sense of responsibility and respect towards their neighbours. The whole community is looking forward to returning to a time when adults from all walks of life can return to school and meet each other again. The school held its first coffee morning since lockdown this term and parents and carers stayed longer than usual as there seemed to be a need to reconnect. Years 5 and 6 went to Broadstairs in the Summer Term and Year 6 are looking forward to going to Swanage in the Summer Term.
Find out more about the IQM Inclusive School Award
If your school is interested in obtaining the IQM Inclusive School Award or you wish to talk to a member of the IQM team please telephone:
028 7127 7857 (9.00 am to 5.00 pm)
or email: info@iqmaward.com for further details.
Want more information on the IQM Award? Click here to request your free IQM information pack