Villiers Primary School in the West Midlands achieves the Inclusion Quality Mark Inclusive School Award.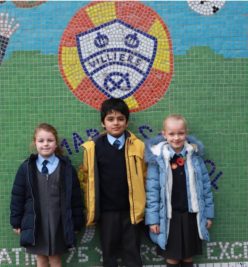 .
The School's Ethos
Villiers Primary School is part of the SHINE Trust. The SHINE Academies vision is that:
'We Strive in Harmony to Inspire, Nurture and Excel'
and their ethos is to provide a high-quality educational experience in a safe, creative and exciting learning environment. All SHINE Academies aim to create an environment that encourages reflection and positive behaviour, respect and self-regulation.
The School Embraces Diversity
The school is a much larger than average primary school for pupils from 3 to 11. It currently has 647 students on roll. 24% of pupils are from ethnic origins other than white British with families from a number of different countries. The school fully embraces the diversity that this brings to the school and takes every opportunity to use this to broaden children's experiences and develop tolerance, acceptance and a celebration of difference and has a number of breakout spaces to support intervention and learning.
The School is Growing
30% of pupils are in receipt of Pupil Premium funding which is above the national average and the SEND figure is also above national at 25%. There are currently 10 pupils with an EHCP with 4 further pupils being assessed. The school has a growing number of pupils arriving new to the country with little or no English.
The Children Have Opportunities
Villiers Primary School has a clear curriculum intent; to provide children with an understanding of the vast range of opportunities available to them in the future and to equip them with the skills and knowledge required to seize these opportunities. The curriculum is designed to: recognise, embed and build on children's prior learning, provide first-hand learning experiences which develop curiosity and allow the children to apply their learning, give opportunities to discover hidden talents, skills and new passions, create independent thinkers who are aspirational, confident and excited to challenge low expectations, develop the attitudes and values which will support children to grow as happy and successful individuals and promote positive choices, asking children to 'choose to listen, learn, look after and lead'.
Communication is Key
Parents commented very highly of the school and were incredibly positive regarding the way children and families are welcomed into the community and supported. Parents are particularly positive about the visibility of leaders in school and very much appreciate how easy it is to get to speak to a staff member should the need arise. Parents are incredibly confident about Villiers Primary School and communication between home and school is good and that they feel well informed about their child and their progress. Parents of children with additional needs feel very well supported and really value the ease of contacting class teachers and the SEND leader. Contacting the school is easy either by phone call or email and requests for a callback or meeting are followed up quickly.
Inclusion is at the School's Heart
The school prides itself on having inclusion at the heart of everything it does. Its Ethos:
'Work Hard, Be Kind'
sits comfortably under the SHINE Vision and encompasses fully the inclusion and diversity agenda within the school. The leaders have passion and sense of purpose and the pupils engage in and enjoy their learning at Villiers Primary School.
Find out more about the IQM Inclusive School Award
If your school is interested in obtaining the IQM Inclusive School Award or you wish to talk to a member of the IQM team please telephone:
028 7127 7857 (9.00 am to 5.00 pm)
or email: info@iqmaward.com for further details.
Want more information on the IQM Award? Click here to request your free IQM information pack