Trinity Fields School and Resource Centre in Caerphilly, Wales have achieved the Inclusive School Award with Flagship status for the second time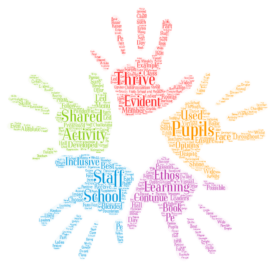 Pupils Thrive
It is evident throughout the school that despite the continued challenges presented by the pandemic, the leaders' passion, and determination to ensure that all the pupils continue to thrive and receive the absolute best possible learning opportunities shone through.
Their Inclusive Ethos is Shared
Using virtual rooms, developed by class teachers, pupils can choose from a menu of visual learning options and follow an activity led by a familiar member of staff. A wide range of options such as activities from the PE hall to Forest School, supplement basic skills activities and are changed weekly. All staff participated in developing activities for the pupils, even the dinner ladies. Video evidence for example, of Foundation Phase staff sharing a book for World Book Day were a delight and I am sure pupils and their parents benefitted greatly from these shared experiences. This is a testament to the inclusive ethos shared and owned by each and every member of staff.
Blended Learning
Whilst the school is returning to face-to-face teaching, the positive impact of the blended learning offer will be maintained and will form an integral part of the curriculum going forward and used, for example, when pupils are unable to attend because they may be in hospital.
Staff Wellbeing
Mindful of staff wellbeing and workload a number of assistants upload resources and going forward a hybrid approach will be used where teachers can video lessons live and upload so pupils can re watch lessons at home should they wish, which will not only help embed learning and enhance progress but be a wonderful means to share learning experiences with their family.
Making A Positive Impact
The positive benefit is not limited to online learning for pupils. This virtual world has also allowed staff to maintain contact with each other, whilst parents are now able to upload home learning videos and evidence via 'See Saw.' A previously hard to reach parent commented
'we want the school to know how very much we appreciate this and the hard work of the staff'
exemplifies the wide-ranging positive impact of this offer on empowering parents and developing their skills to support learning at home.
Staff Development Is Vital
It is very clear that staff development plays a vital part in the schools' success. Such is the commitment to this aspect of school leadership with the aim to 'grow' the skills of teachers and assistants from within, a new TLR post for Communication and Development has been established. A key aim of this role is to develop and expand the online CPD offer for staff. This will be vital going forward as alongside the satellite provisions, the school continues to develop the specialist skills, knowledge and expertise of staff who work in the LA's Specialist Resource Bases (SRBs) and shares their bespoke and innovative approaches to meeting the needs of pupils with a wide range of additional learning needs in a range of settings.
The New HLTA
The new HLTA brings a wealth of highly relevant experience to the school. Her vision is to empower staff through modelling how to 'problem' solve' and to develop more proactive rather than reactive approaches to understanding and meeting the challenges presented by some pupils. This will be developed by always looking at the behaviours through the 'eyes' of the pupil and understanding how to use this understanding to adjust provision and lessons.
Increasing Pupil Awareness
Perhaps most importantly, she is determined to bring the pupils themselves more into the centre of her work through establishing proactive and positive strategies and developing and improving Individual Behaviour Plans (IBP). She aims to do this by increasing pupil self-awareness and to support them to understand their individual behaviour 'triggers,' and the best ways to regain a calm and positive attitude. This builds on the already successful work of the school on enabling pupil voice, evidenced in the different ways pupil's voice is expressed in the very successful Pupil Centred Reviews.
Moving Forward
The evidence presented clearly demonstrates that the new IBPs are much more accessible to pupils, being co-created with them and based on work to help the pupil understand what works for them. An example of the approach has been shared with Governors and closely aligns to the schools already very successful Trauma Informed School and THRIVE strategies. It is recognised that these new approaches are at the early stages of development and implementation and with the very different levels of staff knowledge and expertise in the school and across the satellite classes this will be an important focus of the school going forward.
Working Together
The school has weathered the 'Pandemic Storm' exceptionally well. This is not only because Trinity Fields is led by a committed and passionate Headteacher but because he is supported by a talented, hardworking staff team who together harness every opportunity to deliver high-quality Inclusive education across the entire county of Caerphilly.
Find out more about the IQM Inclusive School Award
If your school is interested in obtaining the IQM Inclusive School Award or you wish to talk to a member of the IQM team please telephone:
028 7127 7857 (9.00 am to 5.00 pm)
or email: info@iqmaward.com for further details.
Want more information on the IQM Award? Click here to request your free IQM information pack