Trinity CE School in Lewisham achieves Centre of Excellence status.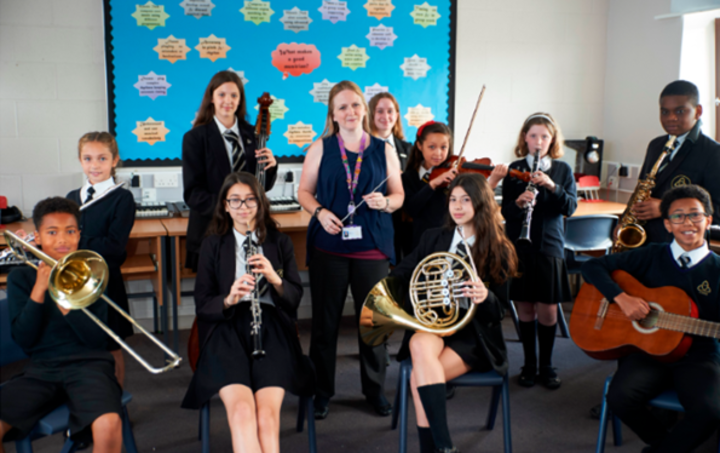 A Happy and Friendly Place
I was very fortunate to have the opportunity to speak with a very large number of individuals during my virtual two-day visit. They gave me a very good insight into the way the school works and the part they play in making it a happy and friendly place to work and learn. Trinity Secondary School is built on strong caring relationships at every level of the organisation. The Executive Head told me that the school motto of 'Learning, Loving, Living' is the driving force for the school. He said it is their vision and it is one they try to live by. This approach comes from the top and the Executive Head models the way people treat each other and care for each other. He is committed to inclusion in all its guises and he is supported in this aim by a Senior Team who are on the same page in terms of commitment. Every member of the Senior Team has their own areas of responsibility and they make inclusion a reality within their specific areas. The Christian ethos influences the policy and practice and supports the inclusive approach. The school is a Christian school but they welcome pupils of all religions and none, this means they have a more diverse school population.
Inclusion is About the Whole School
The school understands that inclusion is about the whole school and especially about what happens in the classroom. The spiral curriculum that has been mapped out from Reception to Year 11 was planned by teachers and is supported by Knowledge Organisers that are constantly reviewed and updated. Teachers believe that direct instruction and the Mastery approach plus a personalised curriculum (including Thinking Reading) helps all pupils to access the curriculum. Nurture groups support vulnerable pupils who need additional support when they move to secondary school and the SEN Department provides excellent support for others who have to overcome barriers to their learning. There are many interventions that support pupils who may have problems with their learning and behaviour. There is an understanding that what happens in the classroom is what really makes a difference and there is an increasing focus on helping teachers to be the best they can be. A lot is expected from teachers and Teaching Assistants and they rise to the challenge. They have been particularly pro-active in their approach to remote learning and deserve to be very proud of their achievements.
A Family Environment
The pastoral system is set up to provide a family environment and the tutor groups are known as family groups. The word family was mentioned by many of the people I spoke to on the assessment days. Generally, Alternative Provision is not used for pupils who might otherwise have been moved out of the mainstream. Instead they keep them in school and support them there.
Staff Feel Valued
All the staff I met told me they feel valued and they are confident that their contribution makes a difference. They said that their wellbeing is important to the leadership team and is carefully considered and steps taken to make sure they are emotionally, as well as physically, well. They feel they are part of the family and feel they are well supported. The pupils I spoke to were equally happy to be part of this family.
An Outward Facing School
Trinity Secondary School is an outward facing school that is on a journey to be the best school they can be. They know this is a continuous journey and is never done. They are not complacent and know that they still have lots of do. They are reflective and are always willing to listen and hear from others either in the school or elsewhere. They have a collegiate approach and are willing to collaborate with others.
Find out more about the IQM Inclusive School Award
If your school is interested in obtaining the IQM Inclusive School Award or you wish to talk to a member of the IQM team please telephone:
028 7127 7857 (9.00 am to 5.00 pm)
or email: info@iqmaward.com for further details.
Want more information on the IQM Award? Click here to request your free IQM information pack