The Ridge Academy in Cheltenham achieves Centre of Excellence status.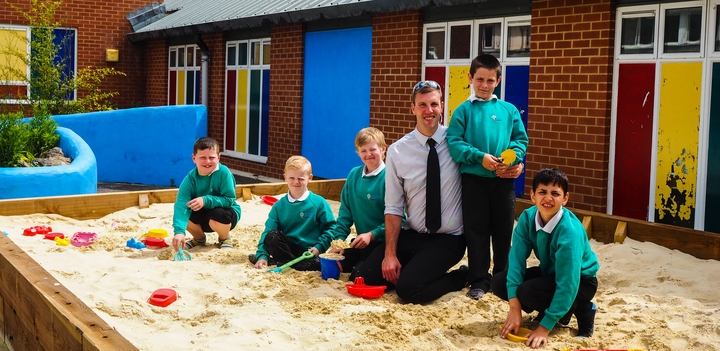 A Nurturing School
This Special School for children with Social, Emotional and Mental Health Needs is a nurturing small school with a genuinely welcoming family atmosphere which is very much appreciated by the parents and carers of its pupils. As one put it,
"The core of what happens here is phenomenal,"
and to quote another:
"No other school could manage my child's behaviour like this one."
On the morning of the IQM assessment, a Monday, children were in many cases not yet ready to learn: they were fidgety, anxious, and in a few cases disruptive and confrontational. Many of these pupils have been excluded, or had been on the verge of exclusion, from previous mainstream schools which could not manage their behaviour. However, at The Ridge, with the support of teachers and TAs who never give up on them and remain unchangingly patient and calm, children settle into the school week and start to make progress towards their individual targets. Good, reliable relationships, which help children to feel secure, are the key to the school's success with its pupils: "We build trust over time," said a senior teacher. It helps that so many staff members stay at the school for many years, developing warm and constructive relationships with families.
Multi Academy Trust
The Ridge Academy works closely with its Multi-Academy Trust (AET) and benefits from having the Trust's very experienced SEND Director on its Board. The school both contributes to, and learns from, AET's expertise. The school's own Improvement Plan encapsulates the vision and values of the Trust, and its RAG-ratings show considerable success in meeting the Trust's targets and the school's own. 71% of pupils are on track to meet or exceed targets in all Reading, Writing and Maths, 96% in at least two key subjects and 98% are currently expected to meet either Reading or Writing targets. Ofsted rated the school as "Good" overall in May last year, and the school has already met the three "next steps" proposed at the end of that report.
Progress
Pupils here do make steady and sometimes astonishing progress. Some Y6 children who have been previously excluded are helped to return to mainstream schools to join their old classmates in taking SATs tests, and they are given every support to make this transition smooth and successful. They learn to make sensible choices for themselves and they are given the freedom to remove themselves from class if they need some quiet space.
Excellent Resources
The school has built up excellent resources for this: a new ball pool is very popular, a sensory room, there are soft comfortable sofas and cushions in every room, and the outdoor spaces are well planned and attractive, giving plenty of opportunities for sports, relaxation and fun. The new BMX track is well used, and the swings and climbing equipment are very popular at playtimes.
Pupil Progress Records
The school maintains excellent records of pupil progress, seen holistically: emotional and social development is nurtured and recorded alongside academic targets. Progress in every aspect of the school curriculum is reported to parents and carers, with an emphasis on the child's "effort". Every opportunity is found to praise and celebrate success: children in class are always noticed and thanked for behaving well, and there are certificates and rewards which are read out in assembly and displayed on notices around the school. Every child works to individualised targets in their EHCPs, and the very high staff to pupil ratio ensures children are given the individual help they need to attain them. There is an atmosphere of purpose towards specific goals in every room.
Every Child is Well Known
Children are able to express what the school means to them. They said the teachers were "nice". Older boys appreciate what the school has been able to do for them and that their own likes and dislikes are respected. One mentioned the Lego in the Intervention Room and another liked being in the Ocean Room. One boy played the piano softly as we talked, but sometimes children enjoy the chance to bang percussion instruments loudly to relieve stress. They like competitions such as the Maths Championship. Forest School work is very popular, the children love spending time and walking with the school's therapy dog, George. Every child is well known to the staff team, so that incentives such as "time out" are used to maximum effect.
A Wide Range of Experiences
Children enjoy a wide range of experiences outside school. Every child visits Daisy Bank for Forest School work, and there is equine therapy for some children and "Humans and Animals Learning Together" for others. Every child is seen as an individual, and the school knows each child's likes and dislikes and how best to motivate them.
Parents and Carers Meet Regularly
Parents and carers meet once a week for coffee and informal supportive chat with the school's full-time Family Support Worker and Assistant Headteacher. This group is flexible: people come when they can. They have been using a course: "Time Out for Parents" which is written especially for parents of SEN pupils. There was a high level of mutual trust in the group and a sense of shared enterprise and creativity in giving their children the best possible chances in life. Parents commented on how their children had become more manageable at home since starting at The Ridge:
"He wants to talk about consequences now",
"His work and behaviour have improved," and
"I don't think this school could be improved".
Providing Outreach Support
The school's experienced team is in demand for outreach support for other schools in Gloucestershire, and they contribute to staff training on a national basis for the MAT. Because of this, many children in danger of exclusion have been enabled to remain in their mainstream settings. Partners of the school write in warm terms of the school's outreach work and of the schools' relationships. One school thanks The Ridge for "support for two days a week for a child with ADHD and ODD… advice on strategies and keeping constant communication between the two schools about the child's progress." Another school which placed an "extremely challenging" child temporarily at The Ridge said he had "settled well" back at the mainstream school "and is now able to access the curriculum". A pupil referral unit comments,
"We are particularly grateful for the times when you have gone out of your way to accommodate a child who might have had to wait until the next academic year for a desperately needed place", and,
"It is a pleasure to work with you and your colleagues to try to secure the best possible outcomes for some of the most vulnerable children in the County."
A Safe Place
The Ridge accommodates some of the most challenging and disadvantaged children in Gloucestershire and beyond. Its patient and experienced staff create a gentle, welcoming and safe place for these children to come to and be personally nurtured as well as educated. It is no surprise to learn, in spite of their long distances to travel every day, of the pupils' good attendance record.
Find out more about the IQM Inclusive School Award
If your school is interested in obtaining the IQM Inclusive School Award or you wish to talk to a member of the IQM team please telephone:
028 7127 7857 (9.00 am to 5.00 pm)
or email: info@inclusionmark.co.uk for further details.
Want more information on the IQM Award? Click here to request your free IQM information pack.