The Hayes Primary in Croydon has achieved the Inclusive School Award.

Context of the School
The Hayes Primary School (THPS) is a two-form primary school in Kenley, Croydon South with 404 children on roll. This is an urban area in London but on the edge of the countryside. Employment in the area is high with 86% of the local population being white British. The number of pupils who are eligible for the PPF is below average.
Significant Improvement
The current Head Teacher has been in post for one year and is the fourth Head in as many years. Clearly the period leading up to her appointment was a challenging one. In the last year she has worked tirelessly, with the support of school leaders including Governors, to provide structure and systems to ensure that effective teaching and learning for all, can take place. As a result, over a relatively short period of time there has been significant improvement in most areas of attainment and progress.
Assessment, Monitoring and Analysis
Common processes are now in place e.g. working walls, help words, marking policies and target setting (Steps for Success). Policies have been revised and are being implemented. Pupil performance data is carefully assessed, monitored and analysed. Standards are above the National Average in reading, writing and maths and are on an upward trend" (Basic Skills Quality Mark, September 2017).
A Rights Respecting School
THPS is a UNICEF Rights Respecting School, introduced in September 2016. Pupils are aware that they have rights and with these come responsibilities. The school uses a range of strategies to promote positive behaviour in particular the use of rewards and consequences. The behaviour policy is clear and understood by all, this is evidenced by the good behaviour in lessons and around the school during unstructured times. Children are kind to each other and have very positive relationships with adults including those who are visitors to the school.
A Very Happy Place
The school is a very happy place now with a wonderful, caring ethos centred around the child becoming the best he or she can be. 'My children are both very happy and their education is consistently what, I believe to be outstanding and fun. Many thanks to Miss Slade and her staff who have made this happen this year.' (Parent/Carer questionnaire, July 2017).
Safeguarding is a High Priority
All staff place a high priority on safeguarding, this was evident from the moment I arrived at the school and throughout my two days at THPS. Everybody puts the safety of children first. On arrival at THPS the reception area was bustling with activity. Parents were waiting to watch a gymnastics display, which I was also able to visit. The display involved children from reception through to year 6. Children were bursting with pride desperately keen to show the visitors what they could do. I was impressed by the way in which the older children were helpful and aware of the younger children.
Visitors from a Local Farm
At the same time a local farm was visiting with a selection of small animals for children to learn about and where appropriate to hold and to pet. This visit was linked to the school curriculum, it certainly brought the wow factor; children were excited, engaged and fascinated to learn more about the animals.
Eggcellent Display
Just inside the school entrance was a display showcasing the very recent Easter Egg competition with a range of imaginative and creative artistic designs. Featuring Egg Sheeran, Winter Egglympics, The Eggcracker Ballet, Eggcellent Cinema and much more. This was clearly a project, which engaged whole families as well as everybody who passed by the exhibition. I was soon to find that this was just one of many creative displays. The school environment is well organized, purposeful and positive. Corridors are light, bright and engaging with many beautiful displays of pupils' work.
Positive and Enthusiastic Example
The school's values permeate the life of the school and the SLT lead by positive and enthusiastic example. The SENCO, who is a member of SLT, oversees the provision for children with SEND and ensures the classroom environment and support provided at every level is appropriate to their needs. In short, a forward-thinking Leadership team who are committed to ensuring the best outcomes for all pupils leads this school.
Staff Work Together Closely
Teachers and support staff work closely together planning carefully to meet pupils' individual needs. All the staff I spoke to during my visit were positive, energetic and fully committed to the pupils and to the school. They share a common, inclusive vision and they feel they have excellent support to enable them to do their work. Staff are encouraged and enabled to develop their skills through a range of CPD. The school ethos 'be the best you can be' applies to everybody in this school community.
All Staff Support Pupils
All staff are involved in supporting the pupils and have the drive to improve their own practice to benefit the children. Lessons are well planned, interesting and challenging with many imaginative and exciting activities planned for pupils. Features of lessons include active learning, good modelling by all staff and assessment for learning strategies.
Strong Inclusive Values
Professionals work closely together to ensure focused and specific targets are set to meet each child's developmental and educational needs. A combination of robust teaching and learning strategies, strong inclusive values, a thorough tracking system and excellent behaviour systems, support the progress of all pupils including those from low starting points, pupil premium and MAT pupils.
Pupil Voice is Valued
Pupil voice is valued. Children have roles and responsibilities within the school including being mediators, playground buddies, lunch time helpers, on the school council and much more. The children love being involved as young leaders and relish the opportunity to do more. Pupils were keen to talk about their school. Comments included, "I like all my teachers because they make me happy and they are fun." "It is easy to find a teacher to talk to". Pupils achieve well, the teaching and support staff work very hard to ensure they are continually improving.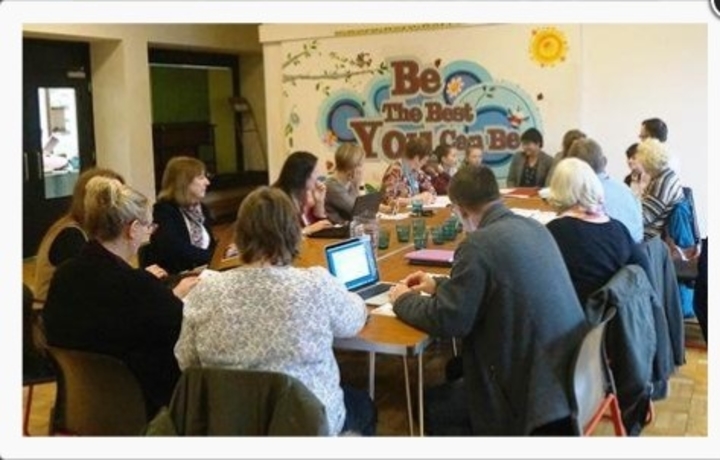 Mutual Respect and Collaboration
Without exception between the staff, parents, governors and pupils I spoke to during my visit, I felt a genuine sense of mutual respect and collaboration. Listening, discussing and including everyone. THPS is an inclusive school where all children are valued and where adults work hard to ensure no child is left behind.
A Reflective School
THPS is a reflective school that works hard to ensure strategies meet the needs of all children in its care. In addition, THPS works with the other schools in the Croydon South Cluster, on many aspects of CPD and sharing good practice. This enables expertise to be developed and shared. It also means that staff at all levels can develop their skills and move onto increased roles of responsibility within the school or elsewhere. The chair of governors was very positive about the school's work and explained their important role in challenging and, supporting the school.
Inspirational Leadership
Exceptional features of this school include the inspirational leadership of the Head teacher and senior leaders in motivating, developing and supporting all staff and pupils within a framework of caring for and valuing everyone. The collaborative support of the Parent Forum, particularly its efforts to secure additional funding and the drive and commitment from the Governing Body to move THPS forward and to ensure that the entire school community is 'the best it can be.'
Find out more about the IQM Inclusive School Award
If your school is interested in obtaining the IQM Inclusive School Award or you wish to talk to a member of the IQM team please telephone:
028 7127 7857 (9.00 am to 5.00 pm)
or email: info@inclusionmark.co.uk for further details.
Want more information on the IQM Award? Click here to request your free IQM information pack.