Thatto Heath Community Primary School in Merseyside achieves Centre of Excellence status again.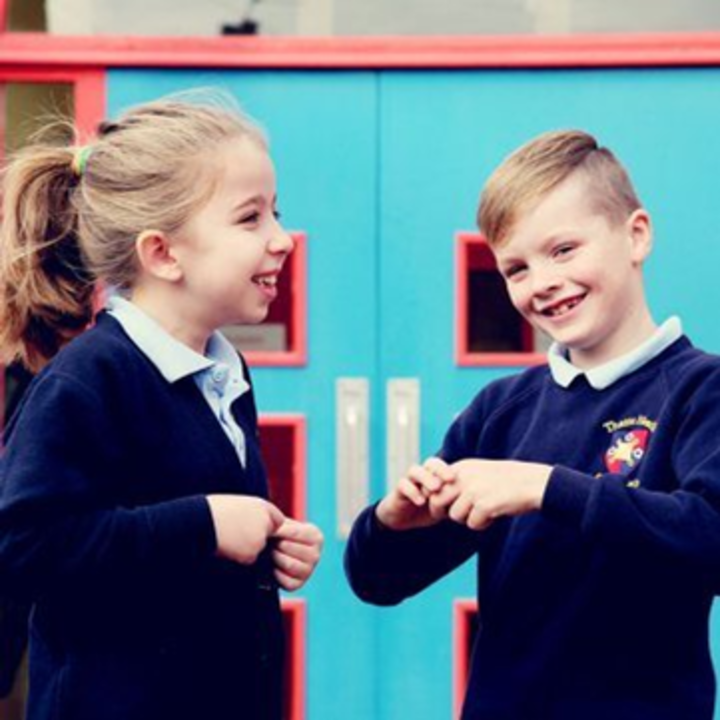 A Positive, Supportive Ethos
Thatto Heath Community Primary is an outstanding inclusive community school in every sense of the word where the positive, supportive ethos of the school is evident to all visitors. The ethos is built upon the continuing dedication of all staff, who understand that the children they teach only have one chance at primary education. Every staff member works tirelessly to go 'over and above' to give their pupils the very best chance possible within the nurturing, supportive environment which permeates and is ingrained in every aspect of school life.
Inclusive, Vibrant and Enjoyable
It is an impressive place to come to learn and to teach, with a superb inclusive learning environment where pupils and staff are encouraged to achieve their full potential and to develop as individual learners, this also filters out to parents and the local community. Everyone involved at Thatto Heath provide the best inclusive education possible and superb care so that their pupils learn well and are happy in school, supported by the commitment to provide a highly inclusive teaching and learning environment for everyone, children and adults alike, so that it is an inclusive, vibrant and enjoyable, friendly place for everyone to come to work and to learn.
Supporting During Lockdown
The initial meeting with the Headteacher, Deputy Headteacher and the Nurture teacher looked at how the school has moved forward since the last review in terms of inclusion, how they had successfully managed to continue operating during lockdown supporting the children of keyworkers and vulnerable families with a high level of staff support and how they had been able to open up the school and provide education and support for more children, recently with over a 150 children attending classes on a daily basis who were happy to be back in school and were showing remarkable resilience.
Enthusiasm, Dedication and Passion
Further meetings during the day continued to demonstrate the school's superb inclusivity. Staff showed enthusiasm, dedication and passion when talking about their roles in the school, their work with their pupils and while discussing their part in the previous action plan. The school's Action Plan will focus on re-engaging all pupils and their families with education, making up for lost learning, identifying gaps and supporting their emotional health and well-being.
Moving Forward
We discussed in some depth the development of provision for Mental Health and Well-Being in light of the pandemic and the impact on the whole school community from September that included a discussion of the Post Covid Recovery Plan (CI); the increased use of resources and provision for individual and targeted group support; the use of parent questionnaires to ascertain their views on their children's mental health and. if support is needed, pupil questionnaires as a baseline to assess need; review of Learning Mentor interventions to support children's MHWB; Character Education (CI) and support for pupils who have experienced trauma during lockdown.
Developing Outstanding ASD Provision
An interesting and involved discussion centred on next year's target of developing an 'Outstanding' ASD Provision' charting the rising number of children attending the school with ASD, the school's plans to provide appropriate support and was focussed on the context and concept of why the provision is needed and its impact. Discussions looked at the background to the provision and next steps. Along with post pandemic plans, assessment using the 'Autism Education Trust' materials and the Involvement of LASC for further input and advice. It will be interesting to see how this provision has evolved at the next review.
Commitment to Improving Pupil and Parent Voice
The school's commitment to continuing to improve pupil and parent voice was supported by a conversation with a parent about the support offered by the school to her son who had a horrendous experience at his previous school. She talked with great sincerity and passion about the fundamental positive change made to her son and her family's lives since he began attending Thatto Heath. He has thrived at the school and where he had no desire to learn previously, he was now a different child because they accepted and understood him and put in place support to help him achieve. She couldn't praise the school highly enough and felt it was a superbly inclusive place, that she will be forever grateful to. A powerful endorsement of the school's inclusive ethos and one that, from the evidence of this review, I would wholeheartedly support.
Inclusion is Ingrained
The school clearly has inclusion ingrained in its very fabric, where pupils are encouraged to reach their full potential no matter their starting points. This is a setting that is constantly and consistently looking at ways to develop for the benefit of its learning community with a mutual respect and care that is evident across the staff body and a fantastic rapport between the staff and between the staff and the pupils that, although not seen during this review, has been extremely evident during the cluster meetings.
Find out more about the IQM Inclusive School Award
If your school is interested in obtaining the IQM Inclusive School Award or you wish to talk to a member of the IQM team please telephone:
028 7127 7857 (9.00 am to 5.00 pm)
or email: info@iqmaward.com for further details.
Want more information on the IQM Award? Click here to request your free IQM information pack.