TBAP Octavia AP Academy in Cambridgeshire has achieved IQM Centre of Excellence status.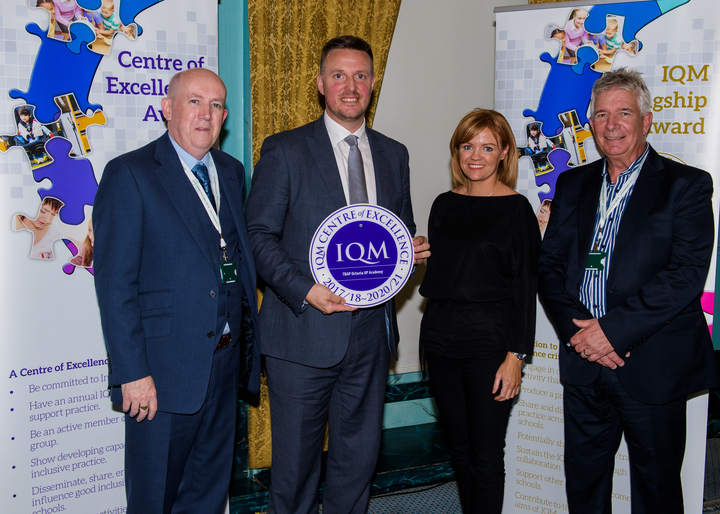 Excellent Facilities
The school is a purpose-built provision and is immaculately maintained and cared for by all stakeholders. In addition to the teaching and learning classrooms there are specialist teaching areas which include: IT suite, Art room, Cookery, Therapy rooms, Offices, Gym and break out spaces. The external space although restricted for space does have a multi-use games enclosure and hard surfaces play/sports area (basketball net).
Whole School CPD Programme
The school staff have a comprehensive whole school CPD programme which includes "Team Teach" www.teamteach.co.uk which provides training to staff groups in children's and adults' services and Health Care Trusts in behaviour support and interventions. The training combines both theory and practice emphasising the need for staff to show restraint rather than apply it! Providing a risk assessment structure to the selection of physical interventions that best allow the employer to provide a risk reduced workplace for service users and staff."
Moving Teachers Forward
The CPD programme provides opportunities for staff to engage in structured conversations and shadowing and is aimed at identifying how teachers can move forward. The programme also enables staff, through their partnerships and collaboration with other schools, to observe teaching staff in other schools and provisions. The school might like to check out CPD interventions which promoted peer and self-evaluation such as:-
• IRIS Connect.
• Osiris Educational Outstanding Teacher Intervention.
Both approaches make use of video analysis for teaching staff to undertake self-evaluation in terms of Engagement, Challenge and Feedback.
Provision
Although the SER document states the provision is for students aged 11-16 there are currently only students in years 10 and 11. Details of the commissioning and admissions' processes are included in the SER. In addition to the partnerships with the Fenland BAIP schools (4 secondary schools), Octavia is also included in the Maths network meetings with other TBAP schools.
Extending the Curriculum Range
As with all smaller provisions, covering the entire mainstream curriculum is difficult, however the school is working hard to extend the curriculum range for all students. This is reflected in the skills' audit of staff, rigorous performance management and staff recruitment.
Working with Stakeholders
My discussion with the LAC Care Home Manager gave me a clear and objective outline of how the school works with its stakeholders. Communication systems are described as "brilliant," with pre-admission meetings, review meetings and day to day contact all working well. The manager compared Octavia AP with other school and alternative provisions describing them as "Good, but not as good as here!"
Self-Esteem, Confidence and Academic Progress
Students attending the provision have not only maintained their place with, in the main, good levels of attendance, but have also shown positive changes in their self-esteem, confidence and academic progress.
Student Centred
The school is most certainly student centred and has a clear focus on future outcomes rather than immediate or short-term successes. This proactive and positive drive for all students to succeed is delivered by a teaching and support team who all share a complete understanding of the Inclusion agenda and have high levels of expertise which in turn raises the engagement and aspirations of all students. The aim of the school is to successfully reintegrate at least 35% of all learners back in to mainstream places by Yr 10 whilst giving students in Yr 11 the skills and motivation to maintain permanent placements in FE or work.
Meeting Students' Needs
It was my pleasure to have been given the opportunity to experience, if only for a short time, an environment which has been cleverly planned to meet the needs of students with complex social, emotional and behavioural needs. Following the design principles of:-
1. Success by any means,
2. Precision Inclusion,
3. Starting at Great,
the school has embedded a Growth mindset amongst its teaching and support staff group which in turn is changing the lives of students who attend.
Find out more about the IQM Inclusive School Award
If your school is interested in obtaining the IQM Inclusive School Award or you wish to talk to a member of the IQM team please telephone:
028 7127 7857 (9.00 am to 5.00 pm)
or email: info@iqmaward.com for further details.
Want more information on the IQM Award? Click here to request your free IQM information pack.