Stubbin Wood School, in Shirebrook in Mansfield, part of the TEAM Education Trust, has achieved the Inclusive School Award with Flagship Status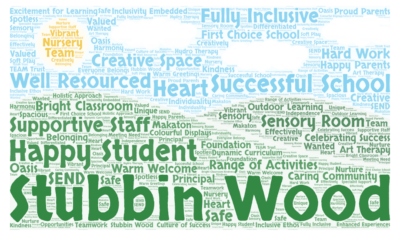 Context
Stubbin Wood & Nursery (SW&N) is a purpose built SEND school that fully caters for students from KS1 to KS5 on one site, with the Nursery in a separate building. SW&N is the foundation to the newly formed TEAM Trust. The Executive Principal and Associate Principal know their school, staff and students well and appropriately hold everyone to account, whilst making everyone feel valued and wanted. As a visitor you become fully aware of a real sense of belonging in the school, essential when some students travel up to 2 hours per day to get to this oasis. The students are well provided for in a spotless, spacious, and very safe school. They are celebrated as individuals and each student has an individual learning pathway, as they move throughout the school. There are plans for the KS5 students to be accommodated on another site which will enable them to be fully integrated into the local community. This would also increase the capacity of students lower down the school. Demand for places is extremely high. Two different Local Authorities work closely with SW&N to create special packages for students entering the SEND provision.
Warm Welcome
A warm welcome greets visitors to Stubbin Wood School, from the receptionist in a large welcoming reception area that welcomes all its staff, students, parents/carers, and visitors in a range of ways. A TV monitor celebrates the successes of students, as well as that of the school and Trust, to Makaton displays on the walls. The inclusive ethos was clearly embedded into the culture of this school, exemplified by staff and students in its classrooms, break out areas, specialists spaces of soft play, physio, art therapy, hydro pool, Forest School spaces etc. All of the space is effectively and creatively utilised throughout the school and its grounds, shared with the secondary academy next door – both settings live in harmony next to each other and before COVID shared internal space and resources.
Creative and Innovative Provision
A range of activities demonstrate and highlight student success and the impressive range of pedagogies that enhance the learning of the students. The classroom staff work very closely with other professionals such as Physiotherapists, Art Therapists and School Counsellors to ensure that the students have a universal approach to their learning. The use of the specialist rooms enhances this holistic life experiences – using the soft play room for space, time out, offering a way for the students to express themselves, as well as additional body conditioning. The white room was recently used to create a 3D experience of being involved in winter sports. The dark sensory room enables students to access their first form of communication by various sensory objects, lights that change in speed, colour, intensity etc. The students can access the curriculum through well thought out steps of work and quality resources. The school can offer a range of qualifications at KS4 and 5 because the foundations are made lower down the school. Students can access various resources that are differentiated to meet their needs – this is very clear in the Food Technology rooms with height adjustable tables, cookers etc. The use of IT is an integral part of access for many of their students. (The IT infrastructure fully supports the staff to share and communicate throughout this large school.) The displays of classroom reading books around the doors are vibrant and a good reminder to what they are reading together. Each classroom has an English communication board and maths board with the new Kindness Curriculum and Identity Curriculum being embedded into all that they deliver. Above all though the vision that spells Stubbin Wood of Standards, Teamwork, Unique, Believe, Belonging, Independence, Nurture, Well-Being, Opportunities, Outcomes and Dedication truly sums up this school – its staff and students. It was a real privilege to visit.
Find out more about the IQM Inclusive School Award
If your school is interested in obtaining the IQM Inclusive School Award or you wish to talk to a member of the IQM team please telephone:
028 7127 7857 (9.00 am to 5.00 pm)

or email: info@iqmaward.com for further details.
Want more information on the IQM Award? Click here to request your free IQM information pack