Stanley School in the Wirral has achieved the Inclusive School Award.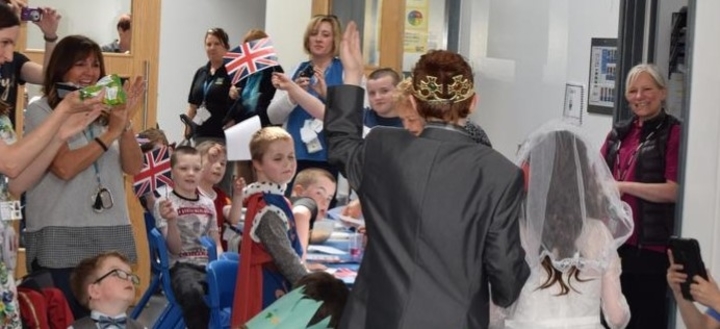 Context
Stanley School is a growing primary special school for children with complex learning difficulties, accommodating pupils in EYFS, KS1 and KS2. All children have an EHCP with 133 on roll including pupils with difficulties associated with ASC, PMLD, Downs Syndrome and Global Learning Delay. Many pupils have speech and communication difficulties, as well.
Facilities
It is a purpose built, single storey building completed in 2014; co located with a mainstream primary school-Pensby Primary School. A comprehensive programme of integration between the two settings has been devised to ensure pupils receive a high standard of inclusion. The building hosts 15 purposely designed classrooms with two extra teaching rooms. Each class has a maximum of 10 pupils, with a teacher and 2 or 3 support staff, ensuring all pupils are superbly supported. In addition, each class has an outside space with synthetic turf which enhances opportunities for learning outside the classroom. Each classroom has an interactive SMART board and the use of a set of iPads, extra iPads are also available for communication. There is a designated ICT suite and a teacher allocated to teach ICT on a daily basis. The ICT suite is well resourced with a range of technology including a 3D printer.
Excellent Resources
There is a full-sized swimming pool and a swimming coach. Pupils swim regularly and it is also used by the co-located primary as well. There is a hydrotherapy pool which is used for pupils with physical disabilities and the physiotherapist delivers specialist support as necessary. There are communal rooms for sensory and physical interventions including a light room and soft play area. There are shared facilities between the two schools such as the kitchen and dining room which is used by Stanley's more able pupils at lunchtime. There is a large hall where specialist PE coaches are employed to deliver a wide range of physical activities that include gymnastics, fencing, dance, football, athletics and trampolining. Specialist music teachers are employed to deliver music lessons on a weekly basis. In addition, some pupils also receive guitar lessons. There is a fully stocked library with a range of fiction, non-fiction and sensory texts. The food technology room is used to extend pupils' learning experiences across the curriculum and develop personal independence skills. A newly built sensory garden has recently been completed.
A Vibrant, Motivating School
Stanley School is a vibrant, motivating school where the warmth of the staff and pupils is obvious as one is welcomed through the door! Inclusion is an integral part of school life. Inclusive practice permeates the school at all levels, led by the Headteacher, and his Senior Leadership Team, who are role models to staff and pupils alike. This was evident in the conversations which were held with parents, Governors, staff and pupils, whose relationships are built upon trust and respect. All share a common ethos of caring for one another and are determined to make their school successful in every respect. All staff are committed to ensure that 'every child matters'. The school values the individual and promotes high self-esteem encouraging a 'can do' culture which is central to its ethos, and mission statement, 'to educate pupils in a specialist environment, using proven methods from both mainstream and special sectors, to allow them to take their place as respected members of their community and fulfil their potential'. Evidence of which I saw demonstrated on numerous occasions throughout the assessment.
A Highly Inclusive School
The school is highly inclusive, promotes equality of opportunity exceptionally well and no-one is ever left out. Arrangements to tackle discrimination and to foster good relations with all are at the heart of the school's work. Partnership with parents is exceptional. Physical access in and around the school is excellent as one would expect from a modern building. Classrooms and corridors are bright and cheerful. The parents I spoke to during the assessment were extremely positive about the school and that it is an open and honest place, where they feel comfortable, listened to and valued; where they have access to a parent room where they can sit and chat to other parents if they feel anxious; and where not only will their children be supported but they know they will be supported as a family. External partners spoken to during the assessment such as the Nurse and trainee nurse (from The University of Chester) and the physiotherapist, all felt that the school worked hard to support the needs of all pupils and said that they felt it was a superbly inclusive place that they felt welcomed into and a part of. They enjoyed working as part of a team with the staff and pupils. Parents said that they always felt welcomed and that staff willingly discuss any issues and support their children. School communication with them is outstanding and the school is proactive in letting them know how well their child is doing. School governors are highly effective and visit the school as often as possible and are well informed about the work of the school and the progress that the children are making. Governors support the school effectively and are knowledgeable about the strategic plan for Stanley School. They understand their role and use this to drive and hold staff accountable for the progression of the pupils at all levels and needs. They know that their contributions are valued by the school.
Inspirational and Aspirational Leadership
Stanley School has inspirational and aspirational leadership at all levels, coupled with extremely professional, highly motivated and enthusiastic staff with a great passion for teaching and for supporting the development of all pupils, led by a forward-thinking Leadership team who drive the school forward ensuring the best teaching and learning for their pupils. Everyone is working towards the same aim within a team atmosphere and passion and determination is evident. There is excellent use of pupil premium funding and tracking to support pupils, alongside superb support for staff and pupils at all levels, including training and CPD as appropriate. This is a school where pupils' needs are always to the fore and where they are always encouraged to do their best, irrespective of ability, disability, social background, ethnicity or gender; consequently, they achieve well or better than expected, demonstrated by the school's involvement with Therapy Dogs Nationwide. This is a charity that promotes the use of therapy dogs in different settings improving emotional health and well-being of those people/ children they work with. The school identified that the use of such a dog might be beneficial to some of their pupils and so arranged for Winnie the Therapy dog to come into school once a week on a Wednesday with her volunteer handler and to work with specific children, who read or speak to her or take her for a walk around the school, pupils from PPS are also involved. Feedback so far has shown a marked positive improvement and difference with pupils who have been involved. It will be interesting to see further analysis at the next assessment or review.
Happy, Nurturing and Purposeful Learning Environment
There is a calm but vibrant, feel to the school within an enjoyable, happy, nurturing and purposeful learning environment that sets the tone for learning and enjoyment for the staff and pupils. In my opinion from the evidence of the assessment the emotional and educational support for all pupils and the staff is an outstanding feature of the school and is a key element in its success and why it is valued not only by the local community, but by the staff and the pupils. With a staff who are regularly going beyond what is expected to ensure successful outcomes for the children and families. Staff morale is exceptionally high and excellent relationships were evident throughout the visit between staff, pupils, parents and governors. Staff felt that there was a highly effective support network not only for pupils but also for staff and families which ensured the school was a happy place to be. There is very much a family feel to the school where everyone works to support each other to achieve the best for themselves and the pupils in their care.
Find out more about the IQM Inclusive School Award
If your school is interested in obtaining the IQM Inclusive School Award or you wish to talk to a member of the IQM team please telephone:
028 7127 7857 (9.00 am to 5.00 pm)
or email: info@inclusionmark.co.uk for further details.
Want more information on the IQM Award? Click here to request your free IQM information pack.