St Thomas More Catholic Primary, Letchworth Garden City, Herts has been assessed recently and achieved the national award for Inclusion for the fifth time.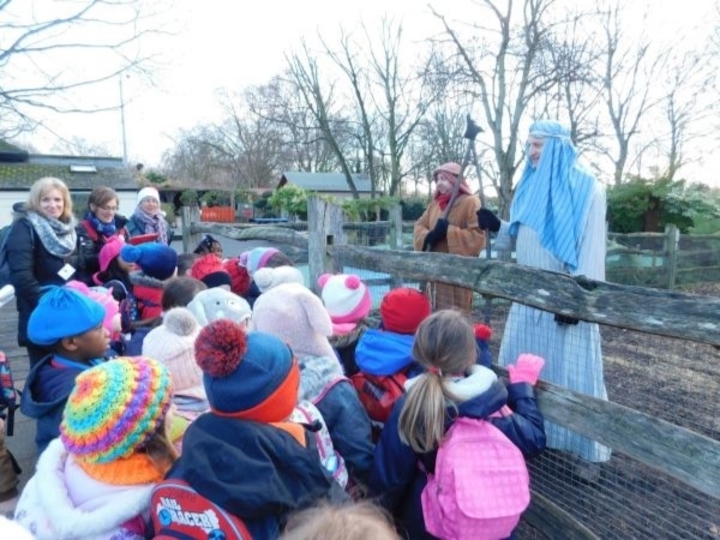 Welcoming and Happy
St Thomas More Catholic Primary School is a welcoming and happy school with an inclusive ethos shared by all stakeholders. The school converted to academy status in 2012 and is part of the Diocese of Westminster Academy Trust (DOWAT). This was the school's fifth IQM assessment and the second IQM assessment under the leadership of the current Headteacher. On my visit to the school, I had the opportunity to verify information provided on the self-evaluation form using the extensive sample of the documentation provided, a wide range of pupils' books from different curriculum areas, a learning walk and discussions with a range of staff, pupils, governors and senior leaders. In addition to the above, prior to my visit to the school, its website provided key information about the school's policies and practice.
Context
The school is situated in Letchworth Garden City with below average levels of deprivation overall, however many pupils live in one of the most deprived areas in Hertfordshire. There are 210 pupils on roll from Reception to year 6 and 27 pupils in the nursery. Pupils who speak English as an additional language are above national average and pupils with SEN are slightly below the national average. 91% of pupils are Catholic, 6% are Christian, 2% are Sikh and 1% of no faith.
An Inclusive Vision
Governors have an inclusive vision "we want excellent education for all because it's important for the children, for the school and for the community" and staff are proud to be part of an inclusive school. One member of staff told me "the ethos here is all about the children and making a difference. It's not an add-on – it's part of what we do here." This ethos is valued by external agencies such as the North Hertfordshire Education Support Centre who feel that "inclusion (from the school) stretches into the community." Staff feel the senior leadership team are supportive, approachable and that there is a collaborative approach to everything that is done. A weekly briefing is held for all staff and staff feel that there are opportunities to share practice.
Pupils are Well Supported
All pupils at St Thomas More Catholic Primary School are treated as individuals. School is a place where they can be successful and achieve their potential. Pupils of all abilities are well supported through interventions as well as classroom based strategies and resources. Outside agencies work closely with the school to provide advice. The SENCO has positive relationships with parents and works collaboratively with them to ensure the best outcomes for pupils. Parents are accompanied to appointments where required.
Pupil Voice
Pupil voice is an important part of the school's work. Staff work hard to ascertain pupils' views about the curriculum, special weeks, new initiatives, interventions and school trips. This is rewarding for staff as well as informative for planning next steps in response to pupil requests e.g. a story writing week was held in which pupils were able to write a story of their choice in lessons. Parents report that even when pupils are non-verbal, school staff endeavour to include their child in their All About Me for their education, health and care plan. Pupils enjoy coming to school and feel that they are listened to. There are two pupils from each class on the School Council. The School Council is proud of the changes they have made in their school including designing the library. Pupils have good relationships with their teachers; one pupil said, "When you don't understand, they don't give up on you – they help you to understand."
Viewing Mistakes in a Positive Light
The school's work on Building Learning Powers, Growth Mindset and Rights Respecting Schools is evident in the way pupils speak. One pupil told me "If you make a mistake, you learn from it." The school has provided its pupils with an environment in which they feel secure enough to view mistakes in a positive light and to be able to learn from them. Another pupil with challenging behaviour who moved to the school is reported to have told the NHESC advisor "A teacher's job is to teach, and my job is to learn."
Partnership with Parents
Parents trust the school and value the personal approach that is taken to meeting individual needs in a discrete and sensitive way. There is a true partnership between parents and staff which has had a positive impact on pupil outcomes. One parent informed me that the school "always looks at what he can do and not what he can't do." In this way staff have supported the parent to see her child's achievements in a positive way.
Supporting Vulnerable Pupils
The school supports pupils who are at risk of permanent exclusion by providing a space for them to work with the North Hertfordshire Education Support Centre (NHESC). Many pupils who are temporarily based at the school want to stay there even when a place becomes available elsewhere. It is unusual for this to occur, however with one year 6 pupil this was accommodated. In this case, pupils and staff welcomed him into class and he was able to complete year 6 successfully. The success that the school had with this pupil who had failed in another mainstream school is indicative of the strength of its behaviour policy and the skills of its staff. The NHESC advisor I met described the school as proactive not reactive. It has a good reputation with their service: "We know they'll bend over backwards to make our advice a success." The advisor felt that there were few referrals from the school as low-level disruption and behaviours are dealt with well therefore there is less need for reliance on external agency support. This is evident from one pupil's thoughts about his work with a teaching assistant at the school "She helps me to talk about things and gets me through things. She helps me to calm down and has taught me strategies that I can use."
A Forward-Thinking School
This is a forward-thinking school that does not rest on its laurels. The school has achieved many quality marks in a range of curriculum areas and through the IQM process, that was jointly undertaken by key staff within the school, it has identified for itself many areas it wishes to develop in the future.
Find out more about the IQM Inclusive School Award
If your school is interested in obtaining the IQM Inclusive School Award or you wish to talk to a member of the IQM team please telephone:
028 7127 7857 (9.00 am to 5.00 pm)
or email: info@inclusionmark.co.uk for further details.
Want more information on the IQM Award? Click here to request your free IQM information pack.