St Peter's Catholic Primary School in Merseyside achieves the Inclusive School Award again.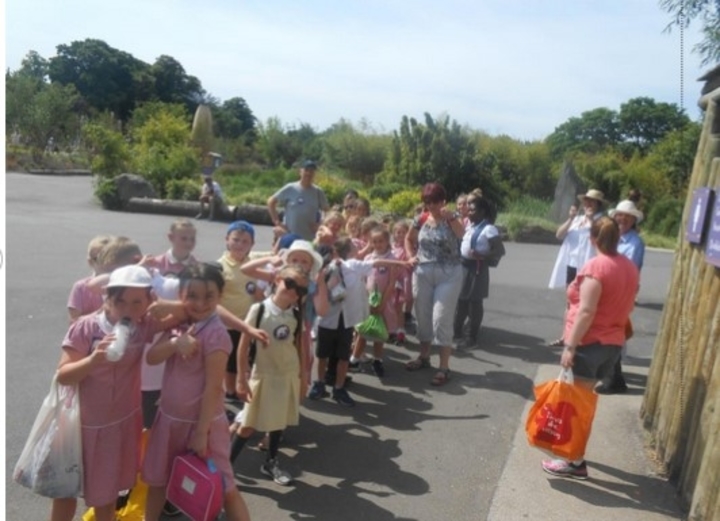 Commitment to Inclusion
St Peter's is a smaller than average-sized primary school with 126 pupils on roll, situated in Prenton, Merseyside, aiming to give their pupils the best education possible and a superb level of pastoral care so that they learn well and are happy in school. The school continues its superb commitment to providing a highly inclusive teaching and learning environment for all pupils. This is reinforced by their mission statement' 'In joy we live together, in hope we build for the future'. This is truly a school where every pupil really does matter and is made to feel special. A fact I can attest to from the evidence of the review and from discussions with stakeholders. The school and staff are committed to providing the very highest standard of teaching and learning experiences to develop the pupils' knowledge and skills.
An Outstanding School in Every Sense
St Peter's is an outstanding school in every sense highlighted by their vision, 'to offer the highest standards of academic, social, moral and religious education closely linked to the child's own potential, developing independence through active learning in an atmosphere of happy mutual respect between staff and pupil for the personal good of the child'. Superb care, nurture and support is the very foundation on which the school builds its educational practice. Inclusion is at the heart of everything that happens on a daily basis at the school and is seen in all interactions, occurring naturally as a matter of course. This was clearly seen and identified from discussions with all stakeholders during the review and from the evidence provided. Everyone involved with the school including pupils and parents pull together to realise the school's vision and understand that this is a superbly inclusive place to come to work and learn. An example of this can be seen where the school staff have worked to develop a new format for Pupil Centred Plans (PCP) and Group Centred Plans (GCP) with parent voice in mind, which will be more efficient and consider the views of all participants and they have developed this in conjunction with parents. This is also the case with the school's policy on Behaviour where parents were invited to come into school and work with staff to re-write the guidance for parents so that it became a more user-friendly policy. It is to be hoped that this becomes a frequent occurrence where policies need to be updated.
The Heart of the Community
This is clearly a school that is at the heart of its community where inclusion is a natural part of what normally happens in school, where pupils are encouraged to reach their full potential, where everyone involved is committed to the inclusion of all, whatever it takes. This is a school that is constantly looking at ways to develop for the benefit of the pupils and families that it serves. This includes purchasing of appropriate software to support pupils' needs such as IDL resources (Indirect Dyslexia Learning) that has been so effective that it is now embedded in the curriculum. Pupils using the programme have been shown to be making great progress against their targets and improvement is evident across the board. They have also reinstated the tranquillity room (sensory room), due to a current perceived need and it is continuing to be developed with resources having been made and staff also using and implementing their own strategies that have been shown to be effective. Higher profile children have had the opportunity to use the room when stressed, anxious or angry. The room has also been used for 'Time to Talk' group sessions, 'Socially Speaking' and the SEN team have received a Releasing the Anger Gremlin' and other such social interventions training to ensure pupils' needs are met. The hub has continued to develop and evolve and now has a variety of pupils visit it each day for support in different subjects. It will be interesting to see how these initiatives/programmes have evolved at the next assessment or review.
A Vibrant Learning Environment
There is a calm, yet happy, stimulating, vibrant learning environment throughout the school with a focus on helping pupils to develop the skills they need to be active participants in their community and in society. This can clearly be seen by a new project that I was able to observe during the review, where Year 6 pupils were actively involved in an Enterprise project where they were working in groups and had to come up with a business plan and then stick to a budget to produce what they were going to make. During the review they were all actively engaged in production ready to sell at The Family Night later that day. They were in the act of producing cakes, biscuits, real lemonade, squiggies, bracelets, hot chocolate and marshmallow sachets. During discussion with the staff and pupils involved it was clear to see their enthusiasm for the project and to see their understanding of finance and budgeting being tested. It is something that the school will continue to develop in future across the academic year and will broaden the focus of enterprise activities to possibly include other local schools and expertise from the secondary sector and local businesses.
Improving Attainment and Wider Outcomes
Everyone I met was helpful and spoke very positively about their experience at the school. This is a school with a focus on improving the attainment and wider outcomes for all students and not just promoting the learning of the lowest or highest achievers. As with the previous review it is clear to see that the school`s actions to care for and nurture pupils, in my judgement, is superb. Everything the school does, is for the benefit of their pupils, they are valued for who they are and what they will become, no matter their starting point. The staff are exceptionally positive about the school and naturally go the extra mile and beyond without thought to ensure that the individual and groups of pupils' needs are met. The superb quality of support, care and nurture within the school enhances the provision here. Staff I spoke to in meetings or around the school are justifiably proud of what they achieve both professionally and in terms of support for the pupils and themselves. They work exceptionally hard to ensure that needs are met. Walking around the school it is very clear to see that there is mutual respect and care that is evident across the staff body; and a fantastic rapport between the staff and pupils, the pupils in the school and between the staff at all levels. A mutual regard and respect shines through and this was evident when I was invited by the pupils to watch a dance rehearsal for the school's performance of Grease before the end of the term and it also shone through in a discussion with members of the school council who were exceedingly positive about the school and their teachers and the opportunities they were given at St Peter's.
A Clear Vision
Staff led by the Headteacher and her senior team have a clear vision for the school and their pupils and a relentless determination and drive for all to succeed. This came across noticeably in meetings and discussions with staff at all levels and with the pupils I met and talked to and is a very real strength of this outstanding and superbly inclusive school. The behaviour and safety of pupils seen during this review was exemplary. Everyone involved with the school should be immensely proud of the way they conduct themselves around the school. Pupils, through a variety of different opportunities, have a strong pupil voice. Parents are well informed of their children's progress and what they can do to support the school and their child's development. This partnership is a key strength of the school. Parents and governors are actively involved in shaping and developing the vision of the school and communicating extremely effectively through its website, letters, texts and social media.
An Excellent Teaching and Learning Environment
Having completed a rigorous and thorough review and having discussed and agreed the targets cited in the report I am of the opinion that St Peter's Catholic Primary School remains a school with the Inclusion agenda at the forefront of everything it provides for its pupils. The setting is superb, providing an excellent teaching and learning environment for teachers, support staff, pupils and the local community.
Find out more about the IQM Inclusive School Award
If your school is interested in obtaining the IQM Inclusive School Award or you wish to talk to a member of the IQM team please telephone:
028 7127 7857 (9.00 am to 5.00 pm)
or email: info@inclusionmark.co.uk for further details.
Want more information on the IQM Award? Click here to request your free IQM information pack.