St Patrick's High School in Keady, Northern Ireland achieves Centre of Excellence status for the second time.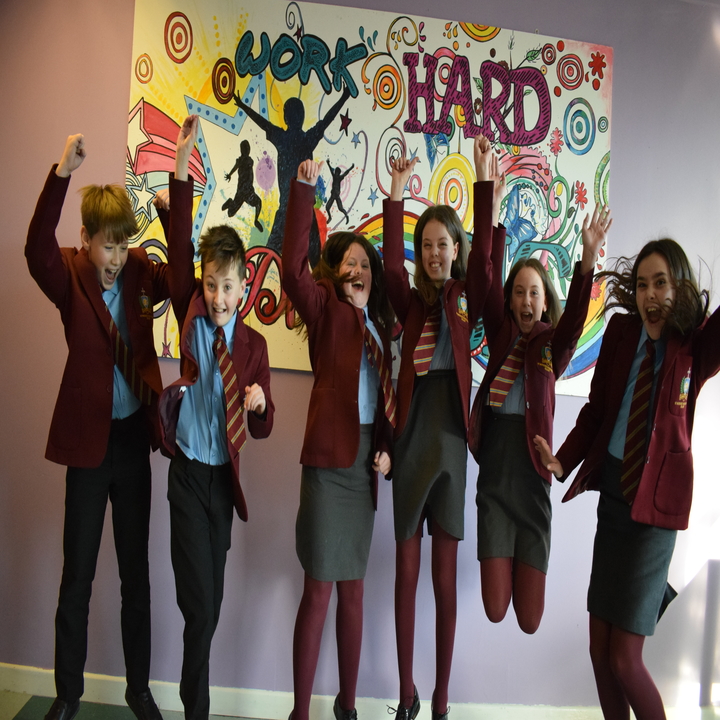 The Highest of Standards
St Patrick's High School is a wonderfully inclusive and all ability school. As a Catholic and Lasallian school, they place a great emphasis on the Christian values of inclusion, of mutual respect, of truth and justice. All those who walk through their doors belong to a community where pupils will always be treated with respect. St. Patrick's is a place that provides a happy, stimulating and vibrant learning environment that focusses on helping students to develop as effective independent learners and positive members of their community and society. The school motto, Lasallian in origin, is Signum Fidei (Sign of Faith) and is worn proudly by the pupils defining them as witnesses to their faith and commitment to the values of St John Baptiste. The school ensures that pupils, staff and visitors are reminded of this on a daily basis as it is displayed in the entrance hall with the school strapline 'Excellence Every Day for Every Child'. This school sets itself the highest of standards and has over several years achieved an array of awards to affirm their success as can clearly be seen in the Principal's welcome on the website. It is clear from such an inclusive statement and from the evidence of this online review and previous reviews that the school's actions to care for its students is a superb judgement.
Promoting Equality and Diversity
This review took place during the Covid-19 pandemic. The school prides itself on superb pastoral care, actively promoting equality and diversity and is therefore an extremely welcoming, inclusive and caring school. The continued commitment to inclusion as a central value of this school remains paramount. Every stakeholder confirmed that their inclusive education was still a high priority in the academic year 2019/20 and continues to be what drives the school during this unprecedented upheaval. The assessor was proud as a fellow educator, to listen to the powerful narrative of just how the staff in the school ensured that learning continued in an innovative form for their students. The unique levels of professionalism and selfless endeavours place this school on a pedestal as they approach their 50th year. The school is very much at the heart of the community and even during this period of Covid restrictions the community clearly remains as the heartbeat of the school. The move to remote and blended learning did not daunt or phase the team. They rose to the challenge and their performance should be held up as a case study for other schools to emulate and follow should we all have to revert back to the same systems in the new year.
Extremely Positive and Optimistic
The assessment was conducted remotely using Zoom and Teams video conferencing. Prior to the day, documentary evidence related to inclusion and the school's Centre of Excellence status was reviewed. I was able to scrutinise electronic documents. The school submitted extremely comprehensive and very accurate documentation of their own evaluation of progress. Leadership at all levels is extremely positive and optimistic and pervades the whole school community. The forward thinking and supportive Senior Leadership team and Governors have a clear vision for inclusion and a clear picture of where the school is going and how to get there.
Superb Inclusive Ethos
Professional conversations with school personnel were extremely useful in confirming that St. Patrick's continues to successfully address all 8 elements of the IQM award. Further meetings and discussions during the review continued to demonstrate the school's superb, naturally ingrained inclusive ethos. The evidence I accessed from the wealth of information provided by the school in terms of documents, prior to the review and during the review, that included pictorial evidence, social media and from the school's website, supported the discussions and the school's superb inclusivity. Over the course of the review, staff actively engaged in meetings to discuss in depth the context of their work and to talk about their successes and future developments.
Professionalism, Enthusiasm and Passion
The meetings with key staff demonstrated their professionalism, enthusiasm and passion for teaching and for the fundamental inclusive principles that naturally occur in the way that they educate, care about and for, and nurture their pupils. It is clear from these conversations that the staff at St. Patrick's High School are extremely invested in what they do and view what they do as a vocation and this has an enormously positive effect on their peers and their students and is something they should be proud of. All personnel working in the school go the extra mile to meet the needs of all the students in their care. It is the welfare and achievement of the students that is the key driver and what matters, and this was clearly celebrated in the wider community in conversations with parents and partners. The new Dr Moore and her whole team are enthusiastic and excited to be leading a school which clearly showcases a commitment to the value of inclusion. She is proud that the school is a Centre of Excellence and clearly wanted the assessment to be positive and evidence the hard work of all stakeholders to inclusion.
Sources of Evidence
Discussions and conversations during the review with members of the school community included the following:
• Inclusion Agenda at St. Patrick's High School and the wider school context/future plans.
• Pupil Voice and Student Leadership Teams.
• COVID-19 Response and Outreach.
• Ongoing school Interventions.
• Staff Wellbeing.
• Careers Award and Year 10 initiative.
• New Models of Learning.
• Future Plans for Cluster Involvement with other Flagship and Centre of Excellence Schools.
Total Commitment to Students and Families
The initial meeting with the Principal and one of the IQM Coordinators looked at how the school has moved forward since the last review in terms of inclusion, how they had successfully managed to continue operating during lockdown supporting families with an impressive level of staff support, a well thought out and executed plan with differing levels of support to suit the needs of students and families and tailored to their needs and also the needs of staff, using a variety of different methods to ensure appropriate and timely contact and support. We were also able to talk about how they had been able to open up the school and provide education and support for more children and their well-developed plans for getting the school fully open in September protecting both staff and students. This is a fantastic achievement that says a lot about the calibre of staff at the school and their naturally inclusive nature, that also suggests a total commitment to the students and families in their care and is a testament to the effort and planning that has been undertaken to make it happen. The staff should be congratulated for their efforts in this regard.
A Relentless Focus on Inclusion
Further meetings during the day focussed on key elements of their superb inclusive practice and clearly demonstrated staff professionalism, dedication and enthusiasm that one would expect from such a superbly inclusive school. It was clear from the evidence of all meetings that the staff feel privileged to be not only part of the education system but part of the staff at the school and are fully supported at all levels to achieve success. Staff at all levels feel included in decision making processes, feel supported, included and feel valued and part of the success of the school. I was also privileged to participate in a wide-ranging discussion about Mental Health and how the school is supporting its students and staff in these challenging times. Some of the personal experiences of students were moving for this assessor and show how strong pastoral care is in the school. Everyone involved in inclusion at St. Patrick's should be highly commended for their relentless focus on inclusion and the needs of individual students and groups of students. This is evident in the support that students have access to and receive on a continuing daily basis.
Student Voice is Valued
The school works very hard to ensure it listens to students, staff and parents. Student Voice is valued. Students are extremely positive about the school and spoke confidently and at length about the help and support available. They appreciate the efforts of the staff and they are proud of their school. Students are very happy with the range of opportunities and they participate enthusiastically, to the point of producing their own pupil development plan. External support from Learn Spark was accessed to help support the Junior and Senior Leadership Teams. The students I spoke to were very proud of the fact that they had established strategic teams for the betterment of the school and were keen to express they were grateful for these opportunities and explain that it was all their own work and that they were looking forward to developing it as it moved forward as a vehicle for student voice and opinion.
Students Supporting Students
What came across brilliantly was just how in St. Patrick's there is a strong culture of students supporting students through student leadership and participation. This is evidenced and has been achieved by systematically developing Student Leadership at the school and involving students in as many different groups and leadership roles as possible. Specific job descriptions for the various leadership roles have been developed. Appearances at prize nights, board of governor meetings and school assemblies give the students a platform from which they can be heard and showcase their work. They are an inspiration to their peers and are keen to leave a lasting legacy for students still to arrive.
Supporting During Lockdown
I was able to look at Teaching & Learning in terms of what progress had been made in the last twelve months, including the superb way they had supported and engaged with their students and families to deliver the best education possible during lockdown, their comprehensive plans for re-opening fully in August, effectively supporting student and staff re-integration with access to a full curriculum offer that should allow students to make significant progress in regaining lost ground as rapidly as possible in a superbly inclusive environment.
Excellent Transition Practices
Transition work with Primary schools and their induction into life at St. Patrick's is excellent, this has been identified as such by other schools and external agencies. The Vice Principal, SENCO, EAL, and careers teachers provided documentation which supported the inclusion practice of the school. The amazing Classroom Assistants bring a wealth of experience and staff development to the pupils they support. Special SEN Google classroom – break and lunch club groups set up to support pupils who wanted to speak to Teaching Assistants. This has proved a priceless form of maintaining the home/school connection and partnership. The community of St Patrick's extends beyond its walls to include a strong partnership with its feeder primary schools with a Transition programme to ensure that all pupils move seamlessly to their post-primary school, confident that they will be cared for in an inclusive environment with teaching and support staff who every day endeavour to bring 'excellence to every child'.
A High Level of Social Capital
Positive relationships in schools are central to the wellbeing of both students and teachers and underpin an effective learning environment. There is a wealth of evidence from St. Patrick's that the focus the Principal places upon inter-relationships at all levels in her school and how she elevates on the importance of connectedness in the workplace promotes and ensures effective education. Governors and staff share her drive to improve standards in the school quickly and raise expectations of what pupils can achieve. This superbly caring, inclusive environment ensures each pupil receives the best education possible, delivered by highly dedicated staff. Participation, empowerment and a sense of connection are central to a high level of social capital found in St. Patrick's.
Inclusion is Who They Are
The creation of a distributed leadership style has allowed many staff to develop across the school, to the benefit of the organisation as a whole. The involvement and commitment of the whole staff are significant reasons for the school's success. Inclusion is not just another initiative at St. Patrick's, it is who they are. The newly formed school wellness committee is an action-oriented advisory group that focuses on the health and well-being of students, staff, and families in a school community. Action plan targeting staff health and welfare was developed in partnership with the Staff Health Coordinator and Wellbeing Team. They have thought carefully about ways that staff can feel valued and receive recognition for their work. Never has it been more timely and it has been well-received by all.
Continuing Improvement and Excellence
The Governors have a clear focus on inclusion, they know the school well and can challenge and support in equal measure. They know their strengths and weaknesses and are committed to continuing improvement and excellence. There are well planned curriculum opportunities on offer which provide a full range of pathways that is constantly evolving to meet the changing needs of the students at all key stages. With vocational opportunities being available to support students as necessary enriching their life chances. The staff members I spoke with are committed to providing their pupils with the best levels of information and opportunities in life that will enable them to reach their full potential.
Supporting EAL Students
St Patrick's has an EAL co-ordinator who organises an interpreter for parents and ensures that the children without English are supported through a range of strategies including CA support, literacy intervention and of course total immersion. Pupils are withdrawn from a languages class until English has been acquired more fully. The EAL was able to recount how some pupils were able to acquire the spoken word within the academic year. The pupils also assured me that they included new pupils in their friendship groups and believed it was important to welcome new pupils.
Developing and Evolving
It was a pleasure to visit St. Patrick's High School to conduct their Centre of Excellence review, albeit through an online review. Everyone involved with the school should be extremely proud of what they achieve on a daily basis and the emphasis placed on ensuring everyone is nurtured, cared for and included. The review underlined their superb inclusive ethos that is at the heart of their approach to the education and support of their students and was discussed openly with all stakeholders during the day. Senior school leaders continue to be vigilant in their monitoring of student progress and attainment. This is a school that is constantly looking at ways to develop and evolve for the benefit of its learning community with a mutual respect and care that is evident across the staff body and it was clear that there is a fantastic rapport between the staff and, I suspect, between the staff and the students, although not seen during this review. The school continues to move from strength to strength in terms of its superb inclusive practice.
Extremely Positive Parents
Partnership with parents is good and improving rapidly, parents I spoke to during the assessment were extremely positive about the school and that it is an open and honest place, where they feel comfortable, listened to and valued and where not only will their children be supported but they know they will be supported as a family. Parents said that they always felt welcomed and that staff willingly discuss any issues and support their children. School communication with them is excellent and the school is proactive in letting them know how well their child is doing.
Find out more about the IQM Inclusive School Award
If your school is interested in obtaining the IQM Inclusive School Award or you wish to talk to a member of the IQM team please telephone:
028 7127 7857 (9.00 am to 5.00 pm)
or email: info@iqmaward.com for further details.
Want more information on the IQM Award? Click here to request your free IQM information pack