St Luke's CofE Primary School, Lambeth, has achieved the IQM Inclusive School Award with Flagship School Status.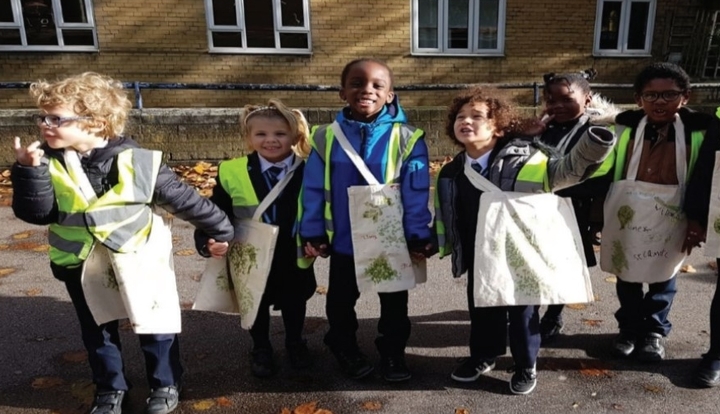 Context
The school is one form entry and currently has 182 pupils on roll. The school is a Church of England School and faith is integral to their ethos of inclusion. There is a joint Governing Body and a shared curriculum offer, which is designed to motivate and inspire learners. Teachers from all three schools share planning and develop resources, which can be used by all three schools. The curriculum is always under review but is broad, balanced and inclusive. Although part of a federation and a MAT, St Luke's C.E. Primary School and the other two schools have their own distinctive culture and ethos. The schools share their expertise and resources in order to provide an excellent learning environment for pupils in the three schools.
Pupils, Staff and Parents are Valued
It was clear from the minute I walked into the school that this was a warm, friendly and welcoming school where every person is valued for their uniqueness. The assembly I attended involved some excellent singing and a focus on 'how special we are.' It was an uplifting start to the day. The inclusive ethos permeates every aspect of what happens at St Luke's C.E. Primary School. It is part of the distinctive Church of England ethos and way of being. Love is a word that is much used and is heartfelt. Pupils, staff and parents talk about the St Luke's C.E. Primary School family and about the way they are valued. Nothing is left to chance and the staff at St Luke's C.E. Primary School have a very clear picture of where pupils are at in terms of their learning personal development and know what needs to be done to remove barriers. Swift action is taken once a problem or concern is identified and there is a menu of targeted interventions available for pupils who need additional support and nurturing.
Collaborative Working
The SMT from all three schools meet every Tuesday morning. In addition, they meet as an independent team. There is a joint staff meeting every Wednesday after school. Collaborative working is an expectation from all who learn and work at St Luke's C.E. Primary School. The teachers work in Year Groups and do joint planning. Michelle told me that the Executive Head invests in each school and in the staff of all three schools. Although the schools have three separate budgets, they share the costs of some staff and services. The federation is a soft federation arrangement and the schools have decided to join the newly formed dioceses Multi Academy Trust in order to protect itself and its unique character in the future.
Increased Knowledge and Confidence
Working relationships with the CEO of the TRUST are very good and the school has benefited from their membership of this group. For instance, a proposed project to be funded by the MAT is focused on Speech and Language development, for which there is a great need. Michelle is helping to prepare the submission for funding. One of the schools targets this year was to Raise the quality of pupils' acquisition and development of language and there has been an increase in the provision of opportunities for enrichment of vocabulary and development of language structures, evidenced in teaching and learning of core and foundation subjects (reading, ERIC, displays, extra-curricular clubs). The school has also benefited from CPD from leading SALT professionals relating to language development. Furthermore, workshops developing 'confident creators', which have been provided for teachers, has increased confidence and knowledge in this area.
Constant Monitoring and Review of Learning
The three schools have a joint curriculum which is jointly written and constructed by subject coordinators. The school SIP has been in to advise and support the curriculum development. They have continued to review the impact of the foundation curriculum with the use of knowledge organisers and title pages in books. They have access to support from the MAT (SDBE) Curriculum and Assessment Co-ordinators and together they are constantly monitoring the impact on learners. In addition, the school are drawing on resources such as Literacy shed and Literacy tree which provide a range of quality vocabulary that teachers can use to support learning. The Windmill Cluster, a local group, run spelling and poetry competitions which St Luke's C.E. Primary School participate in. The school is very aware of the new curriculum requirements and know what Ofsted will focus on. Similarly, they are aware of the possible changes in pedagogy– a focus on meta-cognition and cognitive load theory and focus on knowledge acquisition and memory. The use of knowledge organisers and other memory aids are already in use. The curriculum is and always will be, under review. The Local Authority have organised trial 'deep dives' into Art and Reading as a way of preparing the school for its next Ofsted Inspection.
Providing Support and Mental Health Aid
The school set itself a number of targets during its last review and one of these was about providing support and mental health aid for all stake holders. With this in mind I was able to talk to pupils, staff and parents about what is being done to support this aspect. The parents I spoke to were very keen to tell me about the way their children, who were deeply traumatized or had very complex needs, were included and supported. They were very worried when their children started but were soon reassured by the welcome they received. One parent said her child had not even been nappy trained when he started in Reception and he was barely speaking. He had never been away from his mother for any period of time so she was expecting the worst. Instead, her child settled quickly, was nappy trained within three days and is now communicating and speaking more fluently and is making progress with his learning. Her gratitude to the school and school staff was heartfelt. She said:
"I have been involved in everything."
They even went to great lengths to get her son on various school trips. He missed the first trip because of his anxiety so his mother was able to go with him on the last trip. He really enjoyed this despite the loud noises at the Shrek Adventure. His mother also said that the school helps him to make friends and that the school put
"a smile on my face."
I also met with a grandmother who is bringing up her grandchild with his mother. He is in Year 1 and they were worried about some of his behaviour. The school
"noticed things and they took it on."
They said the school listened to their concerns. He is now getting tested for ADHD and autism. They have seen a massive positive change in him since he started at school. His grandmother said:
"He loves it here and he is making real progress with his reading and writing."
I was able to meet with a group of four teachers including an NQT, a subject leader, a part-time Music teacher and the teacher with responsibility for well-being across the school. The Music teacher has been working at the school two days a week and across the federation for four and a half years. The usual CPD offered across the schools are not always appropriate for him so he organises his own CPD. A Music therapist works with him and other Music teachers, which the school funds.
Growth Mindset
The teachers said that performance management processes were onerous but not oppressive. They are formally observed once a term but may have additional observations if someone is observing a subject or if the SIP is working in the school. They said they don't feel overly scrutinized. Furthermore, they said that the work they had done on Growth Mindset had helped them manage their anxiety around these observations. However, as a school where strong relationships are evident, teachers feel they can have a good dialogue with their line managers.
Recognition of Work
The teachers said they are well supported even though they have a range of needs in their classrooms. There has been and continue to be lots of training regarding autistic needs and provision for EAL pupils. The subject lead for Art and DT said she had participated in a trial 'deep dive' with the SIP. She also did a work scrutiny and rehearsed an interview (pre-Ofsted, deep dive). As this is a one-form entry school there is no funding to reward taking on this responsibility but time has been allocated in recognition of the work involved.
Teamwork
Teachers told me that they are looking to simplifying pupil reports and are using a target tracker. They say sharing planning and meeting with other colleagues across the school is also a great help. Although schemes of work are agreed across the schools, they are told to try things out but if it does not work, they don't have to use it.
Pupil Meetings
My next meeting was with around 15 pupils who were members of some of the extensive range of leadership and volunteering groups. They were from Years 4 to 6 and were a very talkative group who were keen to tell me all about their school. Some of these groups include the Faith Group (who lead reflective areas, help in assembly and lead prayers), the School Council, the Rights Respecting group, the Environmental group (who look after the garden) and Prefects. The pupils told me that there is also a head boy and head girl and they used to have Peer Mediators but these are not around anymore. They suggested various reasons for this.
Seeing Different Points of View
The pupils said that the teachers work with them in class, get them to talk about the way they are feeling and they use story squares to write stories and act them out. This helps them talk about a lot of very difficult subjects and topics. They said they also learn how to have debates, often having to argue opposing views. This helped them see issues from different points of view.
Looked After Well
Pupils said the teachers and all staff at the school looked after them very well and they know if you are feeling down and get you help. They said:
"They help you when you don't know what to do. They have no 'favourites': they treat everyone equally."
Inclusion Permeates Every Aspect of the School
The school has achieved the targets it set itself last year and more. Inclusion permeates every aspect of the school and relationships between staff and pupils are their greatest strength. The leadership team is a formidable group of women who know exactly where the school is at and where it wants to go. They are collaborators in every sense of the word and enjoy and benefit from working with others. This is also true of their commitment to participation in the IQM Cluster group. They are a unique leadership team who lead a unique school.
Find out more about the IQM Inclusive School Award
If your school is interested in obtaining the IQM Inclusive School Award or you wish to talk to a member of the IQM team please telephone:
028 7127 7857 (9.00 am to 5.00 pm)
or email: info@iqmaward.com for further details.
Want more information on the IQM Award? Click here to request your free IQM information pack.