St Luke's Primary and Nursery School in Newham has successfully achieved the national award for Inclusion.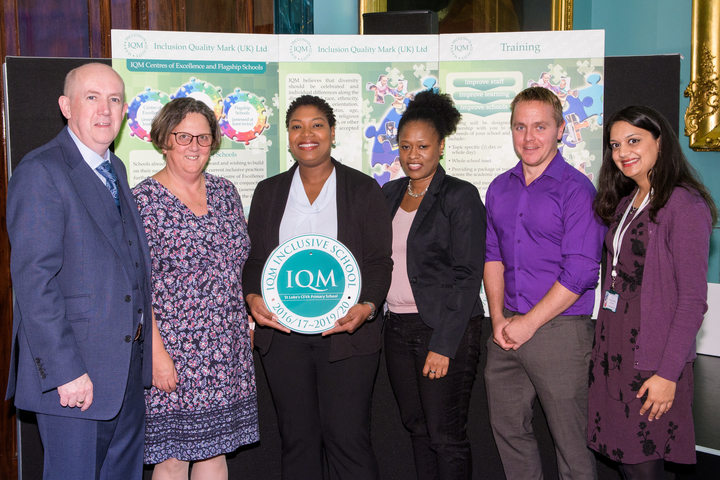 A Safe and Supportive Environment
St Luke's Primary and Nursery School is a happy and welcoming school providing a safe and supportive environment. The school's inclusive ethos is evident in all its work including the changes that have taken place this year. The school has a new Headteacher from October 2016 who is new to the school. The previous Headteacher was in post for twenty years and significant, positive changes have taken place this academic year. The senior leadership team includes the Headteacher and two Deputy Headteachers, one with responsibility for inclusion and the other for curriculum and teaching and learning.
Context
The school has a morning nursery and is one form entry from Reception to Year 6. Majority of pupils are of black African heritage and the school has increasing numbers of pupils from Eastern Europe. There is a high proportion of pupils who have English as an Additional Language. The school is situated in an area of Newham with high levels of deprivation. The building was purpose built with the school moving to the premises in 2000. It has shared use with the local Church of England church.
Embedding School Values
The Headteacher has a clear and strong vision for the school. Embedding the new school values in all its work is a priority as well as staff, pupils and parents working together to improve outcomes. The Headteacher values parent voice and this was evident through the online parent questionnaires that were set up on laptops for parents to complete on parent consultation evening on the day of my visit. There are further plans to work more closely in partnership with parents in order to gain a more holistic understanding of pupils. The senior leadership team is well established with the Headteacher leading on teaching and learning with a focus on dialogic teaching, one of the deputy headteachers leading on an integrated curriculum with a focus on maths mastery and the other deputy Headteacher leading on inclusion focussing on well-being. The challenge of change is recognised and has been dealt with sensitively by the senior leadership team. As a result, parents report that the transition between headteachers has been seamless and there is low staff turnover. The deputy headteacher reported "the changes have been wonderful, I now have links with other SENCOs." The Headteacher is clear that inclusion is not about treating everyone the same, but more about ensuring that each pupil has what they require in order to achieve. He quotes from a course he has previously attended: "There's no such thing as a problem child, there's only a child with a problem."
Staff and Parents are Happy
Staff and parents at this school are happy. It is a small school where everyone knows everyone. Many report feeling like there is a feeling of family. Staff care about pupils with one teaching assistant telling me, "We want to build resilience with all children – we want to prepare them for life." The school's approach to meeting special educational needs is tailored; the highest incidence need at the school is speech, language and communication and this has been responded to through the investment in, and implementation of, high quality interventions in this area. The SENCO has excellent relationships with parents and parents are grateful that "she identifies things quickly."
Improvements in Inclusive Practice
St Luke's CEVA Primary and Nursery School has made progress in terms of its inclusive practice since its last IQM assessment and there are positive changes that have taken place. As such, I am of the opinion that the school fully meets the standard required by the Inclusion Quality Mark. There are some areas requiring development, the school is aware of these and is acting proactively towards addressing these. I recommend that the school be awarded the Mark and considers applying to become an IQM Centre of Excellence in two to three years' time.
Find out more about the IQM Inclusive School Award
If your school is interested in obtaining the IQM Inclusive School Award or you wish to talk to a member of the IQM team please telephone:
028 7127 7857 (9.00 am to 5.00 pm)
or email: info@inclusionmark.co.uk for further details.
Want more information on the IQM Award? Click here to request your free IQM information pack.