St Joseph's Catholic Primary in Winsford has achieved the Inclusive School Award.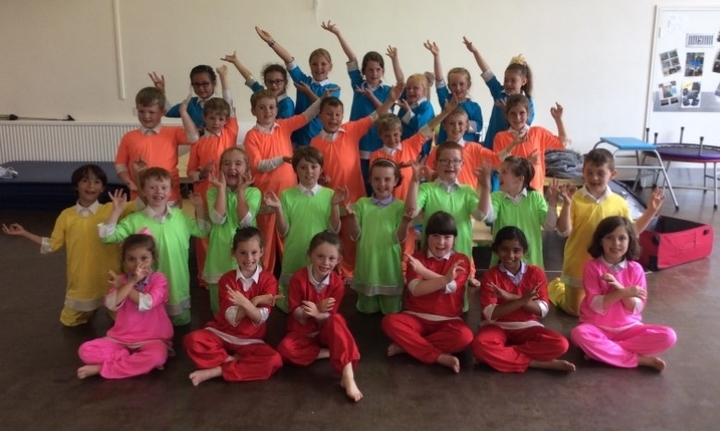 Inclusion is Central
St. Joseph's is a popular Catholic School serving its community well, a place where all who belong see education as a partnership between home, school and the community. There is great 'PRIDE' in belonging to St. Joseph's, where every day everyone strives to show positivity, respect, independence, determination and enthusiasm. Inclusion is at the heart of all that happens here. Pupils, staff, parents and governors quoted that they believed;
"Inclusion is just us all working together and growing in confidence."
This is a place where inclusion can be seen to be a natural action, all are welcome to be partners in education and develop the school.
New Leadership
There is new leadership in the school who have a good and accurate view of the school's strengths and weaknesses. The Headteacher has won the support of staff, parents and governors and all of the leadership team, who are all now working strongly to raise pupils' drive and enthusiasm, bring in many enhancements for all to the curriculum and extra-curricular opportunities. They ensure that while doing this the emotional wellbeing of all takes centre stage. Their determination to succeed leads to an environment that 'challenges with care' and you experience a 'can do' attitude from all whom you meet. The Leadership team and staff have built excellent relationships with children, parents and governors and constantly strive for the best outcomes for children. St. Joseph's is a school that does not stand still, it is forward thinking and innovative and all have a shared belief and shared endeavour, seeing it as an 'amazing place to be part of.'
Celebrating Diversity
Visitors to the school quickly see how they celebrate diversity and there is no expectation to be the same. There is flexibility where learning is highly engaging for all and pupils know that they are valued and supported to achieve their best each day.
Creative Thinking
Within classrooms time is never wasted, an energy of creative thinking is present, everyone is on board and encouraged to think and discover answers together. Pupils
are willing to discuss their learning and one pupil commented;
"St. Joseph's is the best, I get to do things I think I won't be able to do but, with help, I can."
Valuing Individuality
The Inclusion lead has ensured that there is an attention to detail within the Inclusion Quality Mark self-evaluation and action plan. She has modelled a strong 'capacity to listen' with both pupils and adults. With the support of her Headteacher she has driven through the action plan making it fun and interesting for the team, all of whom wanted to share the way that they have co-operated to ensure that inclusion is just what they do, day after day. The evidence presented and willingness of all to discuss their learning and share their work showed a consistent approach to the ethos of being a school where all are valued for their individuality.
Behaviour is a Strength
Behaviour is a strength of the school and the pupils were able to articulate why they were proud to be part of St. Joseph's and how everyone is important and that their teachers make a difference to them, giving them positive praise, ownership of learning and helping them to create good memories. One pupil commented how the school was like a jigsaw,
"Where we all just fit together."
There is a strong dissemination of skills and knowledge between everyone and resources are deployed well to support the needs of all.
The Learning Environment
The learning environment is well maintained, the displays are vibrant and diverse, celebrating past and present learning as well as providing prompts to experiences yet to be encountered. Teachers are skilled in planning a creative curriculum that stretches and challenges in a supportive way. A range of assessment techniques are used to ensure that pupils' learning is tracked and analysed so that targets set for pupils are rigorous, relevant and linked to life skills. Pupils with SEND are well supported by dedicated and experienced support staff who make a valuable contribution to their learning by supporting teachers to design and adapt, where necessary, personalised learning plans. During the assessment, staff were seen to be proactive in finding solutions and knew that their professionalism was valued and appreciated by the community.
Strong Pupil Voice
The School Council feel they have a strong voice and that their ideas were often acted upon and were particularly proud that they had produced 'The Joey', a newspaper written by them as a team for other pupils. Parents and Governors were keen to share how they were encouraged to be active partners in children's learning and that communication from the school was clear and concise. Staff are seen as approachable at whatever time of the day they may be needed, meeting and greeting and working to ensure all have the best day that they can. There is a strong vision at St. Joseph's to ensure all are aware of the shared belief for the school and actively encouraged to share in the endeavour to build on strengths and to develop areas of development. This leads to all stakeholders seeing the school as an amazing place to be part of. The school provides a caring, well-disciplined environment, setting high expectations to encourage excellence in all activities they undertake. It was commented upon that St. Joseph's is not just a school but it's a community.
Find out more about the IQM Inclusive School Award
If your school is interested in obtaining the IQM Inclusive School Award or you wish to talk to a member of the IQM team please telephone:
028 7127 7857 (9.00 am to 5.00 pm)
or email: info@inclusionmark.co.uk for further details.
Want more information on the IQM Award? Click here to request your free IQM information pack.