St Damian's RC Science College in Lancashire achieves the Inclusive School Award.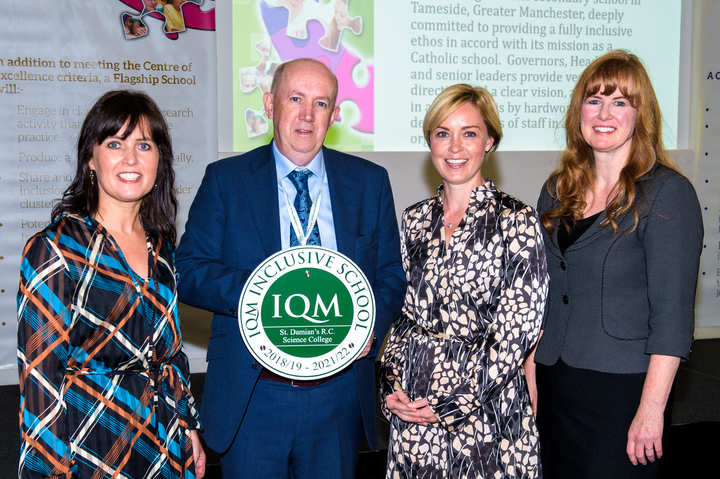 Committed to Inclusion
St Damian's RC Science College is an outstanding Catholic secondary school in Tameside, Greater Manchester, deeply committed to providing a fully inclusive ethos in accord with its mission as a Catholic school. Governors, Headteacher and senior leaders provide very strong direction and a clear vision, ably supported in achieving this by hardworking and dedicated teams of staff in all areas of the organisation.
School Context
The school has achieved significant improvement since being placed in Special Measures in 2010. The school is now heavily oversubscribed. Currently there are 820 pupils on roll and the school's popularity is evidenced in the high number of first choice places from parents. In recent years the school has increased its Pupil Admissions Number (PAN) from 150 to 165 to cope with the demand but due to the size of the building this cannot be increased further.
Outstanding Judgements
The school was inspected by the Diocese of Salford (Section 48) and was graded as 'outstanding' in March 2016. The school is extremely proud of this recognition as it illustrates that St Damian's encapsulates the true values of a Catholic school, of which inclusion is at its heart. This is evidenced by high levels of respect, equal opportunities regardless of ability and outstanding personal relationships. More recently the school was inspected by Ofsted in November 2017 and was judged 'outstanding' in all areas.
Everyone is Valued
Contained within the school's mission statement, there is clear evidence that the school values everyone stating that "We welcome all people into our community and we are committed to learning and achieving our best in all we do" and "We care for all and promote mutual respect in our school community." Further to this, the school also states that "every individual deserves recognition, respect and is unique."
Inclusion is Non-Negotiable
In my meetings with the Chair of Governors, Headteacher and other senior leaders it was clear that inclusion is a given and is not negotiable. The school also makes clear that by 'inclusion' they mean everyone; "Indeed, we believe that every person matters, not just every child matters!" In June 2018 the school achieved the Investors In People (IIP) Gold award.
The Learning Environment
The school building is very well maintained and is adorned with a vast array of displays including inspirational quotes, displays of pupils' work, information and celebrations of achievements. Classrooms are welcoming places and are very well organised and set out. The glass walls adjacent to corridors are a positive feature of the classrooms and throughout my several tours of the school, it was possible to witness the consistent engagement of learners in all classrooms. Teacher and Teaching Assistant planning is thorough and appropriate to need and is well supported by good resources generally and, more specifically, for children with additional needs.
A Caring and Ambitious School
Everyone in the school consistently demonstrates mutual respect and together create a most welcoming and inclusive feel to the school. Behaviour of the pupils is excellent at all times and the standard of uniform never stalls regardless of the time of day or the activities in which pupils are engaged. High expectations are a palpable feature of St Damian's RC Science College and from the many discussion I had, it is clear that pupil aspiration is high and they flourish in this caring and ambitious school.
Pupils Make Exemplary Progress
Pupil outcomes are outstanding and as Ofsted Inspectors found "pupils are thirsty learners and make exemplary progress." Whilst progress is strong across all subjects and all pupil groups, it is worth noting the exceptional results that disadvantaged pupils make, in part because the pupil premium funding is used effectively.
Quality of Teaching
I observed a number of lessons and was impressed by the quality of teaching and the positive contributions of pupils. In a year 7 lesson I witnessed some particularly effective questioning by the teachers to elicit deeper understanding of the text that they were reading. During form time, I was invited to observe teaching assistants supporting targeted pupils in a variety of ways. I saw intervention groups for literacy and mathematics which support those pupils currently achieving below expectation.
Very Happy Parents
Parents with whom I met, were gushing in their praise for the school. They were unequivocally supportive of the school's relentless drive to maintain high standards and generate a culture of high aspiration and ambition for all. Parents were rightly concerned that their children were well looked after and were safe and they were unanimous and resounding in their praise for this aspect of the school's provision. They were equally effusive about the quality of teaching and support commenting that all teachers were "very good, there are no weaknesses." Parents spoke openly about some of the emotional and special education needs of their children and were extremely grateful for the excellent support that their children had received but also made the point strongly, that the whole family was supported. They felt a part of the school community and involved in their child's journey.
Governance is Exceptionally Strong
Governance is exceptionally strong. I met with two Governors including the chair and I was so impressed with their deep understanding and knowledge of the school and also their unswerving resolve to ensure that the school offers the very best for everyone. They were unassuming yet quietly assertive and it was an inspiration to meet with them and discuss their involvement with the school. Amongst many other responsibilities, they are undoubtedly the guardians of inclusion.
The Local Community
I met with a number of representatives of external agencies that the school draws upon and from discussion it was evident that the school actively engages with these services. The school ensures that there is a good programme of extra-curricular activities including residential trips and lunchtime clubs including craft club, games club and film club. A striking feature of the school is the support they offer to charities. They have raised in excess of £10,000 for a variety of charities and do so consistently, year after year. In the staff briefing I attended, I heard about the school's production of 'Matilda' which had run the week prior to my visit. It was a huge success and was well attended by members of the community.
Dedicated and Hard Working Staff
This is a school that is providing an outstanding experience for its pupils and their families. All staff are dedicated, work hard and are very skilled at what they do. Outcomes are excellent across the board. There is a strong sense of warmth and an ethos and culture that ensures that everyone is respected and offered every opportunity to achieve their potential. The school most definitely lives up to its motto "In all things faithful" and demonstrates a genuine drive to provide a fully inclusive and aspirational education for all of its pupils. That said, it is far from complacent and is constantly seeking to improve. It was a pleasure to visit this inspiring school.
Find out more about the IQM Inclusive School Award
If your school is interested in obtaining the IQM Inclusive School Award or you wish to talk to a member of the IQM team please telephone:
028 7127 7857 (9.00 am to 5.00 pm)
or email: info@iqmaward.com for further details.
Want more information on the IQM Award? Click here to request your free IQM information pack.