St Cyprian's Greek Orthodox Primary Academy in Thornton Heath achieves Flagship School status for the third time.

Context
St Cyprian's is the only Greek Orthodox primary school in the UK. It has two forms of entry and is larger than average with 424 pupils on roll. The proportion of pupils with Pupil Premium funding is below average and the number of pupils from ethnic minority groups is above average. The number of children with SEN is below average. The school aims to give every child the highest quality education in a supportive learning environment enriched by progressive teaching of the Greek language and Greek Orthodox religion. About a quarter of the children come from a Greek Orthodox background; most come from other orthodox backgrounds whilst there are some from different religious beliefs.
IQM Flagship School Status
The school has had IQM Flagship status for a number of years. On my visit to the school, I had the opportunity to verify information provided on the Flagship Action Plan, speak to parents and a Governor, chat to the children, conduct a learning walk visiting all classes and the nursery, interview staff involved in key aspects of the school's action plan and meet with the Acting Headteacher and Assistant Head to discuss and review the school's work towards the action plan and plan next steps. Prior to my visit to the school, its website provided key information about the school's policies and practice.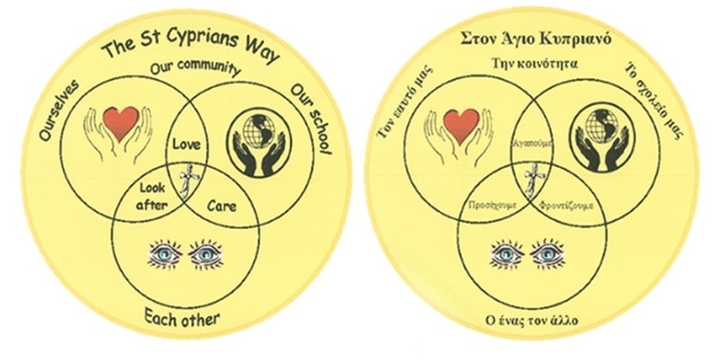 A Happy and Welcoming School
St Cyprian's is a happy and welcoming school providing a safe and supportive environment that enables pupils to flourish and reach their potential. Children have a deep understanding of the St Cyprian's Way which underpins their attitudes and behaviour. They know that if they love, care and look after themselves, each other and their community, they will grow to be responsible citizens. These learning behaviours are taught from the Early Years where the children are introduced to the ideas of independence, respect, resilience, reflection and collaboration. In all parts of the school the children were well-mannered, always holding doors open for others and engaged in their learning.
IQM Cluster Group
Staff have visited other schools including special schools in their cluster group and have found these meetings thought provoking and useful. St Cyprian's also hosted a meeting in June 2018. Staff have visited schools in Italy and Sweden and each time they try to bring back an idea which could improve practice in St Cyprian's, for example evidencing incremental progress for those with extreme SEN, having a greater focus on child centred learning and creating a rich outdoor environment for children to learn outside.
Everybody is Different
On the day of this review Father Chris came in for assembly to talk to all the children and parents as it was St Cyprian's Day. He complemented the children on how respectfully they entered the hall. He spoke to them about their diversity and that everybody is different but we are not here for ourselves. With good humour he was able to recount a story of how a bully can change and that we can all change.
High Expectations and High Standards
As you enter the school everybody goes through a chapel area, with icons and a prayer box. There is a picture of Archbishop Nikitas who will shortly be visiting the school. The school proudly shows off its shield for winning the Croydon Football league for the first time in its history. The displays in the corridor tie British Values to the ancient Greek philosophers. There is a display combining themes of Our School, Our Community and Our World. There is a Remembrance display and examples of good writing. Another display shows how each world religion is respected with artefacts and pictures. There is a display encouraging good attendance and which class has the best attendance for that week. Another display shows end of year expectations for each year group. Another showing which animals are being sponsored through the WWF and a box for children to write their concerns. High expectations and high standards are well established yet set within a caring environment.
A Consistent Approach to Displays
Each class is the name of a Greek Island and there is a map and an icon of its patron saint outside each door pinpointing where the island is. There is a consistent approach to the displays in each room. Each child is in a team and may be rewarded for good work and behaviour. The children explained how their picture may be moved on the Venn diagram of the St Cyprian's Way if their behaviour was not appropriate. They thought that the rewards and sanctions are right.
Resources and the Learning Environment
The school has a well-resourced nursery, library, music room and kitchen with a work counter which can be raised and lowered according to the heights of the children. Although at the moment there are no children needing a wheelchair, there is a lift to enable those with physical disabilities to access the first floor. The new all-weather pitch is proving popular and there are areas for children to sit quietly in the playground. The Early Years inside and outside provision encourages imaginative play. It has exciting plans for the future to build a Forest School. The staff at St Cyprian's have thought carefully about all of its provision enabling all of its pupils to access all of its facilities.
Find out more about the IQM Inclusive School Award
If your school is interested in obtaining the IQM Inclusive School Award or you wish to talk to a member of the IQM team please telephone:
028 7127 7857 (9.00 am to 5.00 pm)
or email: info@iqmaward.com for further details.
Want more information on the IQM Award? Click here to request your free IQM information pack.