St Alban's Catholic Primary School, Gateshead, has achieved the Inclusive School Award.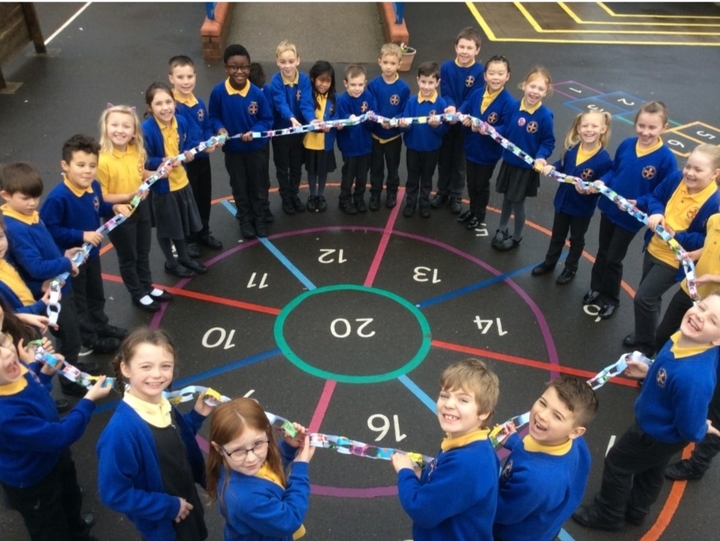 Striving for Success
St Alban's Catholic Primary School provides a warm welcome for its pupils, accepting and encouraging everyone within to:
"Live Life to the Full."
Staff within are ready to bring out the best in all who come here, sharing a common purpose in striving for success in academic standards, personal development and well-being. Inclusion is the key to making this happen. The acceptance of difference, the kindness shown to those who come here and the encouragement of everyone to give of their best is underpinned by effective processes that are planned to meet individual needs so that barriers are minimised and pupils thrive.
Context
This is a slightly smaller than average sized 3 to 11 Catholic primary school in Gateshead serving the parishes of St Alban's Pelaw and St Patrick's Felling and drawing pupils from a mix of social and private housing. The majority of pupils are of white British heritage, with the percentage of pupils in receipt of additional funding through free school meals or Pupil Premium being lower than average. St Alban's has some pupils with complex special educational needs including a slightly higher than average proportion of pupils with Education, Health and Care Plans and it provides individualised provision to enable them to access the curriculum and be part of the wider life of school. In June 2017 Ofsted graded the school as 'good.' This is the school's first assessment.
Inclusive and Nurturing
Everything about the team at St Alban's says, 'we care' and this ethos is supported by the development of inclusive and nurturing policies which impact upon the learning environment, promoting strategies to improve teaching and learning, equalities and behaviour for learning.
Dedicated and Committed
The Senior Leadership Team is dedicated and committed to ensuring the whole child is nurtured and has the opportunity to enjoy and achieve. Pupils with SEND are given the support and encouragement they need through teacher and teaching assistant led interventions as well as classroom-based strategies and resources. Teachers are experienced and well supported by teaching assistants who support and break down the learning, setting incremental targets and developing key life skills for pupils along the way. The school aims high for its pupils with increasing numbers of pupils leaving St Alban's having met government standards, including at greater depth over time. The performance of St Alban's is above average nationally, particularly within reading which is well above.
Exemplary Relationships
The SENCO has developed exemplary relationships with parents and external agencies and works collaboratively with them to purposefully remove barriers to ensure the best outcomes for these pupils. The evidence presented for the assessment was an indication of the diligence and organisation which goes into creating plans and pathways for pupils. She plays a major role in creating the climate of success for SEND pupils and works very closely with parents and families, recognising the need to support the well-being and emotional health of vulnerable learners, offering good support, sourcing appropriate resources and developing a strong network of professionals.
Safe, Secure and Consistent Environment
The Headteacher said:
"We like to make it all about the child."
This became obvious throughout the assessment, through the curriculum and wider opportunities provided, the teaching, learning and through speaking to pupils themselves. All pupils benefit from the emphasis on nurturing and supporting the whole child and this helps them to be creative, to find their own talents and to be recognised for the qualities they bring. The safe, secure and consistent environment allows pupils to learn from mistakes and to challenge themselves physically and academically. This gives them the confidence to face challenges and tackle their learning, to step up to roles of responsibility and ultimately to go on to achieve well academically.
The School is Held in High Esteem
The school is held in high esteem by its community. Parents and Governors see the school as inclusive and are proud of this. A Governor commented that:
"There is a spirit of generosity here and an ethos of acceptance which welcomes pupils whatever their needs."
Staff are proactive at identifying needs then are swift to meet these in whatever way is necessary to see the child thrive. The 'family ethos' continues beyond the school day as the school engages in a wide range of multi-agency support for families.
Positive Reviews
The Headteacher is a visible presence within the school, which pupils appreciate and parents and staff welcome. Staff meet and greet at the beginning and end of each school day which enhances the positive relationships and promotes good communication. Parents spoken to are very supportive, including those whose pupils have benefited from SEND or inclusive practices. One parent described St Alban's as being like:
"A little family" and "It's not just about test results here, although I'm very proud of those. This school is about the whole child being happy and successful."
Parents and carers are made very welcome and are thoroughly involved in their pupils' learning. There were many positive comments evidencing the ways in which parents are given ideas to help pupils at home and how the supportive environment and adaptations made meet individual needs. Comments included:
"I have a happy, confident child because of the support everyone gives in this school"

"They are always thinking of ways to help us and there are so many activities to suit the pupils' interests."
Parents spoken to were keen to talk of the relationships fostered between home and school, valuing the opportunities given to be involved with their child's learning and engaging in family events such as Fun Fridays, fairs, celebrations, curriculum engagement days and performances.
Memorable Learning Experiences
The curriculum is enriched through participation in memorable learning experiences, further supporting the personal development of pupils. This also helps to contribute to many awards the school has achieved over time, which raise aspirations and of which all stakeholders are rightly proud.
Pupils Flourish
Policies and processes relating to teaching, learning and assessment have helped the school on its improvement journey. Progress is tracked and monitored so that the picture of where pupils are and where they need to be is clear. Staff look closely at data to inform planning and to identify resources or curriculum enhancements which will take pupils forward in their learning. Floor books provide visual displays of incremental progress and anecdotal evidence of pupils flourishing in their learning.
Happy, Kind and Caring School
Pupils say they are cared for, their opinions are valued and they are encouraged to participate and take on increasing roles of responsibility around school thus developing their confidence. It was a delight to chat to pupils in the yard, over lunchtime and when meeting pupil representatives of the many leadership groups who ensure pupils' voice is heard and that they remain central to the decision-making process. They told me of the myriad ways in which they help within school, being Mini Vinnies, buddies, ardent fundraisers, councillors, eco-warriors, role models and lead learners. They spoke articulately and maturely about what it means to hold these positions and about the pride and sense of belonging that they enjoy as a pupil in St Alban's. What a happy, kind and caring school they have helped to create. Parents too were full of praise for the behaviour of pupils and for the support of buddies, how they help the youngest pupils embrace school with statements such as:
"My son settled quickly. His buddy makes him laugh and takes care of him" and "This is a lovely school system, my daughter loves her buddy holding her hand."
Pupils Embrace Challenge
Pupils embrace challenge and believe that they can make a difference with their ideas and initiatives, not just for school but for the wider community and the planet. They embody the true meaning of Christmas with their 'giving back' idea of supporting the Feeding Families campaign and reducing carbon footprint over the season, putting commendable ideas into action to reduce waste. They embrace the values the school upholds and view their positive contributions within the community and beyond as one way of living "life to the full." Pupils are full of praise for their teachers:
"They are the best, they have so many different ways of teaching and helping you"

"We get a lot back through the trips we have and there's dance, pantomime, performances and clubs…"
They are proud to be selected to represent what the school does best and are humble in their success.
Positive Relationships
Pupils at the school have positive relationships with each other and with staff. Classrooms are calm, busy hubs of learning because pupils have a clear understanding of rules and acceptable standards. There are very respectful relationships and teachers are quick to recognise and reward pupils when these are upheld.
Pupils Include and Accept People with Differences
It is clear that pupils know how to include and accept people with differences and this was particularly evident when observing lessons and seeing pupils at play where they shared, took turns and collaborated, being respectful of the contributions other pupils made.
Challenging, Fun and Inclusive
Provision in the EYFS offers creative and secure spaces for developing imagination and social skills indoors and out, for pupils to express themselves through play and to develop the foundations of learning. Pupils follow a plan-do-review curriculum and staff ensure that their start to education is challenging, fun and inclusive so that they can look forward to moving through the school on their learning journey and aspire to succeed. Here they learn the language of emotions through the implementation of Zones of Regulation so that they have the vocabulary to express how they feel and to understand and manage their own behaviour.
Attractive Environment for Learning
The building has been refurbished wherever possible to create an attractive environment for learning with every space used effectively, examples of this is seen in the creation of a Sensory Room which is being developed to meet the needs of vulnerable pupils who may have been affected by adverse childhood experiences and provides a calming and enriching space. They also have the St Alban's room, which has been designed to provide a beautifully uplifting place for liturgy, prayer and meditation. The reception office is welcoming and is the hub of information for parents. Corridor displays are informative and decorative. They draw attention to staff and pupils 'who can help us' promote eco-challenge information backed by pupils and display examples of high-quality pupils' work. In classrooms, the Zones of Regulation information is evident and there are helpful resources, aids and prompts to assist pupils at work. Outdoors has a range of imaginative fixed and portable play facilities, including a performance area and a giant sandpit for older pupils to enjoy. These came about as a result of consultation with pupils and is very supportive of their social, emotional and mental health.
The School Sits in the Heart of the Community
The school sits in the heart of its community, with good metro links. Staff make excellent use of the locality, planning enrichment activities for small groups and individuals to include visits to the local shops, the library, museums and places of interest, travelling by Metro as a way of teaching time and money. They record in floor books after to extend the learning in the classroom. Good links have been forged with the local care home and Hertfordshire House Community Centre to encourage families to work together. The church and school embrace one another and engage in a wealth of worship and service activities. St Alban's know their community well and go the extra mile to support those who need this.
Pupils Live their Lives to the Full
The passion of those who work within and give support to St Alban's Primary School has meant that this is a place where pupils can flourish and indeed live their lives to the full.
Find out more about the IQM Inclusive School Award
If your school is interested in obtaining the IQM Inclusive School Award or you wish to talk to a member of the IQM team please telephone:
028 7127 7857 (9.00 am to 5.00 pm)
or email: info@iqmaward.com for further details.
Want more information on the IQM Award? Click here to request your free IQM information pack.