Southwold Primary School in Hackney has achieved IQM Flagship School status.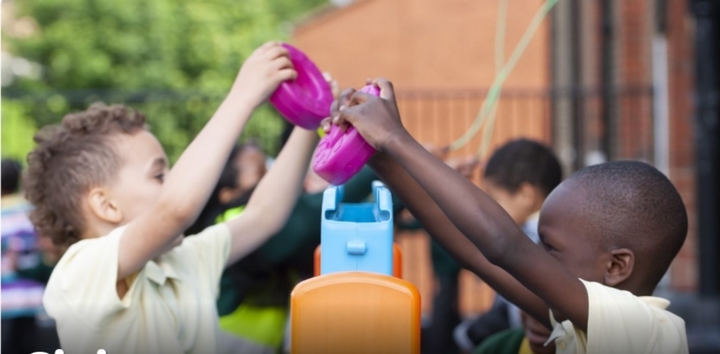 Background
Southwold Primary School is situated in Hackney in East London. Part of the Viridis Schools' Federation, it is formed of 3 Primary schools; Southwold, Orchard and Hoxton Gardens. Sharing a joint Governing Body and Executive Headteacher, the schools work effectively together sharing expertise and a passion for providing the best learning experiences for their pupils.
Context
Southwold is a larger than average, culturally diverse, 2 form entry Primary School, including a nursery. The school has approximately 397 pupils, with the percentage of pupils eligible for Pupil Premium and who speak English as an additional language being significantly higher than the national average. The school also has a higher than average percentage of pupils with SEND. There is a great sense of community. The Headteacher stated:
"We have an amazing community. The children are kind and caring."
Committed to Inclusion
The school is committed to inclusion, believing that every child has the right to succeed. It works hard to overcome any barriers to learning for its pupils, in order that they can achieve success.
Pupils Make Good Progress
Despite a significant number of children entering the EYFS significantly below age-related expectations, pupils at Southwold Primary School make good progress and achieve well, with results at the end of Key Stage 2 being well above the national average across all areas.
Ofsted
In September 2018, the school was inspected and once again graded 'Good' by Ofsted. Ofsted stated that 'due to the strong practice and marked improvement in specific areas' which 'may indicate that the school has improved significantly overall' the recommendation is that the school's next inspection will be a section 5 inspection. Leaders were praised for having 'the highest aspirations for all pupils.'
Maximising Physical Space
Set in a densely populated urban area, Southwold Primary has cleverly maximised the limited physical space that it has in order to provide the children with a range of enabling learning environments. The Early Years department, for example, has a beautiful natural looking outside area, providing a very enabling learning environment to meet the different areas of learning.
Rooftop Garden
The school's rooftop garden area is impressive and provides pupils with the opportunity to grow a range of produce, developing their understanding of sustainability and business with the older children having previously sold the school produce in Wholefoods and within school.
Bright and Inviting
Classrooms are bright and inviting, reflecting all areas of the curriculum, with working walls and visual timetables. The quality of displays throughout the school is exceptionally good and reflective of the school's creative curriculum. Every class has a welcome board where pupils share what they would like to learn in the year and what it means to them, with the half-termly value and class reward systems evident. In Key Stage 1 reading areas are inviting for pupils and in Key Stage 2 classrooms have 'inspiration stations' where pupils can go and work quietly and develop their thinking. Members of the Senior Leadership Team leave a selection of their favourite books outside their offices for children to borrow. Behaviour for learning observed throughout the assessment was excellent.
Innovative and Inclusive Curriculum
The curriculum at Southwold Primary is 'innovative and inclusive' and the enrichment curriculum is outstanding. The school provides a number of enrichment weeks covering areas from science and history to enterprise and gardening, together with a wide range of enrichment activities. Pupil voice is a strength of the school, with pupils being given a wide range of opportunities for them to take responsibility and be meaningfully involved in the life of the school. These include school council, language captains, peer mediators, lunchtime helpers, sports captains, digital leaders, head gardeners, art ambassadors and librarians. The school also runs a breakfast and after school club and offers a broad range of subsidised after school activities.
A Cohesive and Clear Vision
The Headteacher, Inclusion Lead and whole staff share a very cohesive and clear vision of how inclusion operates in practice throughout their school. There is a shared responsibility for inclusion and for meeting the needs of all their children. Planning, assessment and monitoring systems are highly effective. Pupil progress is closely tracked, with pupil progress meetings being held twice a year. The school runs a wide range of interventions and these are closely monitored for impact. Weekly SEN planning for those pupils with the greatest need ensures that their work is fully differentiated. SEND pupils have Individual Education Plans, which have been refined and include clear targets and timetables for support. The school works effectively with a range of outside agencies.
A Great Sense of Teamwork
There is a great sense of teamwork amongst the staff, with Continuing Professional Development being given a high priority. One member of staff said,
"I love it. The senior team are really supportive. They've given us great training."
Both teaching and support staff receive weekly CPD training.
Proud Pupils
Pupils are proud of their school and feel 'really involved' in helping to improve the school. They were keen to tell me that it had been school council that had changed the school logo and made adaptations to the school playground. They report that,
"All the teachers are lovely"
and that they help them to improve their work through their marking and feedback. They feel safe in the school and feel that behaviour throughout the school has improved. They say that there is always someone to go to if you are worried or have a problem. In fact, one pupil said, "If anyone told you anything bad about this school, it's a lie!"
Opportunities
The school provides a wealth of opportunities for parents/carers to become involved in the school and the weekly coffee mornings cover a range of topics which help parents/ carers to support their child's learning or develop their own skills.
Enthusiastic Parents
Parents are enthusiastic about the school and appreciate the additional opportunities on offer to their children,
"the school has always provided extra opportunities to keep busy – school council, sports, peer mediation group, chess, extra maths."
They also appreciate how caring and inclusive the school is,
"From the home visit they start to learn about you and your children."
They work with the school in organising a range of events throughout the year, such as an International Evening, winter and summer fair and film night.
"The school work with us and the staff are there to help out".
Parents try to make events as inclusive as possible and are very receptive to new ideas for events.
Increasingly Outward Looking
The school is increasingly outward looking, belonging to a number of partnerships beyond the school. In terms of continuous school improvement, particularly impressive is the emphasis that the school and the Viridis Federation places on research-based practice, creating a learning community of staff and pupils.
Commitment to CPD
"As part of our continued commitment to professional development, seeking best practice and innovative pedagogy, action research is undertaken by middle leaders across the Federation on a yearly cycle. The action research is a reflective process led by individuals, working with their teams to establish research questions which review, challenge and develop current practices in our schools." (Viridis Schools)
Best Practice Visits
Research is linked to the School's Development Plans, in conjunction with London Metropolitan University. The Viridis Federation also organise 'Best Practice' visits where members of the SLT teams visit other schools, with a particular focus. The current year's focus is looking at how schools deploy support assistants, considering research from the Education Endowment Foundation and MITA project.
Find out more about the IQM Inclusive School Award
If your school is interested in obtaining the IQM Inclusive School Award or you wish to talk to a member of the IQM team please telephone:
028 7127 7857 (9.00 am to 5.00 pm)
or email: info@iqmaward.com for further details.
Want more information on the IQM Award? Click here to request your free IQM information pack.