Sir Johnathan North College, Leicester achieves the IQM's Inclusive School Award with Flagship School status for the fourth time.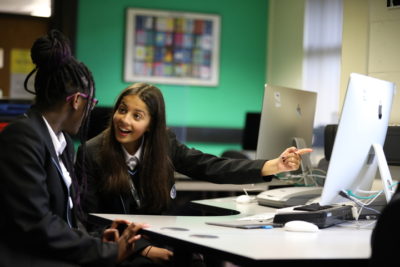 Context
Sir Jonathan North College is part of The Lionheart Academies Trust, which is a family of eleven schools based in and around Leicestershire. Sir Jonathan North College is unique as the only girls' multi-faith state school in Leicester and Leicestershire, educating students aged 11 to 16 from across the city and beyond. It has a reputation for innovation, success, inclusivity and a diverse community. The Principal, who has led the school since January 2019, believes that the diverse community that they serve enriches the school.
Warm Welcome
My virtual visit was carefully and sensitively planned with a warm welcome. From the outset, the IQM Lead had organised the day to take into consideration all needs for the meetings. I met with a wide range of staff and students. The school visit was online, and this went smoothly. I thank Michelle Barnwell for the smooth running of the virtual meetings.
COVID Challenges
I shared with the Head and the Inclusion Manager that it was impressive that during the COVID climate they were continuing to lead the school in such a positive way and had put in measures to ensure that there was support and the learning of the students was still a high priority. The collegiate approaches used by Senior Management to plan and review, demonstrate value and respect for their colleagues.
Creating Good People
I met with the Principal and AP and Inclusion Lead, for an introduction to the school and current priorities. The Head explained that when she joined the school in January 2019, she wanted, through observation of the culture of the school, for the philosophy to extend to: "Create good people".
Honest Articulation
We discussed any resistance of being a new Head from staff who knew the school. There was an in-depth, open response which was enlightening. She told me that the school gathered evidence from students and staff including Governors and triangulated the findings. She shared with me her attitude, which was "Honest Articulation". She further explained that she shared her philosophy and findings with all stakeholders. Her decision to observe tutor times, informally, rather than the usual formal way with e.g. clipboard, was successful. I recognised and shared that this strategy is not often observed and that she should acknowledge this positive move. The impact of this was the decision to move tutor times from registration to the middle of the morning.
Positive Pastoral System
The next meeting was with Assistant Pastoral Leader (APL) Year 7 and Assistant Pastoral Leader Year 9. The aim of the meeting was to focus on the new pastoral system and how the role of APL helps support student wellbeing and achievement. The school has a new system of pastoral leadership which includes assistant pastoral leaders who are non-teaching and who are line managed by their respective year group pastoral leader. The role of the pastoral leaders includes all aspects of pastoral support including for behaviour, attendance and safeguarding; it was described by one pastoral leader as being a 'one-stop shop' for any personal development or pastoral need pupils have. They also lead the team of form tutors in their year group. A couple of the pastoral leaders are relatively new to post and are developing in their roles. They are being supported by more senior and experienced leaders.
New Roles in Support
Both told me that it was now clear with the new roles who was dealing with what and shared with me that the students now knew which member of staff they needed to go to, to support their needs. Staff left their familiar roles; however they were positive because the leadership team had given a lot of training to prepare them for their new roles. Both felt that the role of the pastoral leader was key to this project working. They gave me an example of Parental engagement during COVID. Well-being calls were made to the whole of the year group. This was twice a week for the vulnerable, Child Protection, (CP) Looked After Children (LAC) and students with an Education and Health Care Plan (EHCP). Support was given to year 7 students new to the school, especially students with EHCPs. The weekly (sometimes daily) phone calls and regular communications informing parents about what was happening in school was instrumental in developing trusting partnerships between home and school. This practice has strengthened relationships with home and school.
Team Well-being
When I delved and asked how the staff were supported with their well-being, the answer was that staff could go to senior leadership to offload. They agreed that their roles had the possibility of being isolating, however there was a real sense of a team being built. They felt as if the senior management team inspired them. They echoed the philosophy shared with me earlier by the Head, which was
"It's ok, not to be ok".
They have explored the Sarah Everard Murder and Black Lives Matters with the students. The format of the learning day is for the students to go straight into lesson 1, rather than registration/tutor time. Tutor time, which is now a teaching time, is in the middle of the morning and now has a sense of priority, with an added benefit of reduced lateness.
Keeping Students COVID Safe
The school has also found that COVID has exposed some students' vulnerability. This group is now being supported. A practice that needed to be changed because of COVID is that the year groups are in a building each and they stay in that building. There are 5 buildings. This benefits the students' safety. The school is planning to keep this practice, showing their openness to resilience, being a great role model for the pupils. The third meeting was with Pastoral Leader (PL) for year 9 and Year 9 pupils. The agenda for this meeting was to Discuss PL perspective of new pastoral system and how it supports student wellbeing and achievement. She explained that her focus was attendance and that she was delving into patterns of absence. She explained that attendance was not just an administrative task but that it was built on a relationship basis and the students get what they need, rather than a punitive way.
Positive New System
I met with a group of year 9 pupils which was a joy. I asked them what differences they have noticed and whether they preferred the old system. They told me that they had been given a questionnaire and survey and this showed that some students were struggling with workload during COVID. They were taught how to manage this by their form teacher. They shared that the new system of tutor time had been a smooth transition and they would prefer it. They gave me an example of registration used to be colouring in and now the time is used much better for teaching. One student shared that it helped her keep her sanity when she was emotionally drained during COVID. She continued that the activities that you share with the class help you to realise that you are not alone or isolated. Another member of the group confided that although she was not good with change, this system had definitely helped her. She said that to go straight into lessons is good because it is clear. In comparison with the former system where the teachers gave you sheets and you had to just do the sheets, the new way is interactive and helpful. As there was an issue with the audio at the end, I would like to say thank you to the year 9 group of students that took part. They were so articulate, positive and honest.
Increased Student Support Post COVID
The fourth meeting was with the DSL and the APL for Year 10. They gave me a safeguarding overview/current priorities in the school and how APLS and PLs have been trained to provide additional support for the students. It was discussed that the school had the foresight to put this in place before COVID. They gave me an overall picture of how previous data had shown them that the number of students needing support had doubled in the first lockdown. This was a worrying landscape. As there were so many new roles, they drew upon previous knowledge of staff to train each other. This meant that all staff felt valid and were important to the programme. The culture, they went on to say, was an ethos where you can ask and they are united as a team. This was a thread throughout the day, where staff used the same way of describing how they felt.
Confident Students
The fifth meeting was with APL with Year 7 students. They shared with me the experience of joining Year 7 and how they have been supported on site and during lockdown. The students unanimously agreed that any issues or problems or advice needed would be sorted out quickly by the pastoral leaders. They gave me some examples, such as homework, emails, wearing masks, having asthma and playground issues. They all knew that the school's philosophy was to create good people and how they could be towards this. They also knew that everything is going to be ok. Students are aware of the inclusive ethos of the school.
Fully Engaging with Inclusion
The fifth meeting was with the Assistant SENCO and the AP and Inclusion Manager. We discussed how the new pastoral system has helped support students with Special Educational Needs and Disability (SEND). We also discussed the new project which is supporting Social and Mental Health (SEMH) students via nurture groups. They told me that as needs are sometimes unseen, it is positive that they hear about these needs from the Head of Year. Before taking the punitive route, they are exploring how they can meet the needs. There is a meet and greet from the Teaching Assistants (TA)s from 8:15 each morning and some students have a TA meet her in reception. Also, at home time there is a talk down and a reminder for tomorrow. There is clear analysis of need leading to detailed action planning with evidence of positive outcomes. These strategies have been beneficial to attendance and the confidence of the students. Staff are proud that with this set up, the students feel comfortable to come to them with their concerns. Staff are effective role models, understanding and fully engaging with the Inclusion agenda.
Staff Welfare
After lunch I met with Staff Well-being. They gave me an additional perspective on the steps that the school is offering staff. Staff were able to use the following towards their well-being:
▪ Yoga Class.
▪ Tennis.
▪ Book Shelf, where books are shared.
▪ Kindness Comments.
▪ Car valet once a week.
They told me that if they needed to discuss workload, they work collaboratively with their team. They had a safe conversation with their Line Managers, who were supportive, distributing work with an openness and flexibility. They can work part time and the Senior Leadership is accommodating and approachable. The staff survey of 2020-2021 showed that 90% are getting help for their well-being.
Next Steps
The last meeting of the day was with the Assistant Principal and Inclusion Lead and we discussed the supporting data and next steps. She told me about the Parents'/Carers' remote evenings and how successful they were. They then sent me a PowerPoint. She shared with me that the staff were excited about the next steps in the project, especially the organisation and running of the nurture group. She explained that lesson observations had been suspended and learning walks introduced. We were then joined by the Head and senior leaders. I thanked them for the rigorous planning and evidence and all the work it took to gather this. I thanked her as she had given her time to ensure that this day went smoothly and was successful. I congratulated the Principal, as during my discussions, her staff and students were so loyal, they understood and were fully participating in the philosophy of the school. It was a privilege to meet with staff and students so fully engaged with inclusion and with such positivity. Inclusion is articulated and evident as central to the school ethos. The school has gone to extraordinary lengths to continue to provide excellent support throughout the last year to each and every student. They have done an amazing job and have much to be proud of. The school is fully committed to including all students and staff.
Find out more about the IQM Inclusive School Award
If your school is interested in obtaining the IQM Inclusive School Award or you wish to talk to a member of the IQM team please telephone:
028 7127 7857 (9.00 am to 5.00 pm)
or email: info@iqmaward.com for further details.
Want more information on the IQM Award? Click here to request your free IQM information pack