Sidney Stringer Academy in Coventry achieves the Inclusive School Award for the fourth time.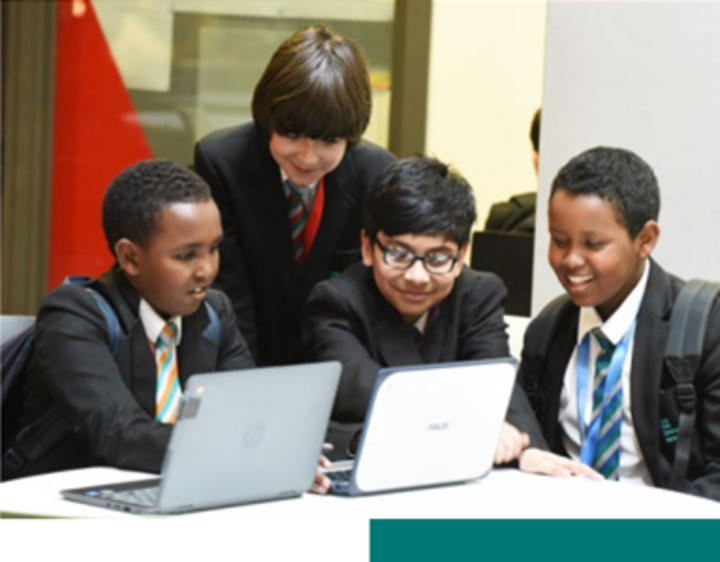 An Inclusive School
Sidney Stringer Academy is an outstanding school and amongst many other features, it is an inclusive school. The staff are of a high calibre, hardworking and dedicated. Leaders are acutely aware of the challenges that their context brings and ensure that through their leadership, these challenges are overcome.
Context
Sidney Stringer Academy is a popular, larger than average, secondary school with a sixth form. The Academy opened in September 2010 building on the excellent work of Sidney Stringer School. The school was originally a sponsored Academy but in 2014 following an Ofsted inspection which judged the Academy to be 'Outstanding', they became a sponsor in their own right. Sidney Stringer is now the lead school in the Sidney Stringer Multi Academy Trust and there are currently 5 schools in the Trust: Ernesford Grange Community Academy, Radford Primary Academy, Riverbank Academy (Special School) and Sidney Stringer Primary Academy. All of the schools are working together with the aim of providing an outstanding education for all of their pupils.
A Community Garden
I have visited Sidney Stringer Academy on several occasions and have noted in previous reports the impressive nature of the school building and environment. This year a new community garden has been created upon the roof terrace and plans are in hand to make use of the space to enhance provision. The school's website, which is excellent, has a virtual tour conducted by the Associate Headteacher specifically created for the new intake and a variety of 360⁰ tours of each area of the school.
Highest Expectations and Aspirations
The core values of the school are determination, respect, integrity, virtue and equality (DRIVE) and there is "an appreciation of diversity and recognition that individuals have different interests, strengths and talents, all of value, and a wide variety of skills and experience". The school has the highest expectations and aspirations for all of its students regardless of background or starting point and the highest expectations of all the adults associated with the school. All of this, together with the standards achieved and the carefully considered provisions that are in place, are evidence of a truly inclusive school.
Evaluating Systems and Processes
Following an evaluation of the vertical tutoring system, the structure was changed to horizontal year groups to better meet the needs of individuals. At the same time, the school also evaluated its rewards and sanctions systems and as a result, they have introduced Classcharts to monitor and record rewards and sanctions. The use of Classcharts has been expanded to include a myriad of information about students and to help teaching staff to organise their seating plans effectively. Parts of the information contained within the Classcharts are available to parents and students via an app. The school also introduced Provision Map which captures and stores data on students with additional needs. This is a more efficient way of storing information including the use of interventions and resources.
Mental Health and Wellbeing
The school's provision for mental health and emotional wellbeing is excellent. The appointment of a Learning Mentor specialising in mental health provision has been a most positive addition. The Learning Mentor and the Assistant Principal responsible for mental health have extensive experience and expertise in this area and the policies and practices in place are testimony to this. Around the school three are QR codes which take you to three websites created by the team. The websites, called My Wellbeing, Early Help and Anti-Bullying are packed with useful, relevant and engaging materials and information. The websites also signpost visitors to other organisations such as YoungMinds, Childline, the Samaritans and many more. Much of this is about supporting students and their families, but there are also strategies in place to support staff including a range of resources for line managers to help them support their staff. The school is currently trialling supervision and has also rolled out MIND based Wellness action plans.
Improving Outcomes and Provision
School leaders carefully track student progress and systems that are in place, they are robust and comprehensive. Analysis of data is astute leading to good decision making and consequently improving outcomes and provision. For example, despite GCSE results for disadvantaged students being consistently above the national average in a like for like comparison and broadly in line with the non-disadvantaged national average, leaders identified a growing gap within their cohort since the educational reforms that came into effect for maths and English in the 2017 GCSE results. Non-disadvantaged students were making more and more progress compared to national whereas disadvantaged students were not. Following research and implementation of strategies, the school has successfully reversed the trend of a widening gap.
Developing Independent Learning Skills
In its work to develop independent learning skills in its students, the school has created Independence Booklets which were shared with students when they came for Year 6 transition and also when they started Year 7 and 8. Half termly independence booklets were produced on enrichment and Cultural Capital around every subject. Completion of these were recognised in assemblies. This was also extended and shared online with students over lockdown. Tracking and monitoring ensured that systems were in place for when the school needed to track and monitor student engagement with online activities during lockdown. Through carefully structured questionnaires, staff were able to elicit valuable information about e-learning and the availability of IT provision at home. The school made available a Chrome Book for each pupil who needed one through a tiered pricing scheme that provided a subsidised Chromebook or a so called 'hardship loan' for those families facing the most extreme financial challenges.
Supporting During Lockdown
During lockdown, the school remained open for the children of keyworkers and those students deemed most vulnerable. Staff made phone calls home regularly, dependent upon need, as some students and families need more frequent contact than others. Upon return in September, the school has made significant changes to its curriculum and timetable in order to accommodate the COVID-19 guidance from the DfE.
Positive Relationships with Parents
School leaders recognise the importance of positive relationships with parents and during the pandemic this work has, of course, been heightened and more staff have been engaged in making regular contact with parents. All of the Year 6 children and their parents were contacted in the summer prior to joining the school and SEND students received an additional section to the 'Welcome Pack'.
A Safe Environment
The school should be congratulated for the skilful way in which it navigated a smooth course through lockdown. Staff described procedures which were adapted to ensure safety and the continuation of a meaningful experience throughout the partial closure. Since September, further measures have been taken to maintain a safe environment and experience for all who work and learn at the school.
Find out more about the IQM Inclusive School Award
If your school is interested in obtaining the IQM Inclusive School Award or you wish to talk to a member of the IQM team please telephone:
028 7127 7857 (9.00 am to 5.00 pm)
or email: info@iqmaward.com for further details.
Want more information on the IQM Award? Click here to request your free IQM information pack.