Shadsworth Infant School, Blackburn in Lancashire, achieves Centre of Excellence status.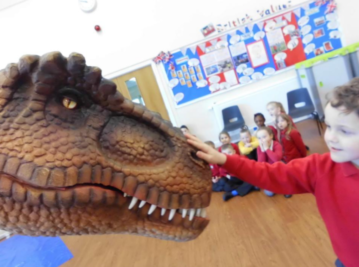 Context
Shadsworth Infant School is a shining example of a dedicated school community making a difference every single day to the lives of children and their families. Under the inspirational leadership of the Headteacher, each member of staff is fully committed to the school and ensuring each child reaches their full potential whatever their initial starting point. Shadsworth Infant School is two-form entry from Reception to Y2 with a nursery offering places for 15 or 30 hours depending on circumstances. The majority of children are White British, and it is situated within an area of very high social and economic deprivation. Health issues, both physical and psychological, are extremely significant together with high levels of unemployment. The school is ranked 285 out of 23,482 schools nationally in deprivation indices. Over half of the children meet the criteria for Pupil Premium. A very high number of children require additional teaching and emotional support to meet their special educational needs (SEND) and 4 children have an Education, Health and Care Plan (EHCP). The school also provides targeted provision for their highest need children in their SEND unit.
Removing Barriers
Encapsulated by the ethos of 'Learning, Sharing and Caring,' the school works single-mindedly to resolve any barriers both strategically and financially. The Head, Senior Leadership and Governors ensure the school development plan is focused on high quality teaching and nurturing provision.
Every Child Valued
The majority of children enter nursery developing between 8 to 20 months. The Deputy Head described the "amazing journey" for children and the high rate of progress they make, telling me
"We value each child, we never give up – we focus on what we need to do for every child to be as successful as they can be, to be the best they can be."
Inspirational and Innovative Strategies
All teachers and teaching assistants are highly experienced in differentiating lessons and using a wide range of strategies to engage and inspire. The Deputy explained how Pupil Premium funding is used to provide evidence-based interventions delivered by specialists including Every Child a Reader (ECAR) and Play Therapy. Teaching Assistants (TAs) are trained to deliver educational interventions and opportunities including Forest School and Talk Boost and each class has an additional adult.
Excellent Results
Standards reached by the children continue to rise. According to Ofsted in December 2019, "Teachers have high expectations of pupils' work and behaviour, and pupils respond well". In Reception, 63% of children reached a Good Level of Development (GLD) whilst the previous year it was 65%. With a National Average of 72% GLD in 2019, such results demonstrate the rapid progress made by children in early years. By the end of Y2 88% of children are reading books with expression. In Y1, 80% of children pass the phonics check which is just below the National Average. By the end of Y2 this has increased to 95%.
Network Support
Shadsworth Infants has developed an excellent relationship with a local special school, hosting a link unit for children with significant special educational needs. Having the unit enables these children to access mainstream lessons including phonics and maths. This link has provided excellent professional development for all staff when learning from each other. Specialist knowledge is shared, and specialist SEND teachers can see their children in a mainstream environment. The children can also access the Trim Trail and Forest School, although integration has not taken place this year due to lockdown restrictions.
Extending Provision
Both staff and governors are currently looking forward to developing new provision for children with significant special educational needs who are currently required to travel three or four miles to access specialist teaching. The Chair of Governors emphasised that the children are better off with the staff they know. The Head is also passionate about developing provision for 2-year-olds to give them access to early speech input as part of the excellent early years curriculum. The next exciting steps for the school include extending provision for children with Social, Emotional and Mental health (SEMH) needs and providing a library, music, and health services. As local families are often unwilling to engage with professionals they do not know, the Head has already chosen a caravan funded by Big Local money to base in the school grounds to ensure that the local community can easily access advice and wider opportunities.
Reaching Out to the Community
The inventive leadership of the Head is evident throughout the school, exemplified by her creative solutions to supporting families and the local community during lockdown. Whilst teaching staff planned learning packs and remote learning, the Head ensured contact with the community went beyond weekly 1:1 reading sessions. Working with Big Local funding, the school helped to set up a shop on the local estate to provide for immediate needs. Families were able to collect school lunches as well as accessing a food bank, housing, and clothing. Staff also took the school minibus out to enable children to change books. This provided a good opportunity to ensure the children and their families were coping.
Hearts and Minds
The Chair of Governors spoke for all staff when she told me,
"Everyone who comes to Shadsworth never leaves – it takes their hearts. You see how the children come in as toddlers and babies and they achieve so much."
There is no doubt that the school meets the standard required by the Inclusion Quality Mark's Inclusive School Award. Together with a major investment in pastoral care and values-driven links with the junior school, Shadsworth Infants creates opportunities for children, whilst providing sustained support to the local community. I would also like to recommend that they become an IQM Centre of Excellence. The Headteacher and staff are continually proactive in working with local schools and are keen to work with other like-minded schools in order to develop their own inclusion knowledge in addition to sharing their own achievements. The dynamic approach of the Head, supported by all staff and governors, needs to be celebrated and shared.
Find out more about the IQM Inclusive School Award
If your school is interested in obtaining the IQM Inclusive School Award or you wish to talk to a member of the IQM team please telephone:
028 7127 7857 (9.00 am to 5.00 pm)

or email: info@iqmaward.com for further details.
Want more information on the IQM Award? Click here to request your free IQM information pack