Sevenoaks Primary School, Kent, achieves Centre of Excellence Status.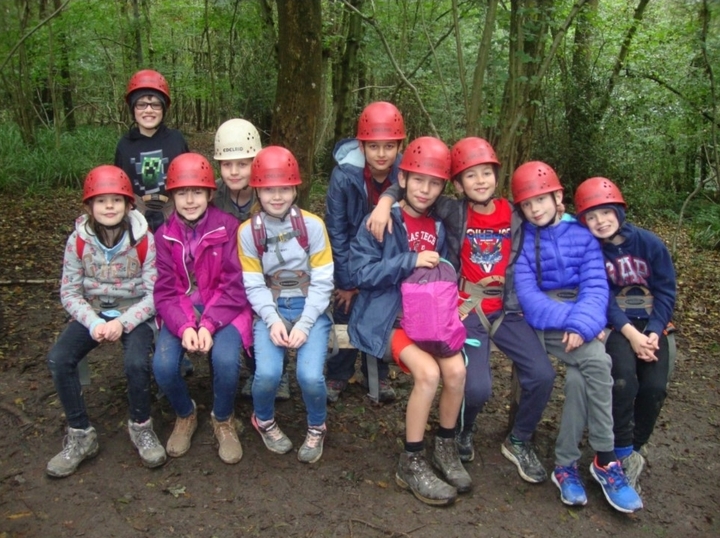 Inclusion at the Heart of All It Does
Sevenoaks Primary School has Inclusion at the heart of all it does! Sevenoaks Primary School is committed to valuing the individuality of the pupils that it works with and works hard to ensure that they support all children to achieve. Through the dedication of the Headteacher, Senior Leadership Team, Staff and Governors, Sevenoaks Primary School succeeds in providing an inclusive learning environment where everyone is helped to succeed.
Warmly Welcomed
Visitors are warmly welcomed by all the staff and there is a happy and productive feel to the school. The children enjoy coming to school and value their teachers and teaching assistants. One of the children that I spoke to said:
"It's like a family!"
A Place Where Children Achieve
The school team know about the area they serve and believe that every child in the school should have opportunities to learn and feel included. The Senior Leadership Team, SENCO (who is part of the SLT), Staff and Governors, share this aim and work together to ensure that the school is a place where all children achieve, make progress and feel included in the school community.
Inclusive Leadership and Ethos
Sevenoaks Primary School is a large three form entry school with extensive grounds and large accommodation. The school was graded as 'Good' in its last OFSTED inspection and staff have worked hard to develop their systems and practices under the leadership of the Headteacher who has been in the post for just over a year. She is highly regarded by her staff and the Governors for her inclusive leadership and ethos.
Clear Visions and Values
The Leadership Team set challenging targets through the School Development Plan, based on the continual evaluation of the learning and progress of all children. The 'Driving Standards Team' ensure that the school's vision and values are used to set targets for development on a regular basis. Sevenoaks Primary School has a clear set of Visions and Values. These permeate through all that they do and support inclusion and wellbeing. They have even utilised them to develop their own PHSE curriculum that closely relates to the needs of their school and community.
Well Resourced
The school is very well resourced, which includes outdoor space, ICT equipment and staff, and these are used to their greatest effect. Sevenoaks Primary School works hard to support its parents and uses a wide variety of ways to communicate with them. This results in the parents being well informed of their children's learning and specific needs.
Staff are Supported and Value Learning
Staff at the school value learning and are supported to develop themselves through CPD by the Leadership Team and Governors. The school utilises a number of other specialist staff from the Local Authority that support teachers and teaching assistants to assess and provide intervention and support for its pupils, so that they can succeed in their learning. These include the EP service, Specialist Teachers and Speech and Language Therapists.
Governors Drive Progression
Governors support the school effectively and are knowledgeable about its strategic plan. They understand their role and use this to drive the progression of the pupils at all levels. The Governors are effective at holding the school to account and understand their role in the development of the school's vision and values as well as the strategic development of the school plan.
Dedicated Staff
The IQM Coordinator/SENCO produced a very comprehensive Self Evaluation Report and also provided a comprehensive selection of documentary evidence to support all elements of the IQM Report. The IQM coordinator is a highly trained and experienced SENDCO and uses this knowledge and experience to effectively drive the provision for children with special educational needs and other vulnerable groups. Along with another trained SENDCO, who works in the early years, they ensure that intervention is in place to support children's development at the earliest stages. They are dedicated to providing an environment where everyone is able to achieve and where progress is a high priority.
Passionate Teachers
I was also able to go on a tour of the learning environment and observe specific groups and whole class interventions. I observed an assembly introducing the Mental Health First Aiders, led by the children and a specialist teacher who is passionate about introducing ways to develop the children's wellbeing.
Students Feel Included and Valued
The pupils of Sevenoaks Primary School are a real credit to the school. They speak confidently about their school and what it does to help them. They feel included and valued. They are proud of the school and what it offers them as pupils. As a result of how pupils are treated at school, they in return, support each other and value the differences they have.
Strategies and Support
During my observations I was able to see how strategies had been put in place to help all children to make progress in their learning, including those with Special Educational Needs and Disabilities. Classroom displays and resources were used to support learning, and teachers use a variety of teaching methods and strategies. Interventions and planned adult support are used to develop and enhance children's learning, from their individual starting points, and this allows for progress to be made. The school ensures that as much learning takes place in the classrooms as possible and that all children are taught as part of quality first teaching. The school seeks to provide specialist equipment. Additional support is also provided for those who need specific intervention for learning, physical development, speech and language and I.T. skills.
Good Behaviour
The behaviour in classes was very good and demonstrated good behaviour for learning. The children were engaged in the activities they were doing and understood what they were learning. Children with additional needs are planned for using a number of strategies and interventions, where appropriate. I was able to see a number of high-quality interventions lead by highly trained and effective teaching assistants which included Zones of Regulation, Sensory Circuits and Relax Kids.
Find out more about the IQM Inclusive School Award
If your school is interested in obtaining the IQM Inclusive School Award or you wish to talk to a member of the IQM team please telephone:
028 7127 7857 (9.00 am to 5.00 pm)
or email: info@iqmaward.com for further details.
Want more information on the IQM Award? Click here to request your free IQM information pack.