Sandal Castle (VA) Community Primary School, Wakefield in West Yorkshire, have achieved the Inclusive School Award with Centre of Excellence status for the second time.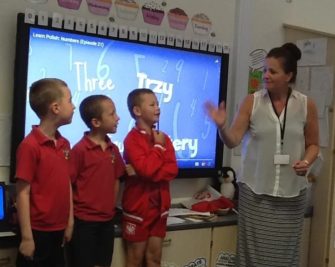 Introducing Sandal Castle
The Leadership Team and Governors have created a culture, which ensures high expectations of all of its pupils, its staff, parents and volunteers can be met! The IQM Review was a day of full of celebration! Everyone who contributed was able to articulate the school's commitment to its inclusive ethos, which clearly is prevails within the school. I fully agree, as communicated on the school's website, that Inclusion at Sandal Castle VA Community Primary School is all about: A sense of belonging, feeling respected, feeling valued for who you are and feeling a level of supportive energy and commitment so that we can do our best.
The school's very skilled Headteacher articulated her vision for inclusion at her school:
"We are the bridge between our families and have successfully, over the years, brought the community together! That's the pleasure and passion in what we do! We are one harmonious family!"
Her Deputy Headteacher and IQM Co-ordinator reiterated that the success of their thriving, inclusive policies, which ensured that past pupils always came back to ask for support. Sandal Castle VA Community Primary School has stood the test of time and the twenty-seven year long-term investment in the estate that the school served, had paid off in bucket loads and continues to do so even today!
Barriers Overcome
Having successfully operated through the worldwide Coronavirus pandemic, Sandal Castle VA Primary School continues to be inclusive because: Sandal Castle School is a family of professionals and children, who simply care about each other and enable each other to thrive! The Leadership and staff teams know their children and families well – including the vast barriers to learning and have tried and tested strategies to deal with these. There is a comprehensive Mental Health and Wellbeing (MHWB) strategy provides the foundations of all of the learning at Sandal Castle and is at the centre of all the provision, including the impressive array of PE and Outdoor Learning opportunities! Children feel the inclusivity and thrive as a result and parents know their children have the best chance of success in the schools' capable hands.
Immersive Curriculum
The ever-evolving Curriculum is well organised, deep, and well matched to the pupils needs; it promotes the MHWB of children and has a wealth of breadth and variety! Learning systems provide children with the skills for life in the community and beyond! The school is on an evaluative and aspirational journey; this has to be applauded! It aims to become even more inclusive, when its systems and practices become more consistent and embedded, when the Coronavirus pandemic and associated complications allows this. This year's very fitting focus around developing a MHWB Team, the specific developing MHWB strategies and pastoral, supportive care has been extended to the whole team of pupils and staff in school. As a result, Sandal Castle VA Community School is thriving!
Proactive and Targeted Support
The school team should be hugely congratulated for their continued hard work in relation to thinking about the needs of their children, staff and community. They have responded selflessly to the ongoing impact of the Coronavirus pandemic and worked tirelessly to ensure vulnerable families have been contacted, home study has been supported and that individual needs have been addressed. This has enabled everyone to thrive despite the very real challenges the Leadership Team have, of staying focused whilst responding to interruptions, which are out of the school's control and cannot be planned for.
Post Covid Recovery
The forward-thinking team at Sandal Castle has been focused on implementing their catch-up programme following the disruptions of the Coronavirus pandemic. The Headteachers report to Governors endorses the school's recovery plan as the vehicle for significantly improved achievement over time, backed by the school's internal data, and one which: continues to meet the needs of all the children and a curriculum that has not been narrowed and one where all subjects continue to be valued.
Parental Praise
Parents at Sandal Castle VA Community Primary School did not tire in singing the schools praises. It was evident that the school not only have aspirations for their children and staff, but they also have aspirations for their parent.
One parent was enlisted on a Youth Working Course, and he had a real ambition to set up a Youth Club and wanted to 'give back' to the community and work with SEND youths under 14's. What amazing commitment and passion all round! Well done everyone!
This parent spoke passionately about his experiences; he has had three children move through the school and said:
"This school has provided the most support I could have asked for, not only for my son, but extra support for my other children who have left the school."

Another parent who had two children At Sandal Castle said:

"All the staff are compassionate and approachable here."
Both parents said that even if they had a magic wand, they would not change anything about the school!
Confident Communicators
Pupils at the school were delightful and articulate! They had so much that they were proud of that the wanted to share with me. The school newspaper was a hit; children enjoyed RE and their Biblical stories. They enjoyed learning about each other's religions too. Pupils shared their ambitions to become a Teacher, Engineer, Doctor, and author, as they all wanted to 'give back' to the community! Amazing!
Pupils confidently shared the following:
• A Year 6 pupil said, "my teachers help us as much as they physically can!" He particularly enjoyed the 'rescue' element of swimming and had aspirations of becoming an architect. He was adamant that the school curriculum helped him to develop his passion through Art and Design opportunities. The work on 'aspirations' that the school was focused on providing was clearly impactful!
• Children loved engaging in their PE and active and outdoor learning opportunities. These they felt enabled them to feel and learn better and become 'all-rounders.'
• One pupil said she enjoyed the school's newspaper, which provided a pupil voice with its own agony aunt!
• Another pupil enjoyed learning and being challenged by the recent 'Climate Change' agenda.
• A further pupil loved it when she could remind herself 'yes, she can!'
• The final pupil wanted to be a Dr and particularly enjoyed Golden time and TTRS.
Passionate Providers
I was delighted to meet and chat with Sandal Castles magnificent array of staff who contributed enthusiastically to the assessment on the day. All were passionate and self-assured! Each, no matter how long or little they had been at the school, knew what their role was and felt proud of their collective efforts and the schools' successes.
The following was very impressive:
• Staff saw themselves as ambitious for themselves and the children – "We are one big happy family!"
• A Teaching Assistant said she was really proud, as she could see the school as 'embedded' in the community that they served.
• Nurture provision in the school was a real strength and a cause for celebration.
• Talking to staff, it was evident that the curriculum was well matched to breaking down the barriers to learning for the children and parents.
I am delighted to conclude that Sandal Castle Voluntary Aided Community Primary School is truly a magical, inclusive, and 'aspirational' school for ALL! Led by a dedicated and selfless HT, knowledgeable IQM Co-ordinator, DHTs, the three SENCO's, Nurture Leads, PE Lead and teachers, Forest School Leads, Teachers and Staff, everyone has a role which has inclusion as its bedrock.
Find out more about the IQM Inclusive School Award
If your school is interested in obtaining the IQM Inclusive School Award or you wish to talk to a member of the IQM team please telephone:
028 7127 7857 (9.00 am to 5.00 pm)
or email: info@iqmaward.com for further details.
Want more information on the IQM Award? Click here to request your free IQM information pack