Sacred Heart RC Primary School in Bolton has achieved the Inclusive School Award for the fourth time.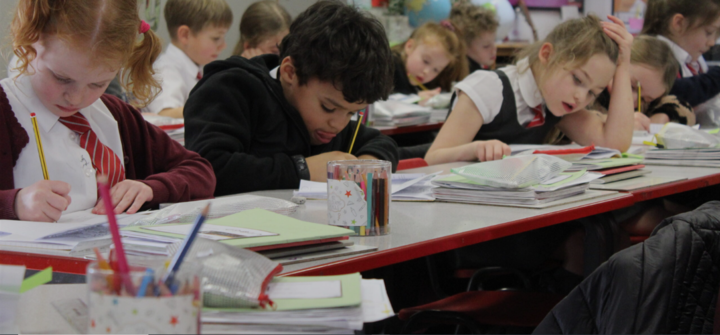 Embracing Individuality
Sacred Heart RC Primary School is a school that nurtures and embraces individuality, providing holistic educational experiences and encourages each child to be a proactive member of a global community. The inclusive nature of the school's approach is summarised well by one of the values statements that seeks to find the expression of Christ through, "The development of each person's full potential in a climate of joy, freedom, respect, challenge, co-operation and celebration".
Context
Sacred Heart RC Primary School is a larger than average-size, two-form entry, primary school in Westhoughton, Bolton. In this catchment area attainment, on entry, is broadly in line with national expectations and the school has consistently exceeded local and national averages for percentage of pupils meeting both the expected and higher standard between 2017-2019 in reading, writing and maths. ROL indicators reflect the rounded experience of school offered to pupils. Of the 409 pupils on roll, 27 (6.6%) pupils are eligible for the Pupil Premium Grant (PPG) which is slightly lower than national average. There are 30 children (7.3%) identified as having SEN and 25 (6.1%) pupils with EAL, both are significantly lower than national average. The school reports that there is an increasing number of New Arrivals enrolling in the school in recent years.
Self-Reflection and Aspiration
The last Ofsted inspection of the school was in 2012, under the same leadership, with an overall judgement of 'Outstanding'. They have not yet been inspected under the current Ofsted framework but there is clear evidence of an ongoing commitment to self-evaluation and challenge through a plethora of awards and quality marks achieved over this period, as well as a Diocesan Inspection in 2017. In short, there continues to be a culture of high expectation for all and a recognition of the need for self-reflection and aspiration.
Embracing New Ideas
The school builds upon solid Social, Moral, Spiritual and Cultural foundations whilst embracing new ideas and staying abreast of research developments. This is evident both by the self-audits and evaluations provided by the external awards but also through its "outward facing" approach. Sacred Heart has strong links to the wider community through a school direct alliance in partnership with University of Cumbria, membership of the Diocese of Salford family of schools and the Bolton and Wigan Schools Catholic Education Partnership. The school hosts and takes a leading role in a Science and Engineering in Education Research and Innovation Hub (SEERIH) and the Headteacher is on the Primary Advisory Board for the Schools, Students and Teachers Network (SSTN). Sacred Heart is a National Support School and National Teaching School with a large number of apprentices, opportunities for collaborative work and for staff to contribute directly into teacher training events.
Vibrant and Forward-Thinking
Sacred Heart Roman Catholic Primary School is a vibrant, forward-thinking, warm setting where children are given a breadth of opportunities to bring out their gifts and strengths. The children are supported in their journey to become resilient, autonomous, compassionate and confident members of a global community. They are encouraged to make a difference in the world. Staff and Governors demonstrate a clear passion for the role they play in developing children to become the best they can be. The Headteacher describes inclusion at Sacred Heart as "finding gifts of children… doing the best for every child and family through ambitious targets". There is a clear sense of partnership between families, the community, the parish and the school. Parents and carers feel valued and respected. They feel they can talk to staff and both they and the wider community are actively welcomed to contribute to the educational experience of their child or community member.
Inclusive Practice is Evident
The Inclusion Manager is highly experienced and takes the lead in ensuring that every child receives the opportunities and experiences they need to succeed. He ably works with the SENCO and other leaders to ensure that inclusive practice is evident and working in all facets of the school and curriculum. In recent times, his role as Catch-Up Leader has further drawn upon his expertise to ensure adjustments are made and approaches altered to ensure maximum engagement with both in-school and remote learning. This has been hugely effective.
A Clear Understanding of Sustainability
The success of the school, as an inclusive setting, also comes as part of a wider team approach. The values of the school, underpinned by clearly articulated Catholic principles, provide a strong framework and a clear vision. A stable staff base has allowed the school to build on good practice over time. There is a clear understanding of sustainability and the need for team approaches to leadership, which in turn creates a strong but adaptive system. Policies have been refined and the school has remained receptive to new research and new ideas from staff joining the team. As one Governor commented after a staff presentation on maths teaching,
"like a breath of fresh air…I am completely fired up… I almost wished I were back in teaching".
Very Proud Children
The children speak highly of their school. Their enthusiasm for their leadership roles as farmers was palpable. They spoke with pride and frankness about what their roles entailed. They spoke articulately about what they were gaining from the experience as individuals. There is no doubt that this enthusiasm was isolated to this particular aspect of leadership. Indeed, one child spoke extensively about the work of other leaders in the school (Peacemakers) and how they had created a bench for people to sit on, "if they were having a hard time". By providing such a breadth of experience to the children through the curriculum and wider extra-curricular events and experiences, Sacred Heart nurtures the children's sense of individuality and builds on their interests and skills.
Undeniable Growth Mindset
There were also some deeper messages about the school's impact on the children conveyed through subtleties in their comments. For example, the way that one child spoke about his difficulties gave an insight into the way in which his self-image was being enhanced. He said,
"I sometimes struggle with hearing the teacher…Sometimes I get a bit stuck on history…I used to not be good at English, but I'm alright now. If you are struggling with maths, they help you".
He demonstrated undeniable growth mindset through his ability to separate himself from his actions. He was able to see his difficulties as changeable and not a reflection of who he was. This is how we build children into resilient characters with the ability to face life's challenges with realistic hope. This is the impact of an intelligent, committed, supportive and inclusive school on just one child, but a powerful indicator of the experience of many more.
Find out more about the IQM Inclusive School Award
If your school is interested in obtaining the IQM Inclusive School Award or you wish to talk to a member of the IQM team please telephone:
028 7127 7857 (9.00 am to 5.00 pm)
or email: info@iqmaward.com for further details.
Want more information on the IQM Award? Click here to request your free IQM information pack