Oasis Academy Ryelands in Croydon has achieved the Inclusive School Award.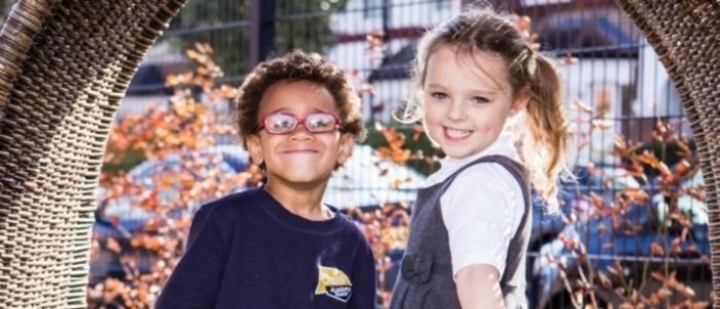 A Very Inclusive Establishment
Oasis Academy Ryelands is a very inclusive establishment which clearly demonstrates its vision statement:
"At Oasis Academy Ryelands we are driven by a powerful ethos that CAREs. It aspires to treat everyone inclusively and recognises the importance of a holistic approach to education. As well as continuing to build a strong school and deliver a first-class education, it is also our desire to build an interconnected community, recognising that education needs to not exist in isolation from the needs of the whole person."
Context and Background
Oasis Academy Ryelands is a larger than average two form entry Academy with 425 children on roll at present. There are up to 60 children in each year group in the school. The school offers parents a choice of both morning and afternoon Nursery provision. In May 2014 they became an Academy after the predecessor Ryelands Primary School was graded inadequate by Ofsted in February 2014. In May 2015 Oasis Academy Ryelands moved location in Albert Road to Oakley Road to a refurbished traditional Victorian building. In September 2015 the current Principal, Mr G Lillo, took up post. the school attracts pupils from a wide catchment area and is a vibrant and lively place. The Principal has and continues to make the most of the spacious building and its grounds to accept the diversity of needs of pupils and create an exciting and stimulating environment for all its learners in order to ensure that:
"Exceptional learning is at the Heart of our Community."
In April 2017 Oasis Ryelands had its first Ofsted since becoming an academy. The academy was graded 'Good' with 'Outstanding' features for Leadership and Behaviour and Welfare.
Some Excellent Inclusive Practice
Throughout the assessment there was clear evidence of some excellent inclusive practice, driven by the Principal, SLT and all staff within the school. The inclusion agenda and the Equalities Act framework of 2010 are wholeheartedly supported through an ethos of well embedded values and there are good structures and systems in place to ensure an open dialogue with all stakeholders to continue to improve the experiences for all pupils. Examples of many of the inclusive practices observed during the assessment are presented in this report.
Welcoming and Friendly Approach
There was a welcoming and friendly approach from all staff, pupils, parents, and all members of the school community throughout my very enjoyable two-day visit. My observations and involvement with pupils throughout the assessment clearly demonstrated that they are ambassadors for the school. Their exemplary manners, behaviour and comments reflected their pride in belonging to Oasis Academy Ryleands.
Conviction and Purpose
Throughout the assessment everyone spoke with conviction and unity of purpose as to the inclusive nature of the school, thereby substantiating the school's impressive SER and supporting documentation, which was considered as part of the assessment.
Excellent Behaviour
Pupils' behaviour in and around the school was excellent. This is because there is a comprehensive and consistently applied positive behaviour system in place which rewards tolerance, kindness, friendliness and a willingness to 'have a try'. Pupils know that bullying and behaviours such as the use of hurtful language are wrong and have been shown the impact it can have on others' feelings and achievement. One of the successful behavioural strategies in place is based on the omnipresence of the school's vision for I CARE – inclusion, community, aspiration, resilience and enjoyment. This ensures that inclusion at Oasis Academy Ryelands isn't just something that the school does, it is something that they breathe.
The Importance of Wellbeing
The wellbeing of all stakeholders is of great importance in Oasis Academy Ryelands. Senior leaders have created a school with an open-minded, accepting and inclusive atmosphere. Everyone is well cared for and well supported in their respective roles, both professionally and at a personal level. In fact, most people with whom I spoke commented on the positive ethos within the school and numerous comments were made about the warm and friendly atmosphere, happy people and the fun experience in all aspects of school life.
Knowledge of the School Community
Another key to this success is the staff's detailed knowledge of the needs of its community and their ever-changing social demographics. Staff consult parents and carers fully and they take steps to ensure the pupils are able to thrive and achieve as well as they can. This involves a high level of tolerance, empathy and support. Communication with families is strong, frequent and effective. The school ensures that all its communications convey respect and value to all types of family. All stakeholders have a sense of belonging to the school and inclusion is well embraced so that each pupil is valued for their individuality and can develop their enquiring minds and spirit of curiosity through participating in a range of challenging, fulfilling and happy educational experiences to reach their full potential.
Sources of Evidence
The assessment, which was effectively organised by the Principal/Inclusion Manager included a series of formal and informal meetings with the Principal, Vice Principal, teachers, teaching assistants, counsellor, caretaker, dinner ladies, Governors, parents and pupils. There was also an opportunity for a tour of the school, involvement in a number of school experiences and an examination of a number of key school documents.
The Principal has a Clear Vision
Key to the school's success in promoting positive behaviour and in preventing bullying, harassment and intimidation in school is the clear vision of the Principal and SLT. However, they do not work in isolation. The involvement and commitment of the whole staff are further reasons for the school's success. All staff, including lunchtime organisers and teaching assistants, have received information and training in the 'No Outsiders in Our School' initiative and also in how to deal with Metro Charity in dealing with homophobic language and how to work positively with different families. The training, combined with clear commitment from all adults, ensures a consistency of approach and means that whichever adults are in school on a given day, the message of openness and tolerance is the same.
Excellent Example of Inclusive Practice
In summary, Oasis Academy Ryelands is an excellent example of inclusive practice, energy and aspiration for all members of the school community. The Principal leads inclusion with the courageous and forward-thinking belief that complacency or lack of funding can never influence the integrity of purpose in striving for continuous improvement for the learning community within Oasis Academy Ryelands. Forward planning is evident in their ambitious ADP.
A Vibrant Pupil Voice
Joy and celebration are important for all pupils and the voice of every pupil in this school is vibrant and significant. This is a school that clearly evidences focus, energy and enthusiasm in its commitment to the growing reality of inclusion for all.
Wide Range of Expertise on the Governing Body
There is a wide range of expertise on the Governing Body. They are well led and their commitment to the inclusive ethos is evident in discussions. They attend the school regularly and have a consistent monitoring timetable related to the school improvement plan. The infectious child-centred and 'can-do' enthusiasm of the academy councillors rubbed off on me and it was a joy to meet with such great people.
Find out more about the IQM Inclusive School Award
If your school is interested in obtaining the IQM Inclusive School Award or you wish to talk to a member of the IQM team please telephone:
028 7127 7857 (9.00 am to 5.00 pm)
or email: info@inclusionmark.co.uk for further details.
Want more information on the IQM Award? Click here to request your free IQM information pack.