Oasis Academy Ryelands in Croydon has achieved IQM Centre of Excellence status.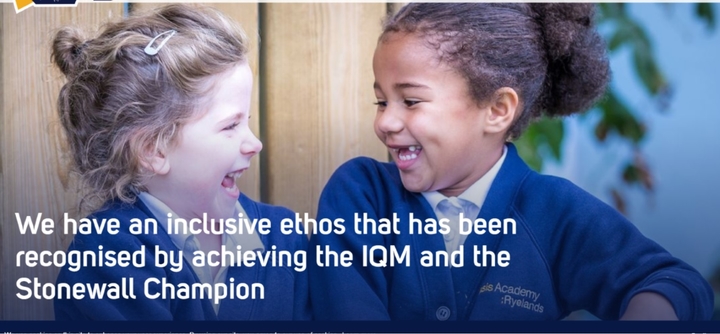 Children Make Excellent Progress
Ryelands is a two-form entry primary school in a residential part of South Norwood in South London. The intake is slowly changing as more owner occupiers move into the area. The school was rated as Good with Outstanding features in its most recent OfSTED in April 2017. The principal, Glen Lillo, has built a strong and loyal leadership team who fully support his inclusive ethos. A member of staff said that he "champions the child." At the same time standards have risen and the children are now making excellent progress. All the stakeholders understand that successful education means that everybody's needs must be addressed. ICARE posters (Inclusion, Community, Aspiration, Resilience and Enjoyment) are displayed throughout the school. This acronym is referred to in assemblies and the children know what it stands for but more importantly the meaning is transferred and practiced into their daily learning.
Children Feel Happy and Safe
All the pupils feel proud to wear the school uniform and the children in years' five and six look smart wearing blazers helping them prepare for secondary school. The children are happy and feel safe. They know that if they need to, they have a designated member of staff who they can talk to. They are confident talking to visitors and the sense of purpose is clearly felt all around the school. They know that by working hard it will impact on their lives as adults. They feel that they are being well prepared for the next stage by good quality teaching. Children are at the centre of everything the school does. If it does not improve children's opportunities, then it will not be offered.
Children are Valued
Ryelands is a Rights Respecting School, some pupils are Eco Warriors. There are Junior Travel Ambassadors, Digital Leaders and a Pupil Parliament. Older children have attended debates with other schools discussing important issues from INTERNET safety to children performing in televised talent shows. This is a school where children are valued.
An Inclusive Ethos
As an academy the school does not have a governing body but is overseen by a Council. The councillors meet twice a term to ensure that the leadership team are fulfilling their obligations. They act as critical friends and hold the leadership team to account. They fully support the inclusion ethos and welcome children who may have had difficult experiences elsewhere. They invite staff to discuss their plans and outcomes and check that procedures are robust. They focus on how the school will continue to improve within an inclusive framework. Councillors are proud that the school is calm and attractive where children's work is displayed including those with spelling errors, demonstrating that all children's efforts are valued. They are pleased that the staff and children are happy here and councillors feel welcomed anytime in school.
Encouraged to Take on New Initiatives
The principal encourages staff to take on new initiatives. South Norwood Country Park is a five-minute walk away and Year 2, led by Bethany Gower, are often using it for outdoor learning. The aim is by encouraging exploratory learning, social skills are developed and children find that team building is more productive than working alone, staff can see that there are both health and physical benefits.
Experienced and Hardworking Staff
The school has many experienced and hardworking staff. The Learning Mentor, Louise Eaves has not been in Ryelands long but has established herself as a great asset. She makes herself available to all children and staff, her only rule is that when children cross her threshold, they must tell the truth. Confidentiality is respected here within the safeguarding framework; restorative justice has been successfully implemented. The children trust the learning mentor and together they work through a situation and figure out how it can be repaired. All staff are trained as facilitators where children are taught to recognise their imperfections and how they can learn to be emotionally intelligent and not let feelings cloud the situation.
Experienced and Enthusiastic Practitioners
Julia Hertzberg, the SENCO and lead on inclusion has a team of experienced and enthusiastic practitioners. She ensures that children's assessments are carried out quickly and appropriate provision is put into place as soon as possible. Some children with SEND who have EHCPs as they have complex needs, are taught in the Dragonfly room. This has proved successful and the school is planning to have another space created for children in KS1. Louise Champion will be taking over from Julia when she retires this summer and the school is confident that Julia's great work will be sustained and built upon.
Classrooms are Bright and Attractive
The classrooms are bright and attractive and well organised. The building has plenty of internal space which is used thoughtfully. There is a well-stocked library with a full IT suite; there are nurture groups, a breakfast club and a dedicated room for a counsellor service from Full Circle. There is space for music and Lego therapy. The school has its own dining room which is also used for other services. There is a well-stocked sensory room. The Friends of Ryelands have raised money to enhance the playing facilities in the playgrounds where play-fighting is banned.
Extra-Curricular Activities
The full-time sports coach from Crystal Palace FC teaches PE and runs many lunchtimes and after school clubs supported by other members of staff. The children are offered many activities each term including; athletics, gardening, dance, football, yoga, steel pans, sewing, Tai, Chi, cheerleading, board games, netball and chess.
Services to Support Parents
There are many services that the school provides to support parents, staff and children. Peer massage is popular where KS2 pupils are trained how to massage another person's shoulders and back to help them to relax their nervous system either before or after lunch. Mandarin is taught from years one to six. Parents from different year groups are invited in every Wednesday to have lunch with their children. Parents who may have suffered domestic violence are invited to attend a six-week Family Cooks course. Recently staff have been attending a course on understanding mental health issues. Rather than looking at the symptoms, examining the reasons that have caused certain behaviours. There are LGBT ambassadors promoting the different types of families that exist, so they become normalised. This is a school that is not standing still. People here are dedicated to improving children's opportunities.
Find out more about the IQM Inclusive School Award
If your school is interested in obtaining the IQM Inclusive School Award or you wish to talk to a member of the IQM team please telephone:
028 7127 7857 (9.00 am to 5.00 pm)
or email: info@iqmaward.com for further details.
Want more information on the IQM Award? Click here to request your free IQM information pack.