Rudheath Primary Academy in Northwich has achieved Flagship School status.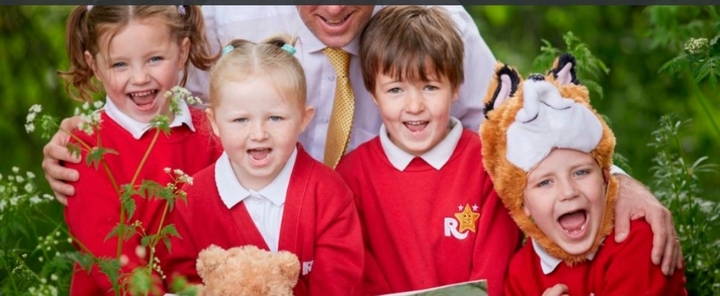 School Context
Rudheath Primary Academy is a two form entry primary school. The school is situated in the Rudheath area of Northwich, Cheshire, with pockets of significant socio economic deprivation. A high percentage of pupils have emotional, social and behavioural needs including ASD, ADHD, ADD and attachment. In March 2019, the school was inspected by Ofsted and was judged to be 'good'. During the short inspection, the HMI found that the Principal and his staff "continue to provide an inclusive learning community where pupils and their families feel highly valued." In my discussion with parents, there was ample evidence to corroborate this finding.
"No Outsiders"
During the meeting with parents, we spoke about the implementation of the 'No Outsiders' scheme for schools. It is a programme for Primary schools to help teach children about the Equality Act 2010 and British Values. It aims to enable children and their families to recognise and celebrate living in a community full of difference and diversity, whether that difference is through ethnicity, gender, ability, sexual orientation, gender identity, age or religion. At the time of my visit last year, plans were in place to trial the scheme and if successful, roll it out across the school. To the school's credit and amidst much controversy in other areas of the country where it has been used, the scheme has been successfully implemented. A major factor in this success has been the involvement of parents and the determined and sensitive leadership from the lead for PSHE backed by the support of senior leaders and governors.
Parent Engagement Group
Parents were invited to a series of meetings and a number of them were asked to form a 'Parent Engagement Group' with a specific remit to help shape the scheme and act as champions. Members of this group who came to speak to me were articulate and astute and were clear about the benefits of the scheme. They told me how the school genuinely consulted with them to the extent that classroom activities and resources were designed by parents and teachers. At one of the meetings to which all parents and carers were invited, the lead for PSHE explained the context for implementing the scheme within the PSHE curriculum. The presentation notes were made available to me and they show just how carefully structured the meeting was and how thorough and transparent staff were in their exposition.
Diversity Awareness Week
Coinciding with LGBT history month, the school organised a Diversity Awareness Week. Again, parents were actively involved in working with the school to generate ideas and resources. I saw lots of evidence of the activities and outcomes from what must have been a most engaging and informative week for the young people. These included video recordings of children describing what they had learned and discussing issues that had arisen. There were several large and colourful displays around the school and examples of classwork from reception through to year 6 that I was able to examine. I also spoke to pupils from year 2 and year 6 who had clearly enjoyed the week and were able to tell me lots about the activities.
Rainbow Flag Award
Also, during my visit last year, we set a target of considering applying for the Rainbow Flag Award, which is a quality assurance framework for schools and colleges, focusing on LGBT+, inclusion and visibility. The Rainbow Flag Award encourages a whole organisation approach to LGBT+ inclusion, as well as developing strategies to combat homophobic, biphobic and transphobic bullying. Part of the process involves visits from assessors to review progress towards each of six areas. Feedback from assessors include the following:
"The homework tasks set area wonderful example of good practice and encouraging parents to discuss LGBT+ identities and history with their children – brilliant, best example we have seen."
"You are being so bold, and it is really paying off."
Diverse Communities
Further comment can be found in the Ofsted short inspection report: "Your work on raising pupils' awareness of the nine protected characteristics is of a high calibre. Parents told me how much they appreciate the sensitive ways in which pupils of all ages learn about personal choices that people make in society. As a result, pupils are well prepared for the diverse communities in which they live."
Promoting Pupil Voice
The school continues its excellent work to promote pupil voice and has completed the self-review stage of the Investors in Pupils Award. Pupil leadership continues to offer valuable experiences for the children and over the past three years since new structures were put in place, pupil voice and pupil leadership has been well established. School leaders are now embarking on a review and in particular are looking to develop 'volunteering'. Governors actively support the pupil leaders and have met with a number of them to discuss, amongst other things, how to run a committee meeting.
Pupil Attitude to Self and School
The school has purchased and used the Pupil Attitude to Self and School (PASS) which school leaders recognise as an excellent investment enabling them to identify children who might otherwise have gone unnoticed. I was impressed by the manner in which staff with whom I discussed this aspect of their work were open to using the results of the survey in order to provide support for children in need. There was evidence of good analysis and dissemination to class teachers. The school has also introduced an Australian programme called 'Smiling Mind' which is a free resource that provides exercises for daily meditation and mindfulness exercises. In addition, the school has introduced 'Weekly Wins' where pupils will record what they are 'grateful for', what they are 'proud of' and what they have 'done well', examples I saw from pupils included the following:-
"I am grateful for my friends because they help me stay positive and get through the day"
"I am proud of setting my new record of 10 circles on the pommel at gymnastics."
"I am proud of helping frogs to get off the road."
Investing in Staff
Investing in pupils is clearly a priority and this is replicated for staff. The HMI who conducted the Ofsted inspection found that "staff morale is high". This year, leaders have introduced staff well-being meetings and worked in collaboration with Feel Good Communities. During one of the well-being meetings, staff were introduced to 'Laughter Yoga' which incorporates into gentle exercise, the willingness to laugh along with yogic breathing. So far, there have been five staff well-being meetings in addition to a staff INSET in November.
Therapy Dog
During the course of this meeting, I was introduced to Bailey, the rather cute Therapy Dog who will be undergoing his training in the summer break. The benefits for both staff and pupils could be significant.
School Leaders are Reflective
School leaders are reflective and actively engage with other professionals and organisations in order to continue improving provision. As reported in the recent Ofsted inspection, school leaders and governors "have an accurate and reflective view of the school's strengths and priorities." This is clearly demonstrated by the school's engagement with the impressive Schools Partnership Programme facilitated by the Focus Trust.
Peer Review Process
This year, the school has engaged in the peer review process with two other school from the Trust in reviewing 'How effective are staff in creating a positive climate for learning for all children.' The review process is an excellent example of staff other than school leaders having valuable professional development. The review involved discussion with parents, pupils, staff, PSHE lead and observations within class, playtime and lunchtime. The process requires each school to have a Peer Review Champion who is responsible for feeding back to the partner school as well as writing a report. For Rudheath, the review confirmed that relationships with parents are strong and that there is a positive and purposeful atmosphere around the school. Recommendations from the review included reviewing the rewards aspect of the behaviour policy in so far as it is understood by staff and its consistent application.
IQM Cluster Group
The school has been an active member of its Inclusion Cluster Group, Team NW and will host a meeting in March 2020. There is good evidence of how the school has benefitted from visiting other schools and implemented some of the practices into their own.
Find out more about the IQM Inclusive School Award
If your school is interested in obtaining the IQM Inclusive School Award or you wish to talk to a member of the IQM team please telephone:
028 7127 7857 (9.00 am to 5.00 pm)
or email: info@inclusionmark.co.uk for further details.
Want more information on the IQM Award? Click here to request your free IQM information pack.