Richmond Hill Academy in Richmond Hill, Leeds, achieves the Inclusion Quality Mark's Inclusive School Award with Centre of Excellence status.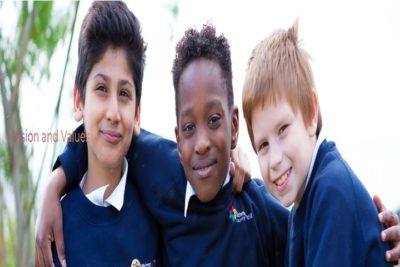 Context
The Richmond Hill Academy is a large primary Academy with over 600 pupils from nursery to Year 6. Situated in an area of high deprivation, the Academy has a diverse community with 38% of children speaking English as an additional language including Portuguese, Polish, Tigrinya and Arabic. Over 24% of pupils are on the Special Educational Needs (SEN) register whilst over half of the pupils were involved with Social Care at some time.
A Wonderful Environment
The Richmond Hill Academy is an Academy where children can fly. Living out the shared vision:
"Together we believe, flourish and succeed."
There are no barriers in place to investing in every child to ensure they have the learning opportunities, wider experiences and a wonderful environment to help them succeed. Children learn Mandarin, practise musical instruments, use rowing machines – and that's before breakfast!
The Academy's New Ethos
Under the dedicated and inspirational leadership of its Principal, after joining The Gorse Academies Trust in November 2017, the Academy has been transformed from its previous 'Inadequate' Ofsted judgement. Establishing a new ethos based on high expectations and a wealth of opportunities, the Principal has built a team who fully believe that children at Richmond Hill require the best educational experience possible. Every decision and action is aimed at supporting the children and the local community to achieve amazing things. As the Principal explained:
"Good isn't good enough. You need to be very special to transform life chances and give hope of a different future and allow these children to make choices for themselves."
The Values of The Academy
The vision and values of the Academy – Courage, Respect, Aspirations and Excellence – have been embedded and are continually articulated and understood. Throughout lockdown, the values were continually referred to by daily messages from the Principal, providing aspirational messages to the children about the world beyond their range of experiences.
Everyone is Really Special
At the heart of the Academy, Rainbow Base provides specialist provision for 33 children with complex communication needs. This provides an outstanding example of meeting children's specific needs at the heart of a mainstream Academy. The IQM Lead is passionate about celebrating each child and their strengths, rather than trying to alter their behaviour to match everyone else. Every opportunity is taken to provide wider access to mainstream classes according to individual needs, for example, a Y5 child attends assembly and is developing peer relationships. Children in mainstream education are taught about the experience of what autism feels like and are phenomenal in their support of their friends in the base. A child in Y4, for example, realised tapping his pencil on the table may be irritating so changed his behaviour. As a Y3 child explained:
"Everyone needs to know they are not different; they are actually really special."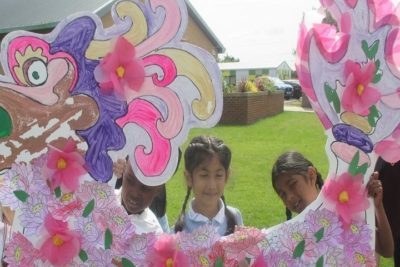 A New Major Investment in Music
Opportunities for all children to develop holistically include access to specialist teaching for PE and modern languages. A major investment in music provides a unique element for the Academy. Every child learns a musical instrument from the age of 9 and sings in a choir through the In Harmony Opera North programme. During my visit, there were several classes singing and waving coloured scarves whilst children in the Rainbow Base practised musical instruments. At open evenings a musical quartet from Opera North provides entertainment whilst a hot meal is served for families. Children from the Academy have been selected for the Opera North children's chorus whilst others have auditioned for Yorkshire Music scholarships. According to a Y4 member of the Pupil Parliament:
"It's like other Academies are on top of the ocean floating, but we are definitely in the ocean learning".
Parent Now Have Immense Trust
The longest journey has been to win the trust of parents, this was discovered in a survey in July 2018 containing negative feedback. A year later, however, 98% of parents agreed that they were happy with the Academy. Relationships have been built by giving parents as many opportunities as possible to be in the Academy, prior to lockdown restrictions. Parents have now developed immense trust in all members of staff and know that they will be listened to. One parent told me:
"Whatever you ask them to do, they do it. If something is going on at home, they will sort things out in the Academy." Another parent concluded, "They all deserve medals."
The Challenges of Covid 19
All staff rose to the challenge presented by the Covid-19 pandemic. Children with significant needs attended the Academy for up to 3 days a week. Home learning packs containing practical activities were delivered to families alongside food parcels, containing all the resources needed, for example, to plant a seed. The Academy purchased over 200 tablets and laptops to ensure every child could access home learning. Families received advice and information online and a dedicated phone line was set up for anyone needing help or a general chat to restore wellbeing when locked down for weeks.
The Academy Has Outstanding Inclusive Practice
I enjoyed two inspirational days visiting The Richmond Hill Academy. The outstanding inclusive practice was in evidence everywhere I looked. Staff bubbled with enthusiasm and the calm atmosphere of learning and achievement was extremely impressive. Richmond Hill Academy has a wealth of knowledge and experience to share in addition to an endless quest to make the Academy even better.
Find out more about the IQM Inclusive School Award
If your school is interested in obtaining the IQM Inclusive School Award or you wish to talk to a member of the IQM team please telephone:
028 7127 7857 (9.00 am to 5.00 pm)

or email: info@iqmaward.com for further details.
Want more information on the IQM Award? Click here to request your free IQM information pack