Rathfern Primary School in Lewisham achieves Flagship School status.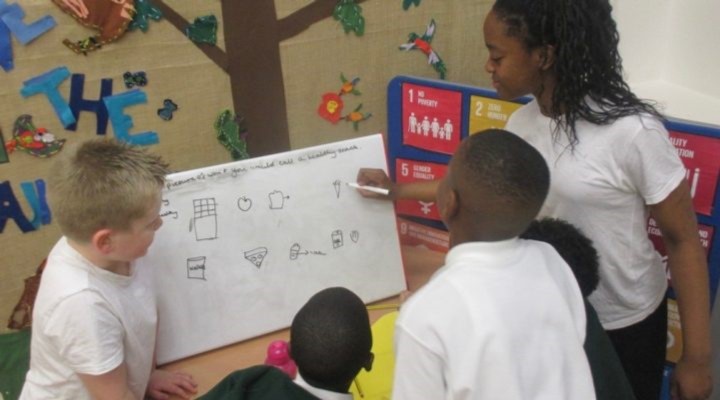 A Very Clear Vision
Rathfern is a unique school that is led by a unique Headteacher who some may describe as a 'maverick'. She has a very clear vision about where the school is heading and how it is going to get there. She has a team around her that fully support her inclusive vision and who make it a reality. The policy and practice within the school is centered around the children and everything is done to provide them with a quality education that will equip them for life in the real world. Barriers to learning are identified quickly and action is taken to help children overcome them. Staff at all levels are highly valued and are invested in. The Headteacher and her team are quick to spot and develop talent amongst teachers and support staff. The school is unique in that it is a real learning school that searches for information and evidence around teaching and learning and leadership. Rathfern has been designated as a research hub school, which is open to all Lewisham Schools. This involves a series of debates and lectures that invite teachers to reflect and develop their professionalism.
A Happy but Challenging Place to Work and Learn
Rathfern is a community school in every sense of the word. It is highly regarded and is oversubscribed. It is a happy but challenging place to work and learn. Staff stay a long time and when they do move on it is usually to promoted posts or to move out of London where house prices are more affordable.
Pupils' Behaviour is Excellent
Behaviour of pupils is excellent and is based around a policy of self-regulation. Children are expected to manage their own behaviour and their own learning. Teachers model this and provide clear guidance for pupils. The Headteacher takes a weekly assembly with every year group to remind them about their responsibilities and to check out what the children are learning. The children I met had a very positive attitude to learning and they are clearly very proud of their school.
Detailed Written Evidence
The school provided detailed written evidence around their action plan and targets set last year and enabled me to meet with a wide range of staff and pupils so that I could hear for myself about all the wonderful things that happen in Rathfern school on a daily basis.
Find out more about the IQM Inclusive School Award
If your school is interested in obtaining the IQM Inclusive School Award or you wish to talk to a member of the IQM team please telephone:
028 7127 7857 (9.00 am to 5.00 pm)
or email: info@iqmaward.com for further details.
Want more information on the IQM Award? Click here to request your free IQM information pack.