Rabbsfarm Primary School in Hillingdon has achieved Flagship School status.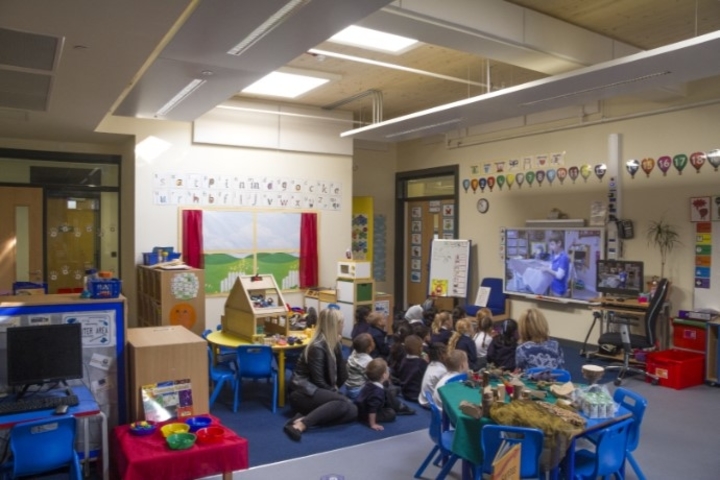 A Range of Interventions
Rabbsfarm has successfully developed a range of interventions within their Graduated Response Approach to support the needs of every pupil within the school. The Launch Pad is now fully operating and support for pupils is carefully assessed according to their need. Interventions can be class based, outside the classroom (either 1:1 or in a group) or take place in the Launch Pad which is housed in a separate building within the grounds of the school.
High Quality Teaching
Teachers firstly ensure high quality teaching within their classroom including highly structured and differentiated approaches according to the needs of the learners monitored closely by the leaders. Through the assess, plan, do, review cycle, targeted support is put in place for certain pupils through group or individualized support plans leading to small group or 1:1 teaching for areas such as numeracy, literacy including phonics and social needs. If any pupil's needs are not being met with either high-quality teaching or targeted support, then interventions in liaison with external agencies take place with pupils spending part or all their timetable in the Launch Pad. For pupils who have sustained complex SEN needs, an EHCP may be applied for. All graduated responses are evidenced based.
Training Other Schools
The school trains other schools in their 'Graduated Response Approach' as well as in the role of the SENCo. In addition to this, SEN lectures have been delivered at the IOE for Teach First. This has been very successful in supporting others to develop a systematic approach to the structure of inclusive practice within a school.
Different Skill Sets
During the visit, it was evident the additional importance the IQM lead placed upon identifying staff with different skill sets and ensuring their continual CPD to improve the outcomes of the learners and to build an exceptional Inclusion Team.
Individualised Interventions
The school ensures that interventions suit the needs of the learners with identified supported resources, for example, Personal Planners have been created with different sections including organisational skills, literacy and maths where the pupils understand the next steps they need to take to progress in their learning.
Encouraging and Complimenting Learning
Other interventions are creatively designed such as 'Rocket Learners' with a 'Mission Manual' to encourage and compliment learning taking place within the classroom and outside the classroom. This is 'based on the belief that learning is not always academically bound' but 'can involve other areas such as' physical, social and emotional as well developing an understanding of the world including expressive arts and design. 'Rocket Learners' is designed to support the pupils' knowledge, skills and understanding in the wider context to become motivated and engaged in lifelong learning.
Developing Emotional Literacy
The leaders are committed to developing the emotional literacy of pupils and staff. There has been emotional coaching training for all staff with 2 accredited and trained ELSA's. They have been supporting pupils since spring 2019. The impact has been that the pupils understand their own behaviour and the impact of their actions on themselves and on others. The pupils begin to make positive choices through the support of the intervention. ELSA training has been rolled out inviting other schools to the training. Termly supervision is in place for the ELSA staff.
A Balanced Approach to Reading
The school is engaged with York University on the Lexia research project. Lexia which provides a balanced approach to reading covering six areas: phonological awareness, phonics, structural awareness, automaticity, fluency, vocabulary and comprehension. This project has been ongoing since summer 2018. The impact will be reviewed in the autumn term 2019. The school itself is committed to supporting the reading fluency of every pupil in the school with 'Every Child a Reader'. They have created their own approach to guided reading and support parents to understand how to support their child's reading as well as training pupils in year 5 and 6 to be 'reading buddies'. They have a catchphrase: 'caught reading' with photos of staff reading in a variety of places.
Specific Interventions
In the Launch Pad we observed specific interventions taking place from a highly skilled teacher with a group of year 1 and 2 pupils who need extra support including all areas of the curriculum. They were highly engaged in taking turns and listening to each other and learning essential skills for life. An experienced EAL teacher works with pupils to support their acquisition of language. Interventions are shared with other members of staff including class teachers and LSAs so that learning strategies can be reinforced within the classroom. The Salford Reading Test is used termly to evaluate the impact of the interventions on the progress of the EAL pupils.
A Fully Equipped Sensory Room
Within the Launch Pad is a fully equipped sensory room. All support staff are fully trained for effective use of the equipment to support pupil progress. The OT, who is based in the Launch Pad, monitors the use of the room through a tracking system. The OT and Inclusion Team are developing an action plan to ensure there is consistency of use for pupils with specific objectives and success criteria.
Developing a Transition Booklet
Lastly, the school has been working very successfully with the local secondary feeder school developing a transition booklet so that key information is passed onto the new school regarding specific pupils. In addition to this, the Assistant Head has worked with the English department to ensure that high expectations of all year 6 pupils transitioning into year 7 is maintained so that pupils can progress as opposed to regress in their progress. The work has had a positive impact on secondary teachers understanding the attainment levels and capabilities of year 6 pupils. They have a better understanding of the curriculum in terms of the knowledge, skills and understanding of the pupils.
Find out more about the IQM Inclusive School Award
If your school is interested in obtaining the IQM Inclusive School Award or you wish to talk to a member of the IQM team please telephone:
028 7127 7857 (9.00 am to 5.00 pm)
or email: info@iqmaward.com for further details.
Want more information on the IQM Award? Click here to request your free IQM information pack.