Putnoe Primary School in Bedford has achieved IQM Centre of Excellence status.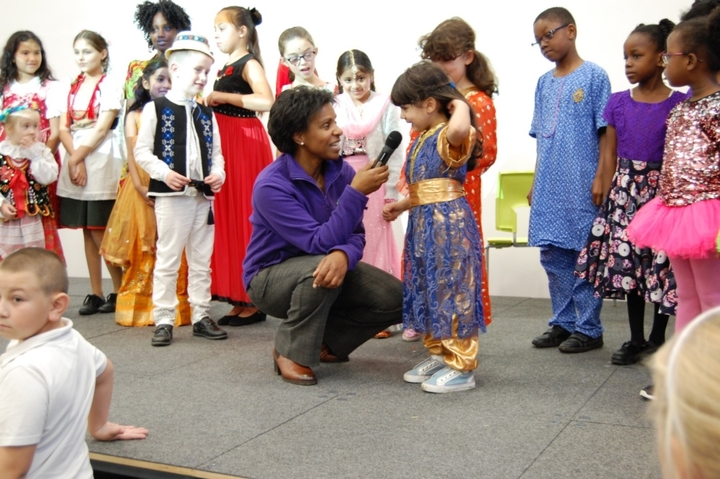 Creativity, Equality and Inclusion
The distinctive nature of Putnoe Primary School encompasses its unrelenting commitment to creativity, equality and inclusion. Every conversation during the assessment demonstrated the importance of respect for the individual child and their needs. Adults display high standards of behaviour towards each other and pupils feel secure in their care. The Headteacher's leadership is inspirational as she has created and developed a learning environment that demonstrates an ethos of high expectations and respect for the needs of every member of the school community. The clarity of her vision is evident in documentation shared on the school's website and explicitly expresses the school's values. Arts education is pivotal to her philosophy for learning and she has successfully led her team to appreciate the values, thinking skills and appreciation of all that is good and beautiful. The range of high-quality art experiences given to the children is extensive and in her own words she says 'outstanding cultural education can change a young person's sense of the wider world around them, opening up possibilities for their future which may have previously seemed out of their reach. It is through our music, our literature, our art, drama and dance that we tell the story of our past and we express our hope for the future'. Children's work is beautifully displayed reinforcing its value and importance. Inspirational quotes are painted on the walls (and regularly changed) to stimulate deeper thinking within every member of the school community. For example; 'the beautiful thing about learning is that no one can take it away from you', B.B King and 'I hear and I forget, I see and I remember, I do and I understand', Chinese Proverb.
A Diverse Community
The Christian ethos and British values of the school are celebrated but at the same time other world faiths and cultures are embraced and highly valued. A recent 'Cultural Evening,' celebrated the many faiths and ethnicities represented in the school and the whole community came together to enjoy dance, music and food from around the world. The Headteacher commented 'there are no diversity issues here because we are so diverse'.
Well Resourced Learning Environment
The Headteacher has developed a learning environment that is exceptionally well resourced in terms of skilful professional people and the physical environment. There is a full-time librarian and a full-time music teacher and both greatly influence the growth of independent, creative children who are eager to learn.
Creative Learning Resources
The library is at the centre of the school and is a place where children are encouraged to spend a lot of time. Reading and language development are key areas of focus for the school. Similarly, music stimulates creative thinking and development. Pupils have many opportunities to become involved in practical music making and there are weekly sessions for staff to learn to play the ukulele. The school has a well-equipped ICT suite as well as many portable devices. It also has a Media Suite with a 'green screen' and up to date recording equipment. Each week pupils broadcast their own news items via the school radio system. Most recently there has been a new build 'state of the art' centre created for a range of activities. It offers attractive accommodation for clubs before and after school as well as quiet areas for pupils to complete homework. There are meeting rooms so that parents can meet with professionals in a well-equipped and beautifully furnished space.
Outdoor Learning is Highly Valued
The school grounds are spacious and there is an unusually large playing field. Learning out of doors is highly valued and there are exciting opportunities for all age groups. Early Years pupils have their own outdoor classroom areas and there has been obvious investment in outdoor learning opportunities for older pupils, including fixed outdoor musical instruments. An area of the school field has been cordoned off and an allotment has been created with every class taking responsibility for growing a vegetable or fruit in their own area. There is a 'wild life' area and a shallow pond to attract a variety of creatures.
Very Effective Provision and Support
The SENDCo prepared carefully for the assessment days and the timetable she planned ensured that I would gain insight into the distinctive identity of the school. The Family Worker, SENDCo and School Nurse are acutely aware of the needs of the vulnerable and disadvantaged pupils in the school and they work closely to ensure that all relevant external services are engaged. The positive, reciprocal, professional relationship existing between them means that they provide a most effective service to children and families. Their understanding of vulnerability is not judgemental but based on their sensitivity to the circumstances that are experienced by many in the local community. An introductory letter on the website from the Family Worker captures her warmth and understanding and would give any parent seeking support, reassurance that she is there to help.
Sources of Evidence
During the assessment days I met with a range of teaching and support staff all of whom expressed absolute commitment to the arts-based curriculum and the school values. Everyone was clear about their role in the school and several had accepted extra responsibilities. One member of staff said 'our Headteacher notices the individual skills of adults in her team and she encourages us all to take ownership and lead in a particular area'. Another said, 'when I come to school each day, I feel like I am stepping into the Tate Modern – I am so happy here'. Staff well-being is a high priority and the Headteacher ensures that she offers attractive incentives. Two newly qualified teachers (NQTs) and a newly appointed teaching assistant commended the senior leaders for the high-quality induction they received and for the support available from colleagues across the school. They passed comments such as 'help and advice is always available and nothing we ask is too much trouble'.
"Outstandingly Inclusive"
I also met with the Educational Psychologist who is usually in school for six days each term working with some of the most vulnerable children. He described the school as being 'outstandingly inclusive' and also praised the Headteacher for her 'vision for entitlement within a broad and balanced curriculum' and as having 'no glass ceiling for the achievement of children'.
Pupil Voice is Strong
Pupil Voice is strong at Putnoe Primary and I met several groups of amazing children who were involved in pupil led initiatives. My discussion with the 'Justice Squad' made a deep impression and formed a memory that will stay with me. They have conducted their own research and at the present time are focusing on women's rights throughout history to the present time. They spoke with great passion and eloquence about injustice and have taken action to change outcomes for women in the future. The 'Justice Squad' is a fine example of the way the school encourages deeper thinking and personal development.
Very Appreciative Parents
Parents spoke positively and appreciate the many opportunities to become involved in the life of the school. With this support they have gained a greater understanding of their child's learning and what they can do at home to help. In particular they are pleased that the school has introduced a third parent consultation meeting in the summer term and feel this will help them prepare their children more effectively for transition to the next year group. They recognise that there are positive aspirations for every child and a belief that children can aim high and achieve their dreams. They feel well supported when they are faced with challenges and one parent spoke movingly about how staff have supported their child who suffers from anxiety. The school has achieved the Parent Partnership Award and staff are aware of the importance of supporting parents with the challenges of family life.
Friendly and Welcoming
The office team and caretaker are friendly and welcoming and I couldn't help over hearing the sensitive and helpful way in which they listened and spoke to parents and visitors to the school.
Find out more about the IQM Inclusive School Award
If your school is interested in obtaining the IQM Inclusive School Award or you wish to talk to a member of the IQM team please telephone:
028 7127 7857 (9.00 am to 5.00 pm)
or email: info@iqmaward.com for further details.
Want more information on the IQM Award? Click here to request your free IQM information pack.