Princess May Primary School in Hackney, London, has achieved the Inclusive School Award for the first time.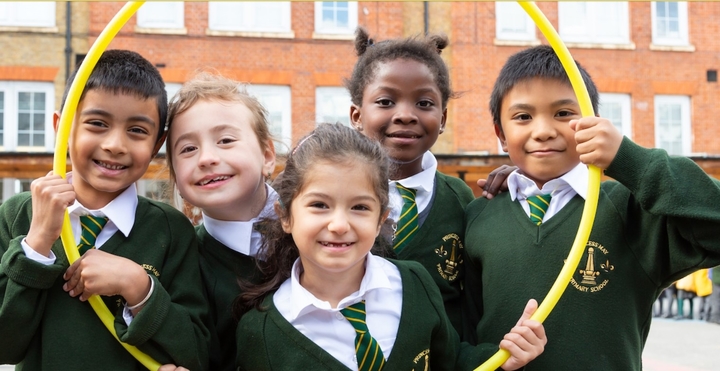 Well Resourced School
Princess May Primary sits in a large Victorian building. There are plenty of learning spaces, all of which have been used wisely. There is a well-resourced library which Years 5 and 6 librarians take great pride in keeping tidy and well-organised. There is an Apple Mac IT suite, a sensory room, a music room, and lots of spaces for the teaching of phonics. There is a very well organised room with levelled books, so children always have books to suit their needs. The Nursery children have a large inside and outside area to play and discover. It is well-resourced and the staff have a lot of time to spend with individual children as the pupil-teacher ratio is high. There are three halls above each other and a separate dining hall in the playground. There is an all-weather fenced MUGA.
External Recognition of Good Practice
The School Improvement Partner, who visits many schools across Hackney, is passionate about the inclusivity of Princess May. She said that there is a sharp focus on wellbeing here. The school is exceptionally good at the early identification of children's needs and ensures that appropriate support, where required, is put in place as soon as possible. The Specialist Teacher alongside the Speech and Language Teacher, observe, diagnose, and assess children who may need an EHCP. It is the school's policy to inform parents as soon as possible if the child needs extra support. This information is delivered to parents/carers with kindness and support.
Exemplary Behaviour
The school encourages children to read by using the 'Jump Into Books' initiative funded by Hackney. The LA recognises the Reading HLTA at Princess May Primary as an outstanding practitioner. The support staff are highly skilled, and some have undertaken Reading Leadership Training. They are knowledgeable about all of the children in their care. There is a full time Place2Be Manager, who is also the Pastoral Lead. The witnessed behaviour of the children was exemplary. In this school pupils have a voice, and they can self-refer to Place2Talk if they wish. Zones of Regulation are used across the school and all children are able to understand and regulate their emotions. There are Curriculum Ambassadors (two from each class) who monitor what is taught and how it impacts on children's enjoyment of learning. They feedback from their learning walk to Senior Staff. One child reported that in Year 1 they saw children helping each other yet they were working independently. Another said that they saw evidence of Makaton use in Year 5.
Support for Staff
The WAHMS (Well-Being and Mental Health Service) project come in every two weeks, to support staff with various strategies. This is a school which takes its mental health responsibilities seriously, and where, as a result, staff and pupils feel safe. Each week parents from a particular year group are invited in to share books with their children in one of the halls. Cushions, books (some of which are bi-lingual) and toys are scattered around to make a comfortable, relaxed atmosphere.
Firm Foundations
The staff recognise their role in preparing children for the next stage of their learning. With this in mind they ensure that provision is of the highest quality, so the foundation is firm for future learning, enabling the best possible chance of success for all. There are sets of carefully chosen core books, which the children love feeling and reading. The Headteacher has ensured that his vision extends across the school so everything must be of the highest quality. He encourages people to be creative and use their imaginations. Staff receive good quality CPD. Recruiting the right people to the right job is a high priority.
Cohesive Support Team
The support staff are highly valued in their own right. The SEND Team have their own individualised timetables to ensure identified children receive their entitlement. They are involved in lesson planning; they speak to parents; they teach fast track phonics and they pre-teach to help those who may need extra support before the rest of the class is introduced to something new. One TA said,
'We are like a family, we listen and support each other but most importantly, we respect each other.'
The SEND Team are very approachable, and the parents respect them. During lockdown they taught lessons from home and made PowerPoints. They are looking forward to the summer carnival and the opportunity to work closely again with the local community. The HLTAs work across the school and are equally highly respected.
Enabling Success
The teachers have a deep understanding of inclusion. They celebrate children's differences whilst ensuring that individual needs are addressed. Teachers are encouraged to use their own teaching style and adapt it to the learning needs of their pupils. The human and physical resources are a mirror for the children to reflect upon. Teachers use AfL so they know the next steps for each child's learning. Differentiation is key, ensuring progress is maximised. Tapestry is used in EYFS to record progress. As part of the overall teaching and learning experience two children are focused upon each week and the collated data and child's work is shared with parents.
Good to be Green
The children like the 'Good to be Green' system of encouraging them to make the right choices. Achievements are celebrated every Friday in assembly. Parents are notified if their child receives gold acknowledgement of their achievements via texts and newsletters. Children also like the 'Catch Me Being Kind' idea and they might receive a special mention if they have been caught. Princess May has a corridor policy of Walking not Talking. There is learning culture throughout this school. The marking policy is clearly understood by the children. From Year 1 upwards they are encouraged to do their own blue pen marking whilst teacher's marking is in green.
Confident Pupils
Children would feel confident speaking to various adults, in confidence if needed. Pupils like this school and feel safe here. Each class has a 'Worry Box,' and teachers take all concerns seriously and ensure resolution is achieved. Princess May Primary have a School Council and the pupils enjoy making decisions about possible improvements. The current focus for improvement is the dining hall. Pupils are well able to articulate their own targets and what it is they are currently working on. There are a wide variety of clubs on offer and pupils enjoy participating. Pupils at Princess May are aware of the behaviour policy within the school and its environs. They agree that the sanctions for making poor choices are appropriate and admit that they like the rewards. They like their Playground Buddies, who pick up children who may need help forming friendship groups.
Heart of the Community
Princess May is an outward facing school. It has good links with local schools and staff from the Petchey Academy come in to help with PE, Art, and DT. Transition into Year 7 is smooth. The school supports the local foodbank and has put on cookery classes. In the summer, the local roads are closed, and the community enjoy taking part in the school's carnival. Children enjoy visits to the Science Museum, the natural History Museum, and local places of worship. Coaches from Arsenal FC come in and parents are signposted to the local Children's Centre.
Find out more about the IQM Inclusive School Award
If your school is interested in obtaining the IQM Inclusive School Award or you wish to talk to a member of the IQM team please telephone:
028 7127 7857 (9.00 am to 5.00 pm)
or email: info@iqmaward.com for further details.
Want more information on the IQM Award? Click here to request your free IQM information pack