Ponteland Primary School in Newcastle has achieved Centre of Excellence status.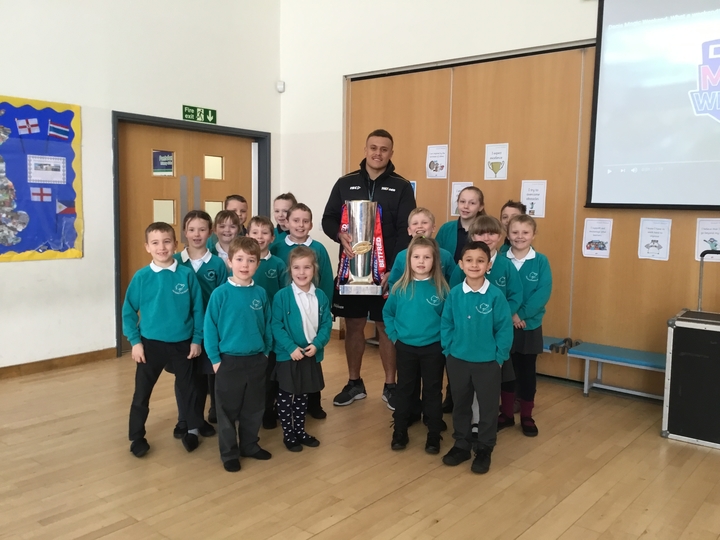 School Context
Ponteland Primary School is a two-form entry 3 to 11 school situated in the heart of Ponteland Village, an attractive and popular location in Northumberland, bordering the city of Newcastle. This larger than average sized school is below the national average in terms of minority groups, free school meals and SEND but it is evident that every child is treated as an individual and is nurtured by the skilled and caring staff. The school's inclusive ethos ensures that all pupils are given the support, opportunities and confidence to thrive and the commitment of all stakeholders to set high expectations for themselves helps them to achieve this.
Outward Looking and Forward Thinking
There is an energy within the school which is directed towards innovation and ensures it is outward looking and forward thinking. Leaders have embraced many challenges in recent years such as the transition from First School to Primary School and more recently in becoming a founding Academy within the Pele Trust, which is made up of 6 schools. It is also the lead school within the Trust for School Direct Teacher Training.
Ofsted
The school was graded good by Ofsted in February 2017 with an Outstanding judgement for Personal development, behaviour and welfare. In 2017 Ofsted stated, "The school is highly successful in providing support for vulnerable pupils. Staff are passionate about securing the right support for pupils and their families".
Very Welcoming
The building is inviting, attractive and well maintained; it is very welcoming and the warm, friendly ethos is apparent from the outset. The reception office displays the school's many awards and achievements with pride. There is a buzz about the school which draws one in to find out more.
An Enthusiastic Headteacher
The Headteacher brings an enthusiasm that drives the school forward and views challenge and change as opportunities for progress and the opportunity for creating better life chances for the pupils in her care. This is a happy school whose aims for "excellence for all" result in rapid progress for all cohorts of pupils.
School Facilities
The school is set out over two floors built around a wide central atrium known as 'The Street', with classrooms leading off from here. As the school has expanded from a First School to Primary, older pupils are housed in mobile classrooms in the grounds but are fully integrated into the life of the school. There are excellent facilities for outdoor learning, indoor and outdoor sports and the delivery of a broad and balanced curriculum.
Vibrant Centres of Learning
Classrooms are vibrant centres of learning, demonstrating high standards of work in a relaxed environment. ICT is well resourced and gives access to high quality provision. Foundation Stage pupils have their own outdoor classrooms and were observed enjoying their imaginative role play areas and working creatively, demonstrating curiosity, confidence and cooperation. They were ably supported by teachers and TAs, getting them off to a good start in learning habits.
A Rich and Varied Curriculum
The environment is vibrant with displays of pupils' work and resources to support play, creativity and physical development. Large photographs of pupils engaged in a rich and varied curriculum line the walls, demonstrating to children that they are valued. Exciting trips, author visits, guest speakers and performances enhance the curriculum. The impact of this is reflected in pupil displays, including examples of SEN work, in workbooks and in the higher than average standards all groups of children achieve.
Pupils' Love of Learning
A Governor stated,
"In this school, the children say it all."
Indeed, pupils had much to say about their love of learning, but it is obvious that children are also taught to care, to think about others and ask what they can do to help. There are inspirational quotes as part of a display based around the novel 'Wonder' in the Year 5 classroom. Pupils here were eager to talk about how they had been taught to think differently about treating others in life and how in this school they would be welcoming of differences. Similarly, in Year 6 pupils display compliments about one another, which are affirming and show acceptance of everyone. Values are important within this school and this has undoubtedly helped to develop the characteristics pupils display, of fairness, justice, kindness, respect, friendship and tolerance. The strong and experienced team are highly committed to providing a safe, enabling and highly supportive environment for the pupils in their care, encouraging the next generation to be critical thinkers so that they can challenge injustice and 'break the mould' to create a better future.
British Values
British Values are displayed throughout school and taught from the earliest stages as pupils learn about and celebrate similarities and differences between religions and cultures; they are helped to understand about rules and democracy and mutual respect, for example, a debate which took place in the year six classroom saw pupils discussing gender stereotypes with maturity. They listened respectfully to one another, thought critically about statements offered and presented opinions articulately. The teacher facilitated skillfully, encouraging participation by all.
A Happy and Purposeful Atmosphere
There is a calm, happy, purposeful atmosphere within all classes and the learning environment is of a high standard. 'The Street' is busy with break out groups of children catching up with their peers, diligently engaged in tasks with Teaching Assistants. Pupils move around school quietly and calmly, demonstrating excellent manners and respect for those who may be working. Children are happy to come to school and to talk to visitors about their positive experiences. They describe their teachers in very positive terms, with comments such as
"All of the teachers want you to do your best and will give you all the help you need" and
"The best thing about this school is the teachers, the clubs and the lessons and my friends."
Enthusiastic Learners
Children are enthusiastic about learning, their behaviour in classes and around school is impeccable. They speak confidently about the enjoyment they have while learning and are proud to belong here. One child said,
"It's just like a family here, everyone looks after you and keeps you safe."
They are aware of their targets in learning and work hard for their teachers, being motivated by the interests presented in the curriculum and the many ways of being recognised through the school's reward system. The school offers a wide range of extra-curricular activities from team and individual sports, forest club, Glee club, book club, dance club, gardening club as well as many others. A unique level of support for sporting activities is provided which is geared towards finding the talent within everyone and allowing all to experience success. Pupils spoke enthusiastically about the many competitive challenges they can access in sporting and curriculum areas and are rightly proud of their many recent successes, for example in golf, team sports and mathematics. These events and joint visits also serve to ensure that the pupils know their partnership peers in other schools, enjoying residential visits together, SSP events and an international trip to France.
Pupil Voice
Ponteland Primary takes account of pupil voice. There are many opportunities given to pupils to hold positions of responsibility and to make positive contributions. A pupil representative explained,
"Our job is to try and make the school even better than it is now."
The School Council meets regularly to discuss pupil suggestions and was instrumental in making changes to school lunches. They have their own communications board where suggestions are shared and meeting minutes are available to view. ECO Team creates its own displays which are informative and encourage others to think carefully about the issues faced. As a Green Flag school, they are responsible and proactive; writing letters in support of change, delivering assemblies, recycling and being champions of biodiversity, keen to look after the future. Peer mediators and buddies help make playtimes safe and happy ensuring that all children are included. Playtime and lunchtimes demonstrated how well pupils get on and look after one another. Pupils say they feel safe in school. Children who had joined the school in later years told of coming to Ponteland Primary and feeling welcome and ready to learn in a friendly, supportive environment. One pupil said,
"I was bullied in my last school for a long time, but here there are no bullies and I've got lots of friends."
Teachers are consistent in their approach to implementing policy and ensuring anti-bullying is given a high focus.
Highly Respected Teachers
Teachers are held in high respect because they put children first and treat them as individuals. Staff are passionate about learning, being lead learners themselves. They are keen to network and collaborate, share skills and learn from one another. Strong leadership ensures that this is nurtured and skills are utilised effectively. Action Research is an innovative feature of the learning environment, staff use data to raise questions they wish to explore further within their classroom, implementing changes to improve methods which result in transformative change. They are positive role models for pupils, demonstrating team work and respect for one another and are relentless in their pursuit of excellence. Currently staff are working with the Inspire Partnership to develop the curriculum, selecting to adopt Oxfam's Education for Global Citizenship principles which are in line with their own values.
Supporting Pupils
The SENDCO and her team support pupils with strategies and assistive resources including ICT to help individuals experience success. Early concern referrals mean that pupils' needs are addressed swiftly and that discussions take place about provision of resources, high quality teaching and appropriate interventions. This early identification is very important to ensure that all children are included, barriers to learning are picked up through different contexts and steps are taken to address these. Strategies are monitored for impact and reviewed frequently. TAs who deliver interventions do so with patience, humour and discretion so that pupils feel supported. One parent told me that her son was always happy to access interventions, never feeling he was missing out on anything,
"He came on so much and staff were always flexible to meet his needs, really developing his confidence."
The SEND team has developed solid networks which are able to offer the appropriate advice and guidance for the issues faced and is making strong partnerships across the Trust.
Understanding the Challenges
The Parent Support Advisor provides an invaluable service in identifying and understanding the challenges children and their families face. Her knowledge of the community, the skill and experience she brings is instrumental at removing barriers and the interventions and therapies provided have a positive impact on children's mental health and sense of well-being. Families are given the support they need and are signposted to a wide range of external agencies. Good strategies for improving attendance are in place.
Proud Governors
Governors are proud of the inclusiveness of their school which offers effective provision in meeting children's needs and a school ethos where everyone is treated equally,
"Every child has a part to play in this school's success."
They are very knowledgeable about where the school is and what it needs to do to be even better, due to the excellent methods of communication and information sharing. They are highly experienced bringing a strong business and educational skill set and make valuable contributions to the success of the school. They are visible and active in policy making, helping the school make changes and are fully behind the high aspirations of the staff, for example being supportive of staff CPD and Action Research. One Governor described staff as being
"secure enough to take risks, confident enough to ensure success."
Challenge and Support
Safeguarding and Pupil Premium keep up to date with training so that they can offer frequent challenge and support in order to ensure the efficacy of systems in school.
"Staff are amazing, they are so nurturing and nothing is too much trouble",
parents describe the school as having strong, open channels of communication which ensure they are kept informed of school life. They enjoy coming into school for the many open events, stay and play and information sessions they hold and are confident that staff will deal with any problems should they arise. Frequent assemblies provide a showcase for children's achievements, with 'every child playing a part'. Strong induction and purposeful links are created between home and school so that parents feel part of the family that is Ponteland Primary. They speak highly of transition arrangements which prepare children for change. They say they feel listened to and the SEND support and interventions offered are always shared so that they can also support their child. One parent whose child had joined the school late, spoke highly of the welcome received and the support given to help her child settle and thrive,
"This school really made a difference, I can't praise them enough."
Extra-Curricular Clubs
Parents feel that children's confidence has been enhanced by the many extra-curricular clubs and sports offered. They say staff are approachable and are described as
"always going the extra mile"
for children. This ensures parents trust the school and are keen to give back. There is a supportive Parents' Association which raises funds and organises social events for all children, parents and wider family members.
Supportive Local Businesses
Local businesses are very supportive of the school and they have developed excellent links with the local community. Staff are skilled in encouraging positive contribution, helping pupils learn about and consider those less fortunate than themselves for example engaging visitors from the Newcastle People's Kitchen to talk about the work they do, then encouraging pupils to support the homeless. Parents and children raise money for the Children's Cancer fund by participating in the annual fun run held locally and have also supported Tynedale Hospice, St Oswald's and Action Aid. The School Council and ECO Club are instrumental in maintaining community links, such as engaging in litter picks in Ponteland. The local vicar makes visits to deliver assemblies and pupils go out to visit Ponteland Methodist Church.
Excellent Local Community Links
Sports organisations from the local area visit school to run specialised PE sessions as well as extra-curricular clubs in many sporting aspects, links have been formed with Cramlington Rockets Rugby and NUFC Foundation. Aspire 2 Change Day sees professionals visit to talk about how they impact on big issues such as recycling, renewable energy, homelessness etc. Pupils have forged links with residents at various care homes in the area to build good relationships. The choir sings at various events in the local community including Newcastle Airport, raising money for Newcastle Foundation and entertaining the local care homes. As lead school for School Direct Teacher Training in the MAT partnership, links are well established with Northumbria University.
External Benchmarking
Additionally, the school works closely with all other schools in the Academy Trust accessing joint training, sharing ideas and moderating standards across the schools. Ponteland Primary School is the proud recipient of many quality marks and awards, which include Primary Science Mark, NAACE ICT accreditation, Anti-Bullying accreditation, Eco School Green Flag award, is a Healthy School with Health and Well-being certification and has the Gold level for Sainsbury's School Games Award.
Sharing Inclusive Practices
As the school prepares for further exciting change in 2020, moving in to a new multi-use building which will incorporate Ponteland Leisure Centre, Ponteland High School and Ponteland Primary School there will be opportunity for seamless coordination with these providers, also placing the school in a strong position to share its inclusive practices across the schools within the Pele Trust.
Find out more about the IQM Inclusive School Award
If your school is interested in obtaining the IQM Inclusive School Award or you wish to talk to a member of the IQM team please telephone:
028 7127 7857 (9.00 am to 5.00 pm)
or email: info@inclusionmark.co.uk for further details.
Want more information on the IQM Award? Click here to request your free IQM information pack.