Pinkwell Primary School , Hayes in Middlesex, achieves the Inclusion Quality Mark's Inclusive School Award with Flagship status.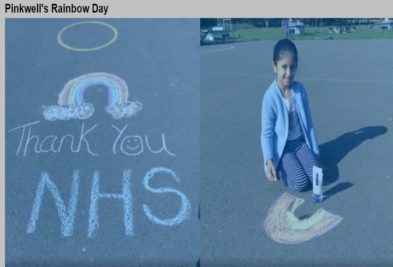 Context
Pinkwell Primary serves a highly diverse community. The school was graded as 'Requires Improvement' by OFSTED in its last Section 5 inspection in 2019. Since that time, it has undergone two monitoring visits by OFSTED with the last one in May 2021. The school has undergone considerable changes from 2019 and since the appointment of the new Principal, there has been greater stability amongst staff. Since September 2019, the school has had a permanent staff team allowing for consistency of approach and the development of a unique and innovative curriculum where progress and standards have improved across the school. The principal is ably supported by a strong and effective leader who has a clear, shared vision for improving the quality of education for all groups and pupils in the school.
The Tailored Curriculum
Leaders at all levels have developed a coherently planned and sequenced bespoke curriculum based on the school's unique globally diverse community. The school's curriculum intent is built on developing cultural capital through creative innovation and preparing the children for the globally diverse community in which they live. Staff use the work of Alex Quigley (Closing the Vocabulary Gap) and action research work from 19-20 to develop Tier 1, 2 & 3 vocabulary in their planning and delivery of learning. 'Talk for Writing' is directly linked to project-based learning enquiries with impact evident through this embedded approach across the school. Language acquisition and development is a growing strength of learning across the curriculum with clear models for teaching and learning developed through research-informed CPD; team teaching and language-rich environments.
Working with Expert Teachers
Provision for children with SEND and with EHCPs is a strength particularly in SAL and ASD provision. Pupils are very well supported both through quality first teaching and intervention work. SRP SAL provision is a multi-professional strength of the school which impacts positively on pupil progress. Expert teachers are utilised to provide support outside of the school as well as leadership capacity for newly qualified and trainee teachers. The school has a particular focus on Behaviour for Learning through Habits of Mind and Zones of Regulation which has impacted on effective curriculum progress and ensures foundations for learning that are built on clear learning pedagogy. The strengths of remote education have been utilised to ensure effective and rigorous adaptive teaching both in the classroom and through home learning. It clear that Pinkwell Primary School's curriculum is responsive to local and world events and each individual group of pupils. The curriculum is carefully sequenced knowledge and skills which fosters cultural capital.
Everyone is Valued at Pinkwell
Pinkwell Primary School is a happy and welcoming school providing a safe and supportive environment that enables pupils to flourish and reach their potential. Everyone is valued as part of the school's friendly learning community. Everybody is treated fairly and expected to work hard and to do their best at all times. There is a real commitment from all staff to ensure that every child leaves the school for the next stage of their education with high aspirations and an enduring enthusiasm for learning. There is a strong belief that every child can make progress and achieve and that it is the job of the school to make sure this happens. The school actively strives to promote pupils' independence, confidence and teamwork based on the belief that the pupils at Pinkwell Primary will have the skills to become successful learners. Inclusion is given the utmost priority and is at the very heart of the school's vision. This was evident in the conversations that were had with parents, pupils, governors and staff whose relationships are built upon trust and respect. What lies at the heart of Pinkwell's inclusive ethos and practice is a strong, cohesive group of senior leaders who have shared values and a pro-active approach to inclusive education at all levels.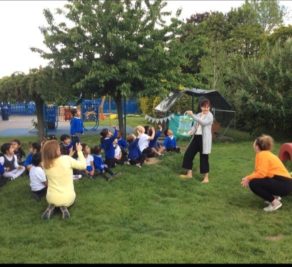 Success is in Different Contexts
From my meetings with staff, it became clear that they take great responsibility in ensuring that any barriers to learning are overcome and that all children experience success in different contexts. The staff at Pinkwell Primary have created a learning environment that stimulates interest and discussion to challenge children's knowledge and understanding of the world through the provision of a range of engaging resources to meet all learning styles. The school ensures that teaching and learning opportunities meet the needs of all the children and that appropriate provision is made for those children who belong to vulnerable groups; this includes children with all levels of special educational needs and children with English as an additional language whilst ensuring the needs of socially disadvantaged children are adequately assessed and addressed. This is done effectively through early identification, assessment, early interventions, preventions/triggers and setting achievable personal goals and aspirations for all children.
Staff and Teachers Are Passionate
Staff receive effective and rigorous continuing professional development which is aligned to both school improvement priorities and professional targets for all staff. Teachers and support staff uphold the highest commitment to supporting, challenging and nurturing all pupils to enable them to achieve at school through adaptive Quality First teaching in the classroom. Support staff and teachers are passionate about the work they do and they have the highest regard for each other and the pupils. One member of staff said:
"The children are engulfed in learning and we as staff, all share best practice and support each other".
Another practitioner stated that:
"We are proud to work at the school because of its diverse nature, its rich curriculum through Project Based Learning and there is a consistency of good practice. We always have the children at the centre of everything we do!"
Staff appreciate the support they receive from senior leaders in managing their workload and feel that there is a real team approach across the school. Staff greatly value the supportive nature of the school and how they are able to access advice and guidance through the very open and positive staff relationships in the school.
Pupils' Progress
Classrooms are well organised and the vibrant displays celebrate the pupils' learning and progress. The teachers plan their lessons carefully considering their pupils' needs and desires. Resources are used to support learning and teachers and support staff use a variety of teaching methods and strategies to minimise barriers to pupils' learning. Interventions and planned adults' support are used to develop and enhance pupils' learning from their individual starting points and this allows for progress to be made by all groups of pupils.
Pupils' Voices Are Valued
Pupils are polite, friendly, self-confident and enthusiastic. They respect the staff and know that they are listened to and cared for and appreciated for their individuality. The voice of the pupils is valued and contributes to their provision. Pupils with whom I spoke, told me how much they enjoy coming to Pinkwell Primary School saying that it is a safe place and that learning is well organised. Relationships between pupils and adults is clearly a strength of the school enabling high expectations for learning.
Parents Praise the School
Parents speak very highly of the school, staff and school leadership team. They feel that they are listened to and the school has fostered a real partnership ensuring that both parties share the process of educating their children. Parents commented that the communication between home and school is excellent. They praised the school for ensuring that they are kept informed through regular newsletters, the informative website and formal and informal contact with teachers. This has been especially good during lockdown when teachers and teaching assistants have been in regular contact and parents felt that all members of staff were very approachable and really cared about their children's welfare as well as their education.
The Elliot Foundation
Pinkwell Primary is governed centrally by the Operations group of the Elliot Foundation. In my meeting with the Regional Director of TEFAT/Chair of Team Around the Academy and the SEND Area Lead for TEFAT, it was clear that the school has made significant improvements since 2019. They highlighted the way that distributed leadership has empowered staff to develop the school and learning for all groups of pupils. The TEFAT members share the same high expectations for all pupils as the senior leadership team and promotes equality of opportunity. They fulfil their statutory duties and provide sufficient support and the correct amount of challenge to the senior leadership team to ensure that the school continues to be fully inclusive. It was abundantly clear that there is a real drive to improve the school further and take collective responsibility in all the work they do to improve the life chances of the pupils they serve.
Continuing Its Practice With Inclusion
Pinkwell Primary School is continually developing its excellent practice on inclusion. There is a genuine sense of team effort within the school, of mutual support, of listening, discussing and of including everyone. Exceptional features of this school include the strong, collaborative leadership leading to effective teaching and learning and a complete focus on continuously improving and developing teachers' practice in a fully inclusive learning environment, to ensure that high standards are maintained throughout the school. It was a pleasure to be able to visit the school virtually and to have discussions with staff and pupils to experience the drive, enthusiasm and zeal for learning and developing pedagogy. Personalisation is at its core and the school pursues excellence in learning and teaching with rigour and determination, embedding a culture where change is continually embraced, and creativity and adaptability are central to all aspects of its work. All members of staff have a very real and positive impact on pupils' ability to access appropriate learning or timely interventions, allied with an unwavering and uncompromising ambition for all they serve including disadvantaged and vulnerable pupils.
Find out more about the IQM Inclusive School Award
If your school is interested in obtaining the IQM Inclusive School Award or you wish to talk to a member of the IQM team please telephone:
028 7127 7857 (9.00 am to 5.00 pm)
or email: info@iqmaward.com for further details.
Want more information on the IQM Award? Click here to request your free IQM information pack