Phillimore Community Primary School in Sheffield achieves the Inclusive School Award.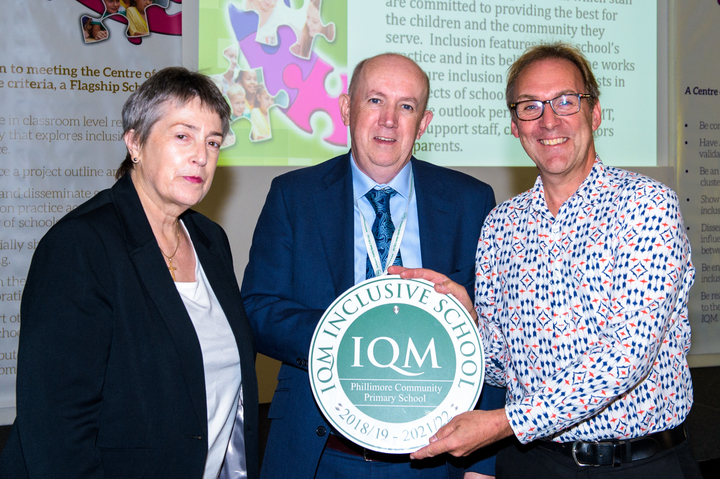 A Warm Welcome
I would like to thank Gillian and Jim for the warm welcome on the day of the IQM visit. I appreciate your hard work in making the day successful and ensuring that it was well organised. I was able to gain a broad view of the life of the school and a focussed look at how you have shown that you are an inclusive school. Your SEF was very helpful and suitably detailed to help me form some judgements. I have had access to your website; therefore, I have been able to download some information.
Enhancing Learning and Lifelong Outcomes
Phillimore school is an integral part of the Sheffield South East Trust, whose vision is: 'through a holistic approach, to enhance learning and lifelong outcomes for all children in our schools. We are stronger together, working together for the benefit of all children and for the achievement of all children and their families.'
Vision and Values
This links well with the vision and values of the school which are as follows: 'We support and engender the ambition to raise the aspirations of all children and of all families. This is evident in everything that we do. We believe that learning should be fun, purposeful and challenging through a broad, balanced and creative curriculum that nurtures and develops the whole child, developing lifelong learners who take ownership of their learning and are proud of their achievements."
Resilience and Empathy
The School Values are simple but relevant to the children in your care. They support resilience and empathy for others.
• Work hard
• Concentrate
• Don't Give Up
• Understand Others
• Try New Things
• Improve
• Imagine
• Push Yourself
Ofsted
In the last Ofsted Inspection report Oct 2012, it stated that: 'Members of the 'Inclusion Team' are highly successful in ensuring that pupils have equal opportunities. Different cultural heritages and languages are celebrated. Pupils feel safe. They are keen to learn and try their best.' In my experience, on the IQM visit, I found these statements still to be true. It was pleasing to see a display board in the staffroom on which all staff had contributed to elements of the IQM SEF as this gives ownership to the team at the school as they have had the opportunity to contribute to the preparation process.
Building Positive Relationships with Parents
It is also clear that the school team works very hard to build positive relationships with parents and care for the needs of families, the time and energy placed to support breakfast club is notable. It was pleasing to see evidence of welcome signs and languages other than English displayed in the school. Parents speak highly of the school and recognise the support that is offered by the team who work hard to engage with the parent body and help them to feel welcome and valued in the school. The school communicates in a variety of ways and this helps the parents to feel welcome in school. They feel able to approach the school in the knowledge that they can raise queries and share information.
Creative Use of Space
Another highlight of the visit was to see the use of the static library van in action in the playground which has been converted into a teaching space in which interventions can be held, books shared, and small group work encountered.
A Caring School
Phillimore is a caring school in which staff are committed to providing the best for the children and the community they serve. Inclusion features in the school's practice and in its beliefs. Everyone works to ensure inclusion and equality exists in all aspects of school life. There is a positive outlook permeating from SMT, staff, support staff, children, governors and parents.
A Shared and Positive Approach
There is clear evidence that data informs teaching and learning at an individual and group level, that teachers plan and take on board views of Teaching Assistants. A shared and positive approach to children's learning ensures children receive support. The school staff work hard to raise aspiration and attainment.
Sources of Evidence
During the visit, I had access to all areas of the school; I had conversations with pupils and a range of stakeholders who willingly gave of their time. Information and evidence were gathered by observation within the school but also through conversations with the Inclusion Coordinator, teaching, support and lunchtime staff. Representative pupils, parents and governors also gave their opinions. The school produced a suitably detailed IQM Tracking Document and additional written and statistical evidence was available to support the Inclusion Quality Mark assessment. I would like to thank all those involved for the warm welcome.
A Strategic Approach to Management
There are many key strengths in the school because of the strategic approach to management.
Find out more about the IQM Inclusive School Award
If your school is interested in obtaining the IQM Inclusive School Award or you wish to talk to a member of the IQM team please telephone:
028 7127 7857 (9.00 am to 5.00 pm)
or email: info@iqmaward.com for further details.
Want more information on the IQM Award? Click here to request your free IQM information pack.