Oxford Grove Primary School, Bolton has achieved the Inclusive School Award with Flagship School status.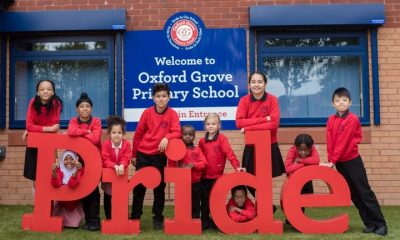 Context
Oxford Grove Primary School is a larger than average sized primary school in a deprived area of Bolton, with 446 pupils on roll and excellent levels of attendance that stood at 96% at the time of the review. Significant information from the latest IDSR shows the level of deprivation clearly. Against this background the school adapts to suit the particular needs of all of their pupils exceptionally well. This was recognised and celebrated in a letter to the school sent by the Secretary of State for Education Damian Hinds and The Minister of State for School Standards Nick Gibb in February 2019 which congratulated them on amazing progress putting them in the top 3% of schools nationally. They stated, 'We would like to congratulate you, your staff and your pupils on the very high level of progress that pupils in your school demonstrated in the reading, writing and mathematics Key Stage assessments last year. Your school is amongst the top 3% of schools in England.' A fantastic and well-deserved accolade for the school, its staff and its pupils.
Outstanding Commitment to Highly Inclusive Teaching
The school and its staff work very hard to give their pupils the best education possible and a superb level of pastoral care so that they learn well and are very happy in school. This is achieved through its outstanding commitment to providing a highly inclusive teaching and learning environment for all pupils and staff, encapsulated by the school motto, 'Pride in our school, Pride in ourselves and Pride in each other.' It is a superbly inclusive, enjoyable and very friendly place for all to come to work and learn and this is due to the fact that everyone involved with the school believes in and works hard on a daily basis with the pupils to ensure it happens. This is truly a school where all pupils matter and are valued for who they are and who they will become. This is a fact I can attest to from the evidence of this, previous reviews and from discussions with stakeholders. Everyone involved with Oxford Grove is committed to providing the very highest standard of teaching and learning experiences which not only develop the pupil's knowledge and skills but an enjoyment of learning as well.
Very Best Education Possible
This is a school that firmly believes that 'Every Child Matters.' Where the Headteacher states very clearly on their superb website, 'Oxford Grove is a very special place where we challenge all our children to be aspirational, supporting their hopes and dreams and guiding them as they search for their own pathways to success and fulfilment to create for our amazing children, a nurturing and inspirational learning community which encourages and supports them in the pursuit of their ambitions. We are totally committed to removing barriers to learning and developing in each child a love of learning and a shared pride in achievement in all its forms.' Inclusive statements that I fully concur with and that underpins everything that happens in the school and is enacted on a daily basis. The superbly caring, inclusive environment that the school and its staff provide ensures each pupil receives the very best education possible, delivered by dedicated staff.
Outstanding School in Every Sense
In terms of inclusion, Oxford Grove is an outstanding school in every sense. It's clear that superb care, nurture and support are at the heart of everything that happens on a daily basis at the school. This was seen in all interactions, between staff and pupils, between pupils and between staff, from discussions with all stakeholders and from evidence provided in a variety of different contexts and in meetings. Everyone involved with the school understands that this is a superbly inclusive community where staff and pupils come to work and learn. This is a school that is clearly at the heart of its community. Inclusion is a natural part of the everyday occurrence, pupils are encouraged to reach their full potential and everyone involved is committed to the inclusion of all, whatever it takes. It is a school that is constantly looking at ways to develop for the benefit of the pupils, its families and the diverse community that it serves.
Continually Evolving
Visitors to the school experience the same calm, yet stimulating, vibrant learning environment that the staff and pupils experience on a daily basis. It is contained but not bounded by its superbly vibrant learning environment that focuses on helping pupils to develop the skills they need to be active participants in their community and in society. The school environment is superb and is full of vibrant carefully thought out and prepared displays that celebrates what the school does best; valuing everyone and including all pupils in the life of the school. The school's learning environment is simply superb and continually evolving. Every aspect of the interior and outside learning areas, every nook and cranny, is seen as a valuable space to aid the learning process, with a considered purpose. Pupils observed during the review in classes, at play and during lunch were extremely well behaved and there was superb positive and supportive interactions seen between pupils and between pupils and staff. Everyone I met was helpful and spoke very positively about their experience at the school and where the focus on improving the attainment and wider outcomes for all pupils is paramount and not just about promoting the learning of the lowest or highest achievers.
Positive Responses
As with the previous reviews, it is clear to see that the school's actions to care for pupils academically, socially and emotionally in my judgement is superb. This can be seen from the responses to the most recent Pupil, Parent and Staff Surveys in 2020. Where in response to the following pupil questions; 'I enjoy learning at this School' – 99% of the pupils strongly agreed or agreed, 'My school encourages me to be independent and take on responsibilities' – 100% strongly agreed or agreed; Parental responses to the following questions; 'My child is happy at this school' – 98% positive; 'My child does well at this school' – 98% positive; 'The school has high expectations of my child – 93% positive; Staff responses to the following questions posed were, 'I am proud to be a member of a staff at this school' – 100% positive, 'Leaders do all they can to improve teaching'- 100% positive and 'The school meets the differing needs of individual pupils'- 100% positive. A fantastic accolade that demonstrates the highly inclusive and superbly positive atmosphere that prevails at Oxford Grove Primary School. The staff are dedicated and aspirational for all who are lucky enough to be educated at the school. The staff know their pupils very well. Every member of staff has a fantastic depth of understanding and knowledge of the pupils in their care and the pride they show in their pupils and their achievements shone out in every conversation and in the way they spoke about them during the review. It was very humbling to hear them talking about their school and their pupils. Everything the school does, is for the benefit of their pupils. The Staff are extremely positive about the school and staff and pupils clearly show their love of the school and of learning. All staff naturally go the extra mile and beyond without thought to ensure that individual and group needs are met. There is an exceptional work ethic and ethos at this school that drives everything the school and staff do for their pupils and families. Coupled with a ferocious drive to continue to evolve and improve what is offered and extremely high aspiration for their pupils to succeed. Pupils observed during the review in classes, at play and during lunch were very well behaved and there were superb positive and supportive interactions seen between pupils, staff and between pupils and staff. Everyone involved with the school should be immensely proud of the way they conduct themselves around the school.
Fantastic Rapport
Staff are justifiably proud of what they achieve both professionally and in terms of support for the pupils and themselves. There is mutual respect and care that is evident across the staff body and a fantastic rapport between the staff, the pupils in the school and between the staff at all levels. A mutual regard and respect shone through in all interactions witnessed during the review. Everyone involved with the school should be extremely proud of what they achieve on a daily basis and the emphasis placed on ensuring everyone is nurtured and included.
Superbly Inclusive Setting
During the review process I talked to a variety of staff and some pupils openly about their school and what was offered in terms of support. Everyone without exception was extremely positive about the school and they highlighted the fact that in their opinion the school was naturally a superbly inclusive setting and that staff are highly empathetic and understood the needs of the pupil's, the needs of their colleagues and supported them extremely well. It was very clear from what was said and what was seen during the review that there are no barriers and no outsiders at Oxford Grove, everyone is included and looked after to the best of their ability, demonstrating the school's superb level of inclusivity.
Extremely Interesting Discussions
During discussions, it was suggested that it would be worthwhile contacting Barnton Community Primary School, to look at their 'No Outsiders Programme' to support the work Oxford Grove is involved in with Stonewall, contact details were supplied. Further extremely interesting discussions during the review were held with The Headteacher, Deputy Headteacher and Senior Staff to look at and discuss updated school context information, including information on current numbers on roll, attendance, the context of the school, results, staffing changes since the last visit; with the DHT to discuss progress on achieving the Stonewall Silver Award that was submitted in December 2019. At the time of the review the school was awaiting the outcome of their submission. I was also able to have an interesting discussion with the SENCO about their comprehensive and superb INA intervention programme, for which the school should be commended.
High Levels of Involvement and Engagement
I was able to participate in a tour of the school, including observing the USPW Parent workshop group, delivered by the bilingual teaching assistant. It was a privilege to observe. I was also able observe the opening session of a School Links project involving Oxford Grove and Blackshaw Primary School working on a music project together using Djemba Drums in the school hall, integrating a Year 1 class from a predominately White British context with their Multicultural Year 1 class. It was a pleasure and a privilege to watch and see such high levels of involvement and engagement from the pupils of both schools, to talk to members of staff from both schools and the external partner providing the drumming lesson.
Extremely Positive
I was able to talk to a NQT and a new member of staff, who was on a temporary contract as AHT, to discuss inclusion at Oxford Grove and their views about the school and inclusion at every level were extremely positive.
One Goal Well-being Mentor
I met with the DHT and the schools newly appointed Learning Mentor, plus a selection of the One Goal children who he was working with. One Goal is a children's personal development company that works in partnership with primary schools to help improve pupil well-being. They have developed a range of programmes and services to help support schools combat issues such as challenging behaviour, problems with self-esteem, bullying, low aspirations, the impact of poverty and other well-being problems that significantly impact children's ability to achieve. Oxford Grove use a One Goal Well-Being Mentor to work with identified pupils in the school on a Friday to improve self-esteem, motivation, well-being and as appropriate behaviour. The programme was so successful that it was felt necessary to expand and appoint a full time Learning Mentor to support pupils in school. Consequently, the school have recently appointed a learning mentor and have still retained the One Goal Mentor on a Friday to support pupils. It was very clear from the conversations with the Learning Mentor that he is extremely enthusiastic and works well with the identified pupils supporting them effectively to overcome barriers. It was a real pleasure to talk to the pupils involved in the programme and see how they had blossomed from their involvement in with the Learning Mentor. He is keen to continue to expand his knowledge and has a programme of training opportunities in place to continue his development and support pupils in the school. It was suggested during discussion that he and the school may benefit from attending a Mental Health First Aid training course in the future. It will be interesting to see how this programme and the support it offers evolves over the next twelve months and beyond. The school should be commended for providing such support to their pupils and families.
Find out more about the IQM Inclusive School Award
If your school is interested in obtaining the IQM Inclusive School Award or you wish to talk to a member of the IQM team please telephone:
028 7127 7857 (9.00 am to 5.00 pm)
or email: info@iqmaward.com for further details.
Want more information on the IQM Award? Click here to request your free IQM information pack.