Outwood Academy City, Sheffield has achieved Centre of Excellence Status.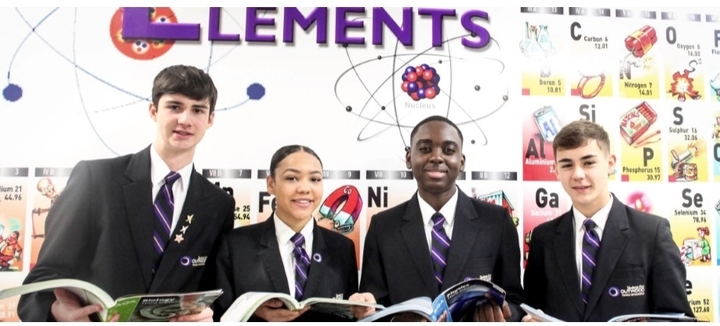 Exceptionally Skilled Leadership
Outwood Academy City has been transformed since it joined the Outwood Grange Academies Trust in January 2014.  Under the exceptionally skilled leadership of the executive principal and principal, "…there have been significantly marked improvements…" (Ofsted report February 2019).  What is particularly striking is the way in which an ethos of inclusivity has become the warp and weft of the fabric of this ambitious school whilst striving for those much-needed improvements.  The school's motto neatly captures this ethos; Students first: raising standards and transforming lives.
Context
Outwood Academy City is a secondary school serving 11–16-year-old students in an area of Sheffield with high levels of deprivation.  The proportion of students supported through the pupil premium is well above the national average.  Most students are White British with very few who speak English as an additional language.  Students with special educational needs is reported as broadly similar to that found nationally, although these numbers are rising.  As is the school population, such is the popularity of the school amongst parents in the community.
Strong, Determined and Highly Effective
During the school's most recent inspection in February 2019, it was found that "The principal has a well-informed and deep understanding of the context of the school and the community that it serves."  This was evident during discussions with the principal and it was clear from meetings with other leaders and staff that they unequivocally share the vision of "Student First".  Leadership at all levels, including governance, is strong, determined and highly effective.  They take into consideration the many and varied barriers students face and consequently provide appropriate care and support.
Specialist Facilities
Outwood Academy City was built in 2011 and houses specialist facilities, including science laboratories, a well-equipped music technology suite with recording studio, drama studios, design and technology workshops, an art gallery, very well-equipped art rooms and an impressive auditorium space.  Sports facilities are excellent and include a fitness suite, dance studio, sports hall, floodlit Astroturf pitch and a large open space sports field.  The building is on several levels, but lifts and ramps are available so that all areas are accessible.  Each classroom is equipped with an interactive whiteboard and there are several IT rooms available across the campus.  Each curriculum area has its own suite of laptops.  The Learning Resource Centre (LRC) has a well-stocked library with a teaching space with computer access.  The LRC is ably managed by a qualified librarian who also contributes to the delivery of the Accelerated Reader programme.
Warm and Welcoming Environment
The building is in very good order and there are no obvious signs of graffiti, vandalism or litter.  The building is very well maintained and clearly respected by all who access it.  Around the school, good use is made of the walls and IT to reinforce the values of the academy, to convey information and to celebrate the achievements of students and staff.  The students' artwork, including cast glass panels and pottery which are also on display, is of exceptionally high quality.  The building presents as a warm and welcoming environment which is eminently fit for purpose.
Excellent Teaching and Full Engagement
Students at Outwood Academy City were equally well presented, warm and welcoming.  The standard of uniform is exemplary and behaviour around the building and in classrooms was equally impressive.  I visited a range of classrooms and without exception, there was a purposeful atmosphere with excellent teaching and full engagement of students.  These positive attitudes towards learning clearly demonstrate values and behaviours that reflect the Academy's ethos of "Be safe, be responsible and be respectful."  In my discussions with students I was impressed by the manner in which they conducted themselves and found them to be fabulous ambassadors for the school.
Impressive Improvement
Staff have worked diligently to bring about a transformation in behaviour and attendance.  Fixed term exclusions have reduced by almost two thirds and attendance has improved significantly during the past three years.  The range of interventions that have brought about these improvements is impressive and in particular, the astute, early identification of need has been instrumental in bringing about the impressive improvement.  There is an extensive range of after school enrichment activities, supported by the academy's Pledges initiative which challenges and inspires students to meet the ten pledges that range from attending enrichment activities to organising fundraising events.  In addition, there is a well-developed career education, information, advice and guidance (CEIAG) provision.  Both of these add to the richness of the broad and balanced curriculum on offer to students.
Regular Monitoring and Analysis
Student progress and outcomes are improving over time and the appointment of key staff three years ago has provided a fresh impetus.  The Ofsted report from February 2019 records that "Pupils' outcomes are good…Throughout the inspection, leaders provided compelling evidence, alongside work in pupils' books that demonstrates that current pupils' progress, particularly of disadvantaged pupils, is strong and improving."  Monitoring and analysis are forensic, regular but more importantly, acted upon swiftly and appropriately, thus bringing about the improvements mentioned.  The principal is at the forefront of this aspect of school improvement and is ably supported by other senior leaders.  As a result, early identification of need and the provision of appropriate interventions is made possible.
Deep Commitment to Outstanding Teaching
The quality of teaching and learning is improving.  There is a deep commitment to providing outstanding teaching across the academy and there are excellent strategies in place together with ample leadership capacity to achieve this.  There is a teaching and learning policy which is supported by first class professional development and a focus on subject pedagogy which allows for the selection of the most appropriate teaching strategies to achieve maximum impact for different subjects.  I examined a number of student's books during my learning walks and the quality and consistency of the teacher feedback was impressive.
High Level of Expectation and Ambition
The quality of teaching at the school has improved markedly over a short period of time through a supportive yet challenging programme of quality assurance.  Staff at the school value the professional development and support which they receive.  They plan well for lessons.  There are specialist teachers for SEND and a very strong and skilful team of teaching assistants.  Staff demonstrate a high level of expectation and ambition for all students which pervades all strategies, policies and practices.
Overwhelming Appreciation
Parents I met expressed an overwhelming appreciation for the dedication and skill of the staff at Outwood City Academy.  They spoke highly of the relationships that staff nurture with them and their children and of the strength of leadership and the cohesiveness that this has brought over the past few years.  One parent spoke about the
"…consistency of purpose…"
that leaders have, which reflects a vision that has clarity and one that will serve its community very well.
Parents Feel Involved
Parents appreciated the regularity of communication they receive from school and in particular through social media.  They also emphasised that whilst there was three parents' evenings each year, the school encouraged parents to contact them whenever they had a concern.  Parents felt very involved with the school and were appreciative of the manner in which staff engaged with them and the community.  Often, staff would attend events in the community in which academy students were involved.  Staff, they said, were:
"approachable" and "invested" in the community.
Regular Feedback
There are regular opportunities to provide formal feedback through questionnaires and a parent voice group who meet a few times each year.  Parents very often provide feedback via social media and a few examples which typify the comments left include:
"They are amazing teachers.  It's not just about this trip either.  It's the countless things they do outside of the 'job'."
"When the Outwood City students are saying they are proud of themselves and thankful to school, it makes you happy as a parent to know you have given them the best choice for their education."
Vision of Inclusive Schooling
Local governance of the academy is through the Academy Council, which is responsible for carrying forward the Trust's vision, values, policies and priorities.  There are very clear terms of reference and responsibilities laid out.  The procedures to enable the Academy Council to fulfil its role are followed robustly and with integrity.  From the agendas and minutes of Academy Council meetings I saw, it is clear that governors share the vision for inclusive schooling and do so with great knowledge.  Governors are skilled and bring great experience to their function.  In the 2019 Ofsted report it was noted that "Governors…show an excellent and precise level of detail and knowledge about the school" and that they "…continue to contribute, support and challenge leaders so that pupils' outcomes continue to improve, especially for disadvantaged pupils."
Outside Collaboration
The academy works very well with a number of outside agencies and partners.  These include a Local Authority brokered scheme of Alternative Provision which provides excellent, mostly vocational experiences for students at risk of exclusion.  There is also the weekly visit of Casper, the Read2Dog volunteer who dutifully sits and 'listens' to the students read through their book in the LRC.  Transition between primary schools and post-16 providers is a strong feature of the school.
Fully Inclusive and Aspirational Education
There is a strong sense of warmth and an ethos and culture that ensures that everyone is respected and offered every opportunity to achieve their potential.  The school most definitely lives up to its motto "Students first: raising standards and transforming lives" and demonstrates a genuine drive to provide a fully inclusive and aspirational education for all of its students.
Find out more about the IQM Inclusive School Award
If your school is interested in obtaining the IQM Inclusive School Award or you wish to talk to a member of the IQM team please telephone:
028 7127 7857 (9.00 am to 5.00 pm)

or email: info@iqmaward.com for further details.
Want more information on the IQM Award? Click here to request your free IQM information pack.