Orchard Primary School in Hackney has achieved Flagship status for the second time.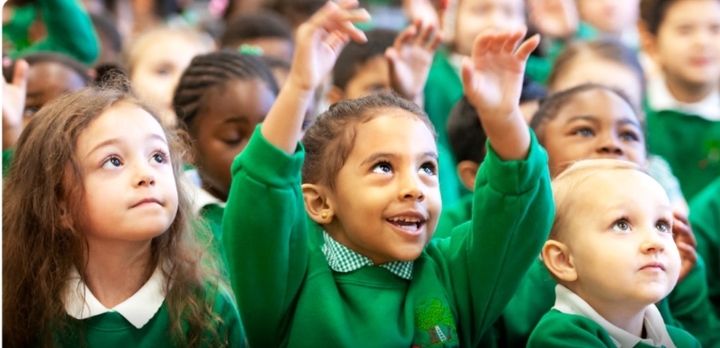 A Successful and Inclusive School
Orchard Primary School is a successful and inclusive primary school in Hackney which aims to 'provide children with the best start in life and to develop the confidence and enthusiasm for learning that will take them through secondary school and beyond'. As a Flagship School, Orchard has a proven record of reflective practice, ambition for pupils' outcomes and forward thinking. They are part of the Viridis Schools Federation; a three-school partnership in Hackney.
Ofsted
Ofsted inspected the school in 2014 and found outstanding provision in every category. Attainment and progress in all Key Stages is very high across the school. Pupils achieve very well even though they enter on relatively low starting points. Orchard pupils performed significantly higher than the national averages in reading, writing and mathematics at the end of Key Stage 2. Progress measures are regularly in the top 10% of all schools in England. The 2018 Key Stage results showed another set of impressive outcomes for all children who reach and indeed exceed expected standards.
Children Love Learning
Children at Orchard love learning! This is evident through pupil surveys undertaken by the school, external reviews, and the excellent behaviour for learning and conduct visible around the school. Pupil Voice is also a strength at Orchard, the range of roles available to children is amazing; from being a Head Gardener, Peer Mediator, Art Ambassador, Debate Mate, Lunchtime Ambassador, Language Captain or a Timetable ambassador to name a few. The children thought they did a really good job in their roles. They also knew exactly which ones they wanted to do next year.
"We are peer mediators, when situations happen, we can take control and help, when someone tells me what's happened, I assess the situation and help sort it out, we help people"
"I want to be a Head Gardener next!"
What is Important about the School
Children were keen to share what they thought was important about their school and described an Orchard pupil as being one that shows care and kindness towards each other.
"This school is very kind and caring to new students, this school is very educating, most times when we don't know something, we learn something new."
They were also proud that the school treats everyone equally.
"Diversity is important, religions get on together, it doesn't matter who you are or which religion you are."
When asked to describe their favourite activities at Orchard, children said
"I enjoy the playground and playing football."
"Learning more stuff, playing all activities like play pod."
An Enhanced Learning Environment
The learning environment had been enhanced through a range of very thoughtful provisions and structures that are fully in place to foster children's love of learning and well-being, one example seen during the IEP walk this morning included the 'Mini me' which is based on an action research project carried out by the EYFS phase leader. This really simple yet very motivating strategy is designed to encourage children to explore all the areas of EYFS learning, expanding their breadth of EYFS experience. A photograph of each child is placed on the table-top/area that staff want the individual child to explore. On the day of the assessment, children were seen taking ownership for finding their picture, completing the challenge before placing their 'mini me' back on the completed display. They also receive a sticker. Staff feel that this
"Makes sure that the children feel a sense of achievement and also experience what it is like to be successful and try something new."
Environments are Language Rich
Displays are purposeful, the environments are language rich. Selected vocabulary is visible where children can see and use them in their learning. To increase purposeful use in class, each teacher displays key vocabulary for the lesson around the board, changing the words frequently. Weekly planning identifies specific vocabulary/ challenge words.
An Inspiration Station
A priority has been encouraging reluctant writers and this year each KS2 class has an Inspiration station where children can be inspired to write. Staff describe the impact of this as being very positive so far,
"children like the novelty of going to a new space which is exciting and attractive to explore different writing materials which helps to raise the profile of writing. The children also see this as a reward for their fantastic writing or for their support of a friend."
Pupil Voice Corner
The classrooms also have a newly designated Pupil Voice corner. The rationale for this development is to raise the profile of pupil voice via opportunities such as the class 'problem and praise' box where children and adults pop ideas into this box, the teacher checks the box daily, shares what's in the box and the class contribute towards finding solutions and giving out praise. An SMSC book contains examples of the class PSHE, RE, enrichment activities and both individual class and school council feedback from meetings.
Developing Community Partnerships
Orchard Primary School continues to develop partnerships in the wider community and undertake high quality school to school support work in their role as a National Support School. Bespoke packages for training detailed on their website include curriculum support, Headteacher coaching and mentoring, Middle leader development, Parent engagement, Pupil premium reviews, Pupil voice and peer support.
Initial Teacher Training Programmes
A significant feature of this school is the variety of initial teacher training programmes offered through their partnerships with Premier Pathways and London Metropolitan University. These have provided career progression for many Orchard staff who have trained to become qualified teachers. Two such routes on offer include traditional Schools Direct placements and Teach In (a two year fully paid post graduate programme leading to QTS). A third and very exciting route which the school are justifiably proud of is the Apprentice Teacher Programme on offer which works closely with London Metropolitan University (LMU).
A Range of Interventions
The Inclusion team offer a range of interventions to support children's social, emotional and mental health well-being. These include lunchtime interventions, friendship groups, Chill Out club, weekly work outs as well as a specific program designed to improve punctuality. Homework club is also offered after school.
Peer Mentoring Schemes
The peer mentoring schemes are particularly successful where older children and younger children are carefully matched. Mentors are identified and receive training for their role.
Achievement is Valued
Achievement is valued for all at Orchard. Every week, Friday assembly is based on one of the school's six values. Today's achievement assembly celebrated the value of independence. Children who had demonstrated excellence in independence during the week were selected by their teachers, recognised in assembly and received a card to take home to share with their parents.
A Highly Skilled Inclusion Team
The school has a highly skilled inclusion team of Inclusion Deputy, AHT SENCo, EYFS phase leader, two Learning mentors, and an Unlocking Potential Manager who oversees all the therapeutic support in the school. The whole Team meet in the Friday forum where they share ideas, provide feedback, decide ways forward, and discuss individual high needs children and interventions. The focus is sharply on standards, monitoring and scrutiny.
IQM Cluster Group
Orchard Primary School are an active member of the Inclusion Cluster group; 24 Carat. Recent themes have explored well-being, SEMH and interventions. Staff value the opportunities for wider reflection this forum brings.
Find out more about the IQM Inclusive School Award
If your school is interested in obtaining the IQM Inclusive School Award or you wish to talk to a member of the IQM team please telephone:
028 7127 7857 (9.00 am to 5.00 pm)
or email: info@iqmaward.com for further details.
Want more information on the IQM Award? Click here to request your free IQM information pack.