Oakfield High School & College, Wigan has again achieved the national award for inclusion.
Context
Oakfield High School and College is a special school provision in an urban setting which has recently been judged as outstanding by Ofsted. It is popular and oversubscribed which has led to recent building works taking place to be able to offer more school places. The students are warm and welcoming and want to tell visitors all about the exciting things the school offers to them every day. Students make exceptional progress from their individual starting points and many stay on in the college run by the school.
A Highly Inclusive Ethos
The ethos of the school is one which is highly inclusive and accepts all students' similarities and differences equally. The school on its website states that it prides itself on ensuring that: 'We have high expectations for all our learners, in terms of academic, social and personal achievements. This is in a safe, caring environment where every individual is nurtured. We encourage a commitment to lifelong learning and personal development.'
Everyone Feels Valued
The Senior Leadership Team confirm that the school promotes a highly inclusive atmosphere where all feel valued and secure in their learning. All staff are fully committed to the school's values and go above and beyond to ensure that students get the best experiences in all aspects of school life.
Enrichment Clubs
The lunchtime enrichment clubs ensure that every student gets to select an activity of their choice; there are a wide variety of high quality clubs to choose from. The curriculum throughout the school is designed to engage learners so that they have both an academic curriculum covering English, mathematics, science and humanities but also covers a very wide range of vocational subjects which are extremely valued by the students.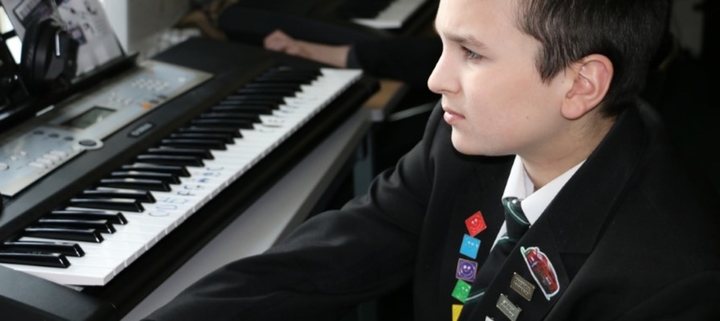 Exemplary Behaviour
There is a clear behaviour policy which all students understand and value. The behaviour policy is consistently applied by all staff and students feel that the system is fair. During learning walks and at lunchtime, students were very respectful of adults and each other. Exemplary behaviour was a key strength of the school.
Displays Celebrate Students' Work
The school is in excellent condition and the displays celebrate students' work and are a key feature of all corridors. For example, the display of keep safe in the sun demonstrates team work and curriculum topics that have been well designed to engage students in wider matters.
Find out more about the IQM Inclusive School Award
If your school is interested in obtaining the IQM Inclusive School Award or you wish to talk to a member of the IQM team please telephone:
028 7127 7857 (9.00 am to 5.00 pm)
or email: info@inclusionmark.co.uk for further details.
Want more information on the IQM Award? Click here to request your free IQM information pack.