Norbury Primary School in Harrow has achieved Flagship School status.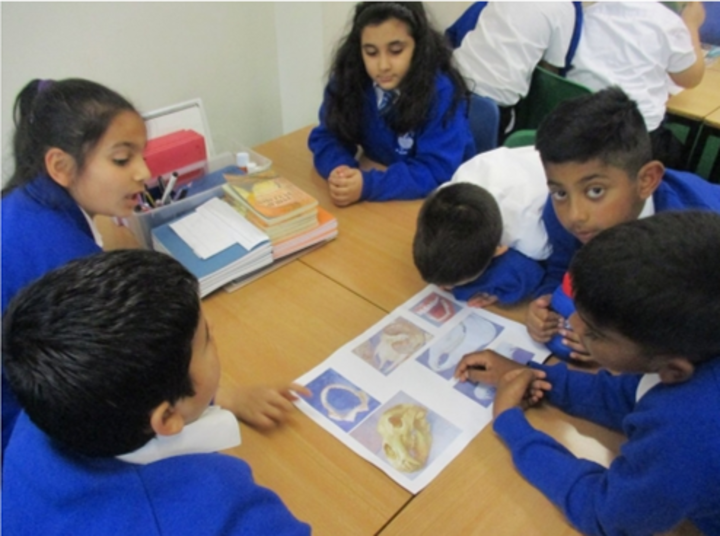 Centre of Excellence
Norbury Primary School is an Inclusion Quality Mark Centre of Excellence. This was the school's third Centre of Excellence review and Norbury are now seeking to become a Flagship School.
Context
The school serves a culturally and ethnically diverse population close to the centre of Harrow, with more than 85% of pupils having English as an additional language. Mobility remains high, with many new children joining the school over the course of the year. Several children with EHCPs have transferred to specialist provisions, but the school is currently being consulted for places for three new pupils.
COVID-19
The school has experienced significant upheaval and disruption during the past year as a result of the COVID-19 pandemic and the national lockdown in the summer term. Sadly, the school community has suffered a number of bereavements during this time. The school has also very recently lost a longstanding and much loved member of staff, which has had a huge impact on the staff and the school community as a whole.
Teamwork and Community
Last year I described an overwhelming sense of teamwork and community and this was even more apparent on my most recent visit. The school has faced the challenges of the COVID-19 pandemic with resilience and a determination to continue to support the children and their families to the best of their ability. There is a strong sense of unity and it is clear that the school's underlying ethos of kindness, empathy and respect has been especially important during an exceptionally stressful and distressing time. The school has embraced the lockdown and subsequent restrictions as a challenge rather than a barrier and has sought to continue to provide high quality education as well as pastoral support and opportunities for extended learning.
Blended Learning
The Head has led the school through lockdown with the support of her Leadership Team. Regular videos and a private YouTube channel have enabled families to stay in touch with what is going on in school and following the September return, has helped reassure parents and pupils that school is as safe as possible. During lockdown the school's online portal was used to provide virtual learning for children not in school, with individualised paper packs for children with complex needs who were not able to access the online learning. A blended learning approach meant that children in school and at home were working on the same areas and events such as, virtual celebration assemblies which meant that children could see what their peers were doing.
Supporting Families
The school continues to go above and beyond to support families. During lockdown this included picking up vulnerable children in the school minibus so that they could attend school and delivering learning packs and resources for children who needed them. The school loaned out more than forty laptops and other ICT resources to families without devices and also provided physical resources to support the learning of some children with EHCPs. Interventions for children in key areas such as reading continued to be provided via Zoom, with support staff taking responsibility for the delivery of lessons to individuals or small groups with their parents present. Class teachers also provided videos, stories and other online resources so that the children could stay in touch with them and each other as much as possible. Staff also spoke about vulnerable parents they had called regularly during lockdown, or continue to have conversations with; one said, "Families need to know they're being thought of – human to human does make a difference".
Importance of Good Relationships
The importance of relationships is recognised at Norbury Primary School and this includes relationships between staff. The Pastoral Manager has a regular slot in staff meetings where she shares activities to support the staff's mental well-being; the school also works closely with the Anna Freud Centre. Several staff spoke about the support the school and the Head in particular, had provided for them during this stressful and worrying time. All the staff I spoke to felt that the safety measures in place in school were as good as they could be. A vulnerable member of staff who had been working at home talked about how she has been provided with the necessary equipment and how the school had kept in touch. One member of staff became quite emotional as she spoke movingly about her anxieties about returning to school and how much her colleagues had supported her; she said she was "overwhelmed by the support I received". Another talked about the support she had received during the time she needed to use a wheel chair in school, from the children as well as her colleagues.
Supporting Everyone
The Harrow Schools Counselling Partnership provides support one day a week, offering planned sessions and drop-ins for children, as well as support for parents and for staff. Children are also encouraged to find their own ways of coping with adversity. The Headteacher described a small group of pupils who chose to use their lunch time to pray for the member of staff who passed away, with the "Norbury tree" as a "point of reverence", where flowers from families had been placed. Other children wrote or drew their own tributes which are on display at the entrance to the school. In addition, the staff themselves have been touched by the messages of support from families and pupils; the Headteacher told me of one pupil, who had himself previously suffered a bereavement, who brought her a bar of chocolate as a way of expressing his sorrow. The school plan to establish an area of remembrance, with plaques to remember all those the community has lost.
A Broad and Balanced Curriculum
The school has a strong emphasis on a broad and balanced curriculum with a wide variety of subjects and opportunities on offer. Even within the core subjects, children's varying needs are considered and planned for, for example, maths includes a shape, space and measures topic each half term so that children who are less confident with number have other opportunities to feel successful. There is a strong focus on the use of subject specific language and lessons are supported with audio and visual resources to increase children's ability to access the learning.
Developing a Range of Skills
A team of specialist staff including Spanish and music teachers and gym and sports coaches enable children to develop a range of skills and foster abilities that might have otherwise gone unnoticed. As one member of staff put it, "Whatever their talent is, we'll find it". Staff spoke proudly about a number of children who have excelled over the years, also noting that often children who struggle academically can achieve highly in other areas of the curriculum. Current plans include a virtual gymnastics competition with other Harrow schools and a virtual Sports Day took place before the summer holidays. The need for children to have different outlets is recognised, the music teacher said that children will often come to the music room at lunchtimes as an alternative to being outside. A further example is a soft play session that the gymnastics teacher has established primarily for a number of children with very complex special educational needs. Staff talked about the school accommodating the needs of different children; one said, "You don't really notice that you're doing it – we just live and breathe it".
Opportunities for Children
Prior to lockdown the school was providing a wide range of opportunities for children to take on additional responsibilities, for example, Water Warriors, Team Norbury and Playground Buddies and Peer Mentors. Due to the current restrictions they are exploring other ways of enabling children to be actively involved in the school, for example, E-Cadets are working on online safety materials to share with their peers. The esteem that the staff are held in by the Leadership Team is evident in the high expectations of all members of staff. Succession planning is considered, the current SENCo worked alongside the retiring SENCo prior to taking up the role last year and also successfully completed the SENCo qualification. Individuals' skills are recognised and developed in the same way as the children's, for example, the SENCo provided training for the Learning Support Assistants so that they could effectively support children working at home. De-escalation training has been provided for mealtime supervisors to support positive behaviour at lunchtimes. Staff are encouraged to work collaboratively and this is seen as a valuable medium to allow each child to be seen holistically. The school has also established an inhouse leadership programme to enable more experienced staff to share their expertise with colleagues.
Meeting all Children's Needs
The involvement of support staff on the IMAT Team ensures that children's needs can be discussed in a wider forum and also provides valuable support for the SENCo, who is class based two days per week. For example, a knowledgeable member of support staff leads on dyslexia support for the school. This allows greater flexibility to identify what support may be needed and to ensure that the most effective intervention takes place. Of particular importance is the different relationship support staff have with pupils, allowing for informal conversations outside the classroom and using sport or other activities as an incentive to support work or behaviour in class. The importance of alternative role models is also valued, for example, the appointment of a male meal time supervisor has been very effective in supporting positive relationships at lunch times.
The parent ambassadors are now well established and provide an essential service for families, especially those new to the school or those with limited English. The role includes supporting new children within class as well as translating for parents. Parents have also received support through workshops prior to lockdown and also virtually through working alongside their children at home.
Find out more about the IQM Inclusive School Award
If your school is interested in obtaining the IQM Inclusive School Award or you wish to talk to a member of the IQM team please telephone:
028 7127 7857 (9.00 am to 5.00 pm)
or email: info@iqmaward.com for further details.
Want more information on the IQM Award? Click here to request your free IQM information pack.